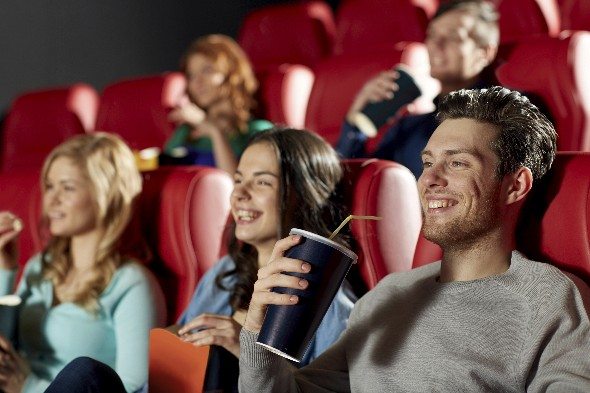 According to the 2015 Time Use Survey, Americans spend almost three hours per day watching TV and movies. But how Americans watch is changing. Thanks in large part to streaming services like Hulu and Netflix, Americans have on demand access to more shows and movies than ever before. Indeed, the once ubiquitous movie rental company Blockbuster is suffering from this change in preferences. From its block-busting peak of 9,000 retail outlets nationwide, Blockbuster is now down to 51.
Buying a home? Try SmartAsset's mortgage calculator to find out what your mortgage payment will be.
And yet streaming services have not dented the American appetite for the big screen. The Motion Picture Association of America reports that in 2015 U.S. and Canada movie watchers spent a combined $11.1 billion to see Hollywood's latest creations, up 8% from 2014. But not all movie experiences are created equally. Some people still enjoy the traditional drive-in experience and judging by the Census data on movie rental outlets, some people still prefer to rent movies. Then there are the hardcore film festivals goers.
To find the best cities for movie lovers, SmartAsset looked at data on movie theaters, movie rental outlets, drive-in theaters, access to video streaming, the average yelp rating of local theaters, film festivals held and the cost of living in each city. To understand how SmartAsset arrived at each figure please read the full methodology below.
Key Findings
Los Angeles outside of Top 10. While it may be the home of Hollywood performers and movie studios, according to the data it is only the 14th best city for movie lovers. It may have the most film festivals (14) but relatively few movie theaters and poor video streaming score combined with a high cost of living hurt the city's ranking.
North is Best. It would appear movie lovers in southern cities should start looking to move up north. No city from the southern half of America cracked our Top 10.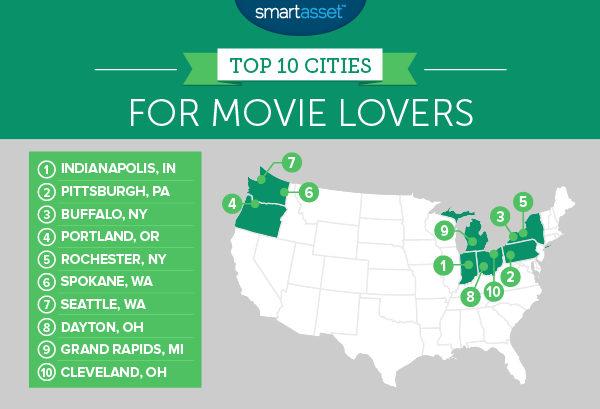 1. Indianapolis, IN
While known more for its love of basketball than movies, Indianapolis tops our ranking because of consistently good scores across the board, combined with a low cost of living. Lovers of independent movies may want to check out the Heartland Film Festival held in Indianapolis every year. Also "A League of Their Own" was shot nearby.
2. Pittsburgh, PA
Lovers of action movies may recognize Pittsburgh as the film location for much of "The Dark Knight Rises" and some of "The Avengers." While we didn't consider film locations as part of our analysis, Pittsburgh still had a number of high scores. For example, Pittsburgh has the 3rd most drive-in theaters of any city and has the 6th highest average movie theater rating at 4.11 out of 5.
3. Buffalo, NY
One of two New York cities in the top 10, Buffalo ranks 9th for most movie rental establishments and drive-in theaters. Buffalo also hosts two film festivals every year. The Buffalo International Film Festival and the Buffalo Niagara Film Festival, held in the fall and spring respectively. One area where Buffalo could improve is in the number of theaters. It ranks 37th with 1.67 theaters per 100,000 residents. To be fair the Buffalo residents do seem to enjoy the theaters they do have, rating them an average of 4.03.
4. Portland, OR
Portland has the 7th highest streaming score and the 6th most theaters per resident. Unfortunately, because there are so many other great reasons to live in Portland it comes with a relatively high cost of living at 111, which means it is 11% more expensive to live in Portland than the average U.S. city.
Thinking about moving to Portland? Here is what you need to know.
5. Rochester, NY
Rochester, like others in the Top 10, does well because of consistency. It only ranks in the top 10 in one category but also ranks no lower than 46th for any other category. Rochester residents can be proud of their internet. 85% of residents have access to high speed internet and at 11 megabytes per second can watch as much Netflix as they want.
6. Spokane, WA
Spokane is a great city for movie lovers because it ranks in the Top 10 in movies theaters per 100,000 residents (2.2) and also 6th in streaming score. Unfortunately for the traditionalists of Spokane, almost all of the rental places have closed up shop. Spokane ranks 64th for that category with only .24 rental outlets per 100,000 residents. Spokane is also the cheapest of the other northwestern cities. The city has a cost of living index of 94.
7. Seattle, WA
If we had a ranking for most references to cities in movie titles, Seattle would probably rank well thanks to the classic "Sleepless in Seattle". Unfortunately for Seattle we did not attempt to score that and unfortunately for Seattle there are a grand total of 0 drive-in theaters in the Seattle area. There's still lots of good news for movie lovers. Seattle has four film festivals a year and the 3rd highest streaming score in our study. Movie lovers who want to see the best up-and-coming films may want to check out Seattle's National Film Festival for Talented Youth.
8. Dayton, OH
While some cities have abandoned rental outlets and drive-in theaters as relics of the past, Dayton has not. It ranks 1st in drive-ins and 7th in rental places. For comparison Dayton has 1.78 theaters per 100,000 residents, 1.94 rental outlets per 100,000 residents and 0.48 drive-ins per 100,000 residents.
9. Grand Rapids, MI
Movie lovers can be excited by Grand Rapids' low cost of living (90) and access to rental outlets. It ranks third in that factor. Another great Tom Hanks movie "Road to Perdition" was shot in Grand Rapids.
10. Cleveland, OH
Things are going from good to great in Cleveland, first they win the 2016 NBA championship ending a 52-year championship drought and now they crack the Top 10 in SmartAsset's first ever study on the Best Cities for Movie Lovers. Clevelanders also love their local theaters, rating them an average of 4.02, good enough for 17th on our list. Another bonus for movie lovers is The Cleveland International Film Festival. It is one of the oldest continually held film festivals in America.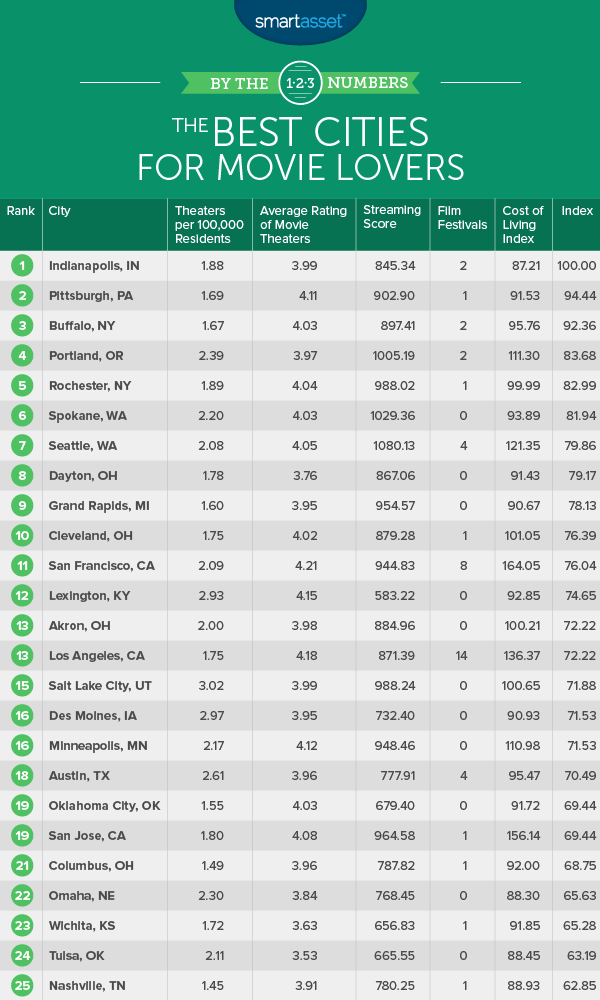 Data and Methodology
In order to create the list of Top Cities for Movie Lovers SmartAsset looked at the following 7 variables:
Number of movie theaters per 100,000 residents. Data taken from the U.S Census Bureau.
Number of drive-ins per 100,000 residents. Data taken from the U.S Census Bureau.
Number of movie rental outlets per 100,000 residents. Data taken from the U.S Census Bureau.
Average rating of movie theaters. This data was taken from Yelp.
Cost of Living (CoL) Index. Index taken from and created by the U.S. Census Bureau.
Total number of film festivals. This data was taken from Wikipedia.
Streaming score. This score was created by taking the percentage of residents in a city who have access to internet and multiplying it by the average internet speeds. Data taken from the U.S. Census Bureau and Akamais' state of the internet report.
We ranked each city according to those seven metrics. We then averaged those rankings, giving equal weight to all metrics. We calculated an overall index score based on those averages. The city with the best overall averaged received a 100 and the city with the worst average received a 0.
Questions about our study? Contact us at blog@smartasset.com.

Photo credit: ©iStock.com/dolgachov