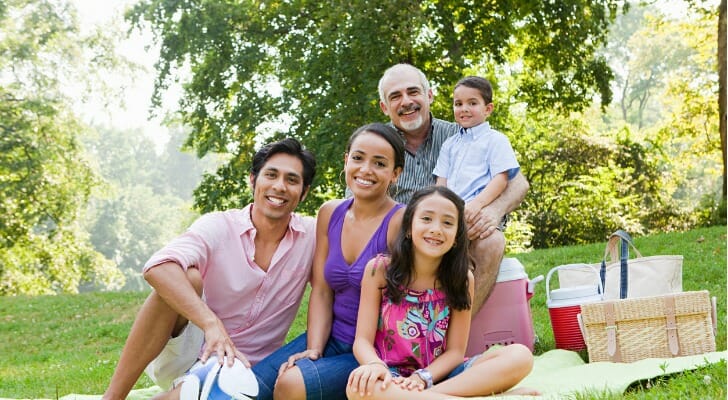 Living the American Dream can mean different things to different people when it comes to their material situation. For some, it might mean a white picket fence. For others, it might mean a gilded penthouse high above a big city. Generally, though, most people agree that the American Dream is about living a full and fulfilling life, surrounded by a community of people doing the same. It means having economic opportunity, having the ability to save enough to own the place where you lay your head at night and living someplace where people from all walks of life can live comfortably. SmartAsset combed through data to find the cities where the American Dream is most achievable.
Specifically, we considered the five metrics: homeownership rate, diversity rate, upward mobility rate, median home value and unemployment rate. Check out our Data and Methodology section below to see how we put the data together to create our final rankings.
This is the 2019 edition of this study. Check out our 2018 version here.
Key Findings
A new top dog. There is a new city on the top of this list. Aurora, Illinois is the No. 1 city for living the American Dream in 2019. It placed fourth on our list in 2018. Last year's top ranked city, West Valley City, Utah, comes in fourth this year.
Lone Star State still rules. Texas still dominates this list. There are four cities in the Lone Star State in the Top 10 this year, while no other state places more than two cities there. There are another nine Texas towns in the Top 25.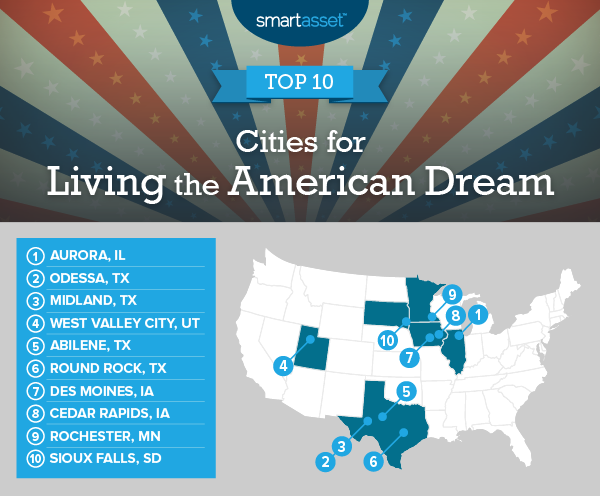 1. Aurora, IL
Aurora, Illinois, a Chicago suburb, is at the top of our list. It has the strongest diversity score in the top 10 and ranks well for economic mobility, coming in third place in this list for this metric. Aurora doesn't lead any single metric we used to determine the best cities for living the American Dream, but places solidly in all of them.
2. Odessa, TX
The highest-ranked Texan city in our top 10 is Odessa, located in the western part of the state. This town is another all-around performer. It has the highest score for economic mobility on our list. It also has a homeownership rate of 63.08%.
3. Midland, TX
Midland, Texas, another city in the western part of the state, comes in at No. 3. Midland has the lowest unemployment rate in our top 10, at 2.30%. It also ranks well in other metrics, including the second-highest economic mobility rate of all of the other cities on this list.
4. West Valley City, UT
West Valley City, Utah lost its top spot on the list this year, but it still places a respectable fourth. It is tied for the second-lowest unemployment rate on this list, at 2.80%.
5. Abilene, TX
Abilene, Texas brings us back to the Lone Star State to round out the top half of this list. Located in Central Texas, Abilene has a homeownership rate of more than 60% and a median home value of $114,900 (the lowest home value in our top 10). Diversity suffers, however: Abilene has the worst diversity score among Texas cities in the top 10.
6. Round Rock, TX
Round Rock, Texas, located near Austin, is the final Lone Star State town on this list. The unemployment rate is 3.40%, and it has a homeownership rate of 67.79%. Round Rock, however, does have the highest average home value in the top 10, at $267,500.
7. Des Moines, IA
Des Moines, Iowa is the first of two cities in Iowa in the top 10. The city does not have a good diversity index score, ranking seventh for this metric out of the top 10, but it has a relatively low unemployment rate of 3.30%.
8. Cedar Rapids, IA
Next up is Cedar Rapids, Iowa, which has the second-worst score for diversity on this list. Cedar Rapids also has the highest homeownership rate of all our top 10 cities, at 74.00%.
9. Rochester, MN
Rochester, Minnesota is the only representative from the North Star State in this top 10. Rochester has the second-highest homeownership rate in the top 10, at 72.40%. The average home value there is $211,900, which is the third-highest figure for the cities on this list.
10. Sioux Falls, SD
The last city in the top 10 is Sioux Falls, South Dakota. Sioux Falls has the fourth-lowest unemployment rate in the top 10, at 2.90%. It also has the weakest diversity score in the top 10 cities in this study.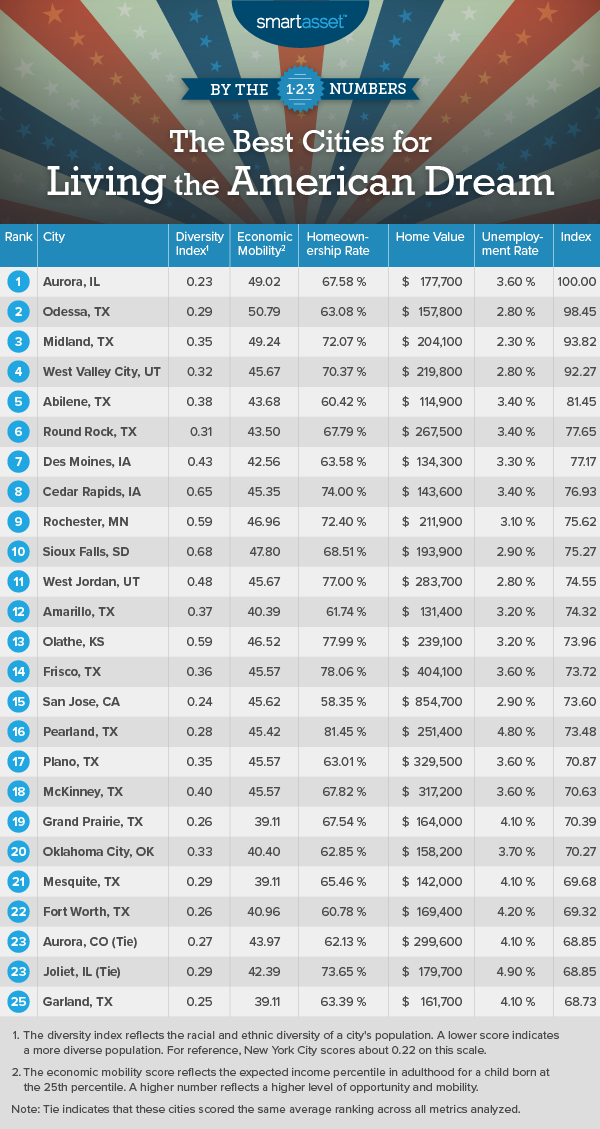 Data and Methodology
To find the best cities for living the American Dream, SmartAsset looked at the 257 biggest cities in America and considered five metrics:
Diversity score: To measure diversity, we considered the population percentage of different racial and ethnic groups. A lower number means more diversity. The data comes from the Census Bureau 2017 1-year American Community Survey.
Economic mobility: This metric measures how families are able to change economic position over generations. High numbers mean more mobility. Data comes from The Equality of Opportunity Project.
Homeownership rate: This shows the percentage of households that own their own house. Data from the Census Bureau 2017 1-year American Community Survey.
Home value: The median home value in each city. A lower value is considered better for this survey, as it shows affordability. Data from the U.S. Census Bureau's 2017 1-year American Community Survey.
Unemployment rate: This is the unemployment rate by county. Data comes from the Bureau of Labor Statistics.
We ranked each city according to each metric and then found the average ranking for each city. Using this average ranking we created a final score. The city with the best average ranking received a score of 100, and the city with the worst average ranking received a score of 0.
Tips on Homebuying
Get expert help. To build your own American Dream, consider finding a financial advisor to help. SmartAsset's free financial advisor matching service can connect you with up to three advisors in your area after you answer a few questions. We fully vet our advisors, and they are free of disclosures. You talk to each advisor before deciding how to proceed.
Budgeting is key. Make sure you know how much house you can afford before you start looking so that you're only considering houses that fit into your budget.
Questions about our study? Contact us at press@smartasset.com
Photo credit: ©iStock.com/Image Source