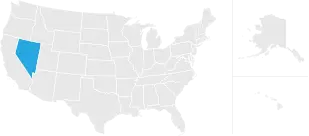 Overview of Nevada Mortgages
Nevada is a diverse state with one of the fastest-growing populations in the country. If you decide to buy property in the Silver State, you can expect mortgage rates to hover above the national average. Nevada counties' conforming loan limits remain standard, though some FHA limits vary from the standard.
National Mortgage Rates
Source: Freddie Mac Primary Mortgage Market Survey, SmartAsset Research
Details
Purchase or Refinance
Select Purchase or Refinance
Dismiss
Location
Enter your location
Dismiss
Target Home Value
Enter target home value
Dismiss
Down Payment
Enter down payment
Dismiss
Current Home Value
Enter current home value
Dismiss
Current Mortgage Balance
Current Mortgage Balance
Enter current mortgage balance
Dismiss
Credit Rating
Select Your Credit Rating
Dismiss
Share Your Feedback
How would you rate your experience using SmartAsset's financial advisor matching service so far?
What is the most important reason for that score? (optional)
Please limit your response to 150 characters or less.
Thank you for your answer! Your feedback is very important to us.
Historical Mortgage Rates in Nevada
Nevada Mortgage Rates Quick Facts
Median Home Value: $373,000 (U.S. Census Bureau)
Loan Funding Rate: 57.29% (CFPB)
Homeownership Rate: 60.5% (St. Louis Fed)
Median Monthly Homeownership Costs: $1,655 (U.S. Census Bureau)
Nevada is famous for bright Las Vegas lights surrounded by vast desert, but there are plenty of other beautiful parts of the state to call your own backyard. The vast majority of Nevada's population call Clark County home. Historically, Nevada rates have been a bit higher than the national average rates.
A financial advisor in Nevada can help you plan for the homebuying process. Financial advisors can also help with investing and financial plans, including tax, retirement and estate planning, to make sure you are preparing for the future.
Nevada Historic Mortgage Rates*
| Year | Nevada Rate | U.S. Rate |
| --- | --- | --- |
| 2000 | 7.99 | 7.86 |
| 2001 | 6.98 | 6.94 |
| 2002 | 6.44 | 6.44 |
| 2003 | 5.74 | 5.67 |
| 2004 | 5.66 | 5.68 |
| 2005 | 5.82 | 5.85 |
| 2006 | 6.56 | 6.54 |
| 2007 | 6.51 | 6.42 |
| 2008 | 6.09 | 6.06 |
| 2009 | 5.19 | 5.05 |
| 2010 | 4.93 | 4.81 |
| 2011 | 4.75 | 4.56 |
| 2012 | 3.90 | 3.65 |
| 2013 | 3.97 | 3.84 |
| 2014 | 4.32 | 4.13 |
| 2015 | 4.00 | 3.88 |
| 2016 | 3.83 | 3.73 |
| 2017 | 4.15 | 4.03 |
| 2018 | 4.70 | 4.56 |
*The FHFA stopped reporting new data in 2018.
Nevada Mortgages Overview
Nevada's median home values are generally higher than the median home value for the U.S., according to U.S. Census Bureau data. That means you can expect to have higher monthly mortgage payments if you move here from a place with cheaper homes.
All 17 counties in the state have a standard conforming loan limit of $726,200, but the FHA limits vary. The highest FHA loan limit in the state is Douglas County at $657,800. Three additional counties (Carson City, Clark, Storey and Washoe) have limits that are higher than the standard FHA limit of $472,030.
Conforming and FHA Loan Limits by County
| County | Conforming Limit | FHA Limit |
| --- | --- | --- |
| Carson City | $726,200 | $506,000 |
| Churchill | $726,200 | $472,030 |
| Clark | $726,200 | $494,500 |
| Douglas | $726,200 | $657,800 |
| Elko | $726,200 | $472,030 |
| Esmeralda | $726,200 | $472,030 |
| Eureka | $726,200 | $472,030 |
| Humboldt | $726,200 | $472,030 |
| Lander | $726,200 | $472,030 |
| Lincoln | $726,200 | $472,030 |
| Lyon | $726,200 | $472,030 |
| Mineral | $726,200 | $472,030 |
| Nye | $726,200 | $472,030 |
| Pershing | $726,200 | $472,030 |
| Storey | $726,200 | $621,000 |
| Washoe | $726,200 | $621,000 |
| White Pine | $726,200 | $472,030 |
Nevada issues deeds of trust, a type of loan document popular in Western states that's similar to a mortgage but with different laws and practices attached to it. The biggest difference is that a lender does not need to go to court in order to auction off the home. Instead the lender can initiate a "power of sale" foreclosure by hiring a third party to sell the home it wants to foreclose.
Nevada has some of the toughest real estate disclosure laws, meaning sellers must disclose what defects they know about the property. This obviously favors buyers, but you should still always get a home inspection before officially signing on a property so you can feel secure at closing.
30-Year Fixed Mortgage Rates in Nevada
If you're planning to buy in Nevada, the most common type of home loan is a 30-year fixed-rate mortgage. This option gives you plenty of time to pay back the loan and your interest rate remains the same for the duration of the loan's life, unless you refinance. You can also consider a 15-year fixed-rate mortgage. It allows you to pay off your loan quicker and comes with a lower interest rate, but your monthly payments will be higher.
The average Nevada rate for a fixed 30-year mortgage is 5.95% (Zillow, Jan. 2023).
Nevada Jumbo Loan Rates
Nevada homes hit right about average with the rest of the country, so the jumbo loan limit holds steady at $726,200 in every county. If your dream home requires you to take out a loan that is larger than $726,200, you will have what is considered a nonconforming or jumbo loan. A conforming loan is one that is $726,200 or less and it comes with a normal interest rate and can be re-sold on the secondary mortgage market.
Jumbo loans present more of a risk to lenders because more money is on the line. If you're thinking about a jumbo loan for your mortgage, you should know that they are usually accompanied by higher interest rates to offset that increased risk on the part of the lender. However, jumbo loan rates are currently lower than fixed rates in Nevada.
The average 30-year fixed jumbo loan rate in Nevada is 5.74% (Zillow, Jan. 2023).
Nevada ARM Loan Rates
An adjustable-rate mortgage (ARM) is one which has an interest rate that changes over time. Typically a lower interest rate is offered for a period of one, three, five, seven or 10 years. When that initial period comes to an end, the interest rate "adjusts", once a year. In general, the rate usually increases. The terms of an ARM will lay out how many times it can change and the highest possible rate that it can jump to. This interest rate cap protects the homeowner from a huge increase. Before deciding on an ARM, it is important to determine if the highest potential rate is one that you would feel comfortable paying.
The average rate for a 5/1 ARM in Nevada is 5.44% (Zillow, Jan. 2023).
Nevada Mortgage Resources
If you need assistance buying a home in the Silver State, here are some of the options that can help you achieve homeownership.
The Nevada Home Retention Program stemmed from the 2013 national mortgage settlement that awarded the state with $57 million. This program allocates a portion of those funds to help homeowners at risk of losing their homes. This program works to stabilize homeownership in Nevada neighborhoods by helping homeowners build equity.
Unfortunately, Nevada has one of the highest foreclosure rates in the nation. That is why it was one of the first states to receive funding from the U.S. "Hardest Hit Fund." Its programs include principal and second mortgage reduction and mortgage assistance for homeowners who qualify.
The Home Again Nevada Homeowner Relief Program is a resource that combines options for Nevada homeowners and helps them determine what state or federal assistance may be available to them. The program helps pair Nevada residents with programs for loan modification, borrowers who are underwater but current, those who have lost homes to foreclosure and people hoping to purchase a home.
Available Resources
| Resource | Problem or Issue | Who Qualifies |
| --- | --- | --- |
| Homes Mean Nevada | Distressed homeowners behind in mortgage payments. | Families and individuals at risk of losing their home. |
| Nevada Hardest Hit Fund | Offers funding to reduce principal and second mortgage payments, plus mortgage assistance. | At-risk homeowners who are facing foreclosure. |
| Nevada Homeowner Relief Program | Helps to pair first-time homebuyers and potential homeowners with the programs that will suit them the best. | Available for homeowners seeking loan modification, borrowers who are current but underwater, those who have lost their homes to foreclosure and households working toward homeownership. |
| USDA Rural Development - Single family loans | Offers payment assistance to increase an applicant's repayment ability. | Applicants must be without decent, safe and sanitary housing; Be unable to obtain a loan from other resources on terms and conditions that can reasonably be expected to meet; Agree to occupy the property as your primary residence; Have the legal capacity to incur a loan obligation; Meet citizenship or eligible noncitizen requirements; Not be suspended or debarred from participation in federal programs. |
The United States Department of Agriculture Rural Development program also offers loan help and mortgage grants in the state. The program helps residents in rural areas obtain safe, affordable housing. Nevada has grants and loans available for home repairs as well as loan assistance programs for those who qualify.
Nevada Mortgage Taxes
Nevada, like most other states, charges taxes on real estate property title transfers. The state real estate transfer tax in Nevada is $1.95 for each $500 in value. In Washoe and Churchill counties, 10 additional cents are added. In Clark county, an additional 60 cents are added. In Nevada, the seller typically pays this fee.
Homeowners are allowed to deduct the mortgage interest they pay throughout the year when they file their federal income taxes. In some states, homeowners can also deduct their mortgage interest payments from their taxable income on their state taxes as well. However, Nevada is one of the few states in the nation that does not charge an income tax. Therefore, the double deduction system does not apply here.
Nevada Mortgage Refinance
Need to refinance your Nevada home? A great option is the High Loan-to-Value Refinance Option from Fannie Mae. This is around because the Home Affordable Refinance Program, or HARP, was officially retired in 2018. You can also work with the Nevada Home Retention Program, which helps refinance at-risk homes.
See Mortgage Rates in These Other States