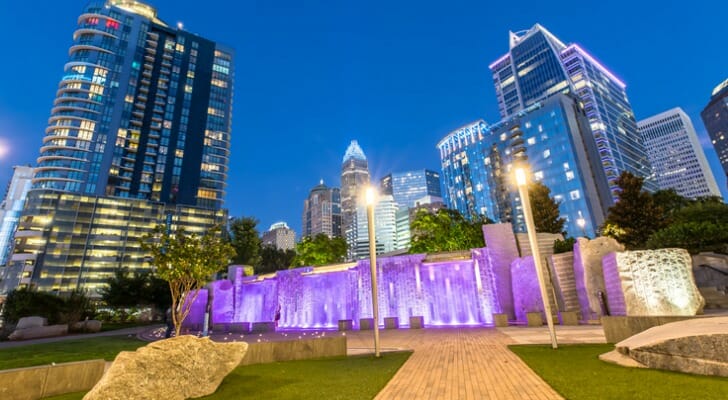 Charlotte is the largest city in North Carolina and has a population that's growing quickly. Between 2010 and 2015, Census Bureau records indicate that Charlotte's population grew by 12.4%. Of course, any time there's population growth, the associated area's cost of living tends to rise as well. Despite these increases, the housing market in Charlotte appears to have some opportunities for buyers.
Charlotte Home Prices
According to the National Association of Realtors (2018), the median sales price for a home in the Charlotte metro area is $235,400. These prices have evidently attracted a number of homebuyers, as the NeighborhoodScout reports the homeownership rate for the city is 53.1%.
One weak point for Charlotte's housing market is its overall home appreciation rates over the last couple decades. In fact, NeighborhoodScout shows that from 2000 to 2018, Charlotte homes saw a 66.54% cumulative appreciation rate. While that might seem great, consider that nearby Asheville, North Carolina, saw a 134.86% appreciation rate over that same period of time.
If you're unsure of whether you can afford to buy a home, try working with a financial advisor.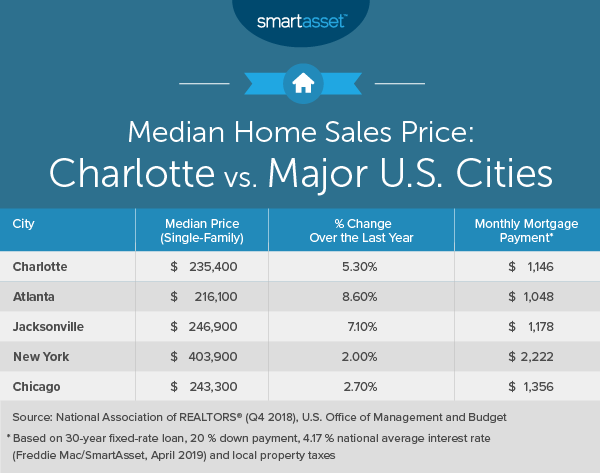 Charlotte Rent
If you're planning on renting instead of buying, know that Charlotte's rent prices aren't much higher than the rest of the country. According to Apartment List's March 2019 report, the median rent for a studio apartment in Charlotte is $875. That's less than $50 above the national mark, which is $827. The U.S. median rent for a one-bedroom apartment is $947, whereas Charlotte sits at only $969.
For those searching for a bigger abode, you'll be glad to know that Charlotte's median rents for two and three bedroom apartments are below the national medians. Here's how they compare:
Two bedroom: $1,130 ($45 below the U.S. median)
Three bedroom: $1,523 ($55 below the U.S. median)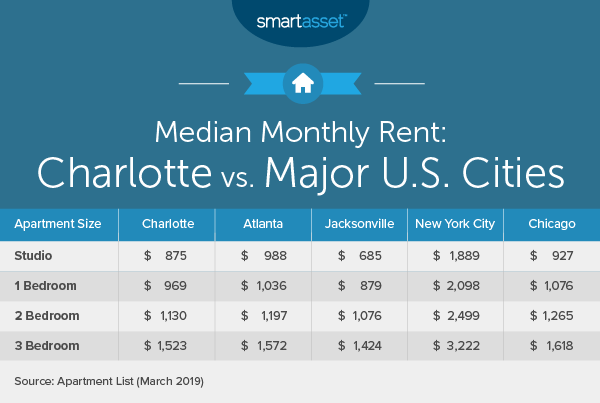 Charlotte Utility Costs
Regardless of whether you're a renter or a homeowner, you'll likely have to cover most of your utilities. According to Numbeo.com, the average monthly utility bill in Charlotte is $169.79, which is $17.71 above the U.S. average. That's for a basic package including electricity, heating, water and garbage for a 915-square-foot apartment. The average monthly internet bill in Charlotte is $58.26.
Charlotte Transportation Costs
Charlotte's "Center City" has a range of choices for public transit. A ride on the LYNX Blue Line Light Rail costs $2.20 each way. The Charlotte Area Transit System (CATS) Bus Service also costs $2.20, or $3 for express buses. The CityLYNX Gold Line is free.
Like some other cities, Charlotte has a bike-share program – the Charlotte B-cycle. A 24-hour pass costs $8, with rides over two hours incurring additional costs. Annual membership costs $100, plus 27 cents per day for unlimited two-hour rentals.
If you're planning on buying a car in Charlotte, gas will be one of your main costs. According to GasBuddy data from May 2019, the average price of a gallon of gas in Charlotte is $2.64. That's 23 cents lower than the national average of $2.87.
Cost of Food in Charlotte
According to Numbeo.com, Charlotte food prices are close to the U.S. average. For example, the price of a meal at an inexpensive restaurant in Charlotte is $15, compared to a $14 national mark. A meal for two at a mid-range restaurant in Charlotte will cost you $55, which is $5 above the national average.
Numbeo recommends spending $11.88 on food a day in Charlotte, and with a monthly minimum of $368.37. That's above the daily and monthly recommended minimum for the country as a whole ($10.47/day and $324.50/month).
Taxes
For the most part, the tax situation in Charlotte and North Carolina is favorable. In 2013, the state began charging a 5.499% flat income tax. This is down from its former progressive income tax structure that had rates ranging from 6.00% to 7.75%. Charlotte does not have a city income tax.
Charlotte is located in Mecklenburg County, which has a 7.25% sales tax. Additionally, the average effective property tax rate in Mecklenburg County is 1.14%. That comes in higher than the statewide North Carolina average of 0.86%.
Miscellaneous Cost of Living Facts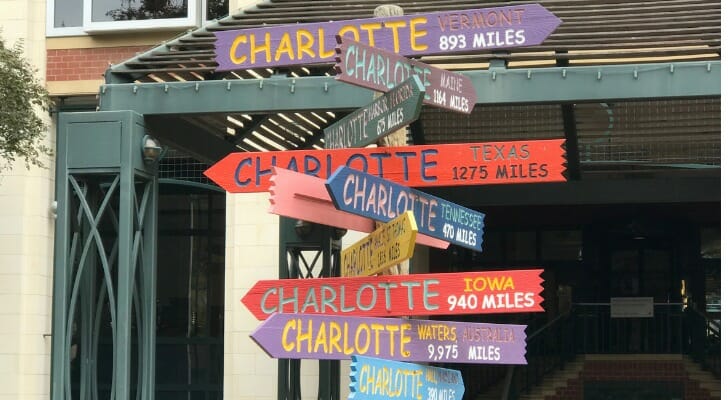 If your budget allows for spending on more than just the necessities, Charlotte has plenty to offer. Admission to the NASCAR Hall of Fame will cost you $25 for adults, $22 for seniors and military personnel with ID and $12 for children ages 3 to 7.
Charlotte also boasts its very own basketball team: the Charlotte Hornets. The average price of a ticket to see the Charlotte Hornets play for the 2015-2016 season was $30.60, according to Statista.com.
Art lovers can instead visit the Bechtler Museum of Modern Art for just $9. Admission to the Mint Museum costs $15, or $6 for children from 5 to 17 years old.
Next Steps If You're Moving to Charlotte
Photo credit: ©iStock.com/Susanne Neumann, ©iStock.com/TriggerPhoto