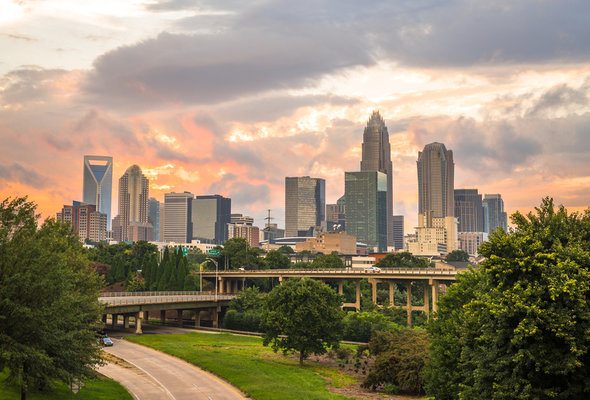 Charlotte is the largest city in North Carolina and has a population that's growing quickly. Between 2010 and 2015, Census Bureau records indicate that Charlotte's population grew by 12.4%. Correspondingly, some of the top financial advisor firms have popped up in this bustling city. But have cost of living prices risen along with the population? Let's take a closer look at the cost of living in Charlotte.
Charlotte Home Prices
According to Trulia, the median sales price for homes in Charlotte is $201,000. The average price per square foot for Charlotte listings is $127. Those in the market for an affordable home in Charlotte shouldn't delay their home purchase for too long. Trulia data shows an increase of $13,000 (7%) in Charlotte median home sales prices over the past year.
Charlotte Rent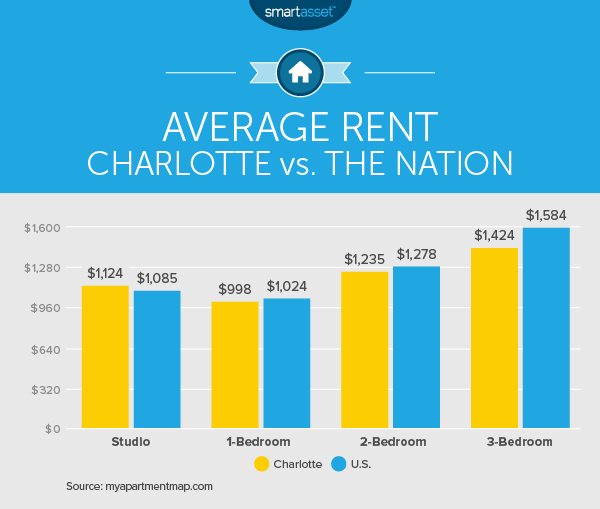 If you're still on the rent side of the rent-or-buy decision, you'll be relieved to learn that Charlotte's rents aren't much higher than the U.S. average, and for some apartment sizes they're lower than average. Check out the chart to see how much you can expect to spend on rent in Charlotte.
According to MyApartmentMap, the average rent for a studio apartment in Charlotte is $1,124. That's about 3.5% above the national average rent for a studio, which is $1,085. The average Charlotte rent for a one-bedroom apartment is $998, 2.5% lower than the national average.
Need two bedrooms? Expect to pay around $1,235 in Charlotte, compared to a national average of $1,278. And for three bedrooms, the average rent in Charlotte is $1,424, 10% lower than the national average rent for the same apartment size.
Charlotte Utility Costs
Renters and homeowners have to cover not just their rent or mortgage but their utilities, too. According to Numbeo, the average monthly utility bill in Charlotte is $135.81. That's for a basic package including electricity, heating, water and garbage for a 915-square-foot apartment. The average monthly internet bill in Charlotte is $54.59.
Charlotte Transportation Costs
Charlotte's Center City has a range of public transportation. A ride on the LYNX Blue Line Light Rail costs $2.20 each way. The Charlotte Area Transit System (CATS) Bus Service also costs $2.20, or $3 for express buses. There are also some free transit lines, such as the Gold Rush Red Line and the CityLYNX Gold Line. Yellow Cab of Charlotte has the following rates: $2.50 passenger pickup, plus $2.50 per additional mile and $0.50 per minute of traffic wait time.
Like some other cities, Charlotte has a bike-share program. It's called the Charlotte B-cycle. A 24-hour pass costs $8, plus $4 for each additional 30 minutes after the first half hour (max/day $75). Annual membership costs $65 ($15 for students), plus $4 for each additional 30 minutes after the first hour (max/day $75).
If you're planning to settle outside of the city you'll probably want to own a car. According to gasbuddy.com, the average price of a gallon of gas in Charlotte is $2.103. That's slightly lower than the national average price of $2.148 and lower than the North Carolina average of $2.131.
The Cost of Food in Charlotte
According to numbeo.com, Charlotte food prices are close to the U.S. average. For example, the price of a meal in an inexpensive restaurant in Charlotte is $12, the same as the national average. A meal for two in a mid-range restaurant in Charlotte will cost you $50, also identical to the U.S. average.
Numbeo recommends a daily minimum spend on food of $11.22 in Charlotte, and a monthly minimum of $347.93. That's above the daily and monthly recommended minimum for the country as a whole ($10.66 and $330.42).
Healthcare Costs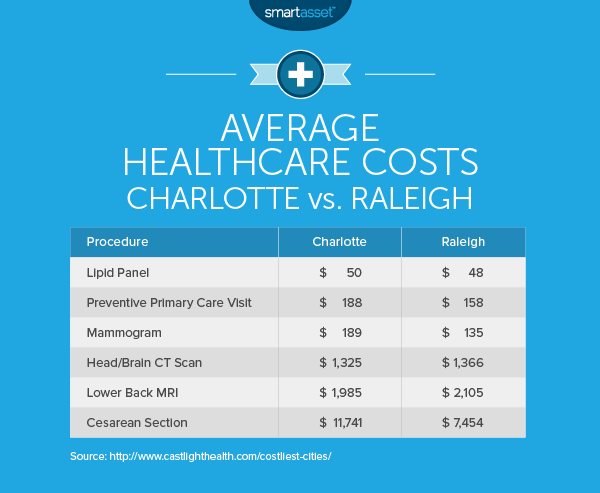 According to Castlight Health, the average cost of a preventive primary care visit in Charlotte is $188 but prices range from $110 to $250. That $188 price tag for a preventive care visit is higher than the average cost for the same visit in Raleigh ($158). The average cost of a C-section delivery in Charlotte is $11,741, compared to $7,454 in Raleigh. Check out the chart for more comparisons between health care costs in Charlotte and Raleigh.
Taxes
Curious about taxes in Charlotte? North Carolina has a flat income tax rate of 5.75%, and Charlotte does not add a city income tax to the state income tax. Sales taxes in Mecklenburg County, where Charlotte is located, are 7.25%. The average effective property tax rate in Mecklenburg County is 1.13%, higher than the North Carolina statewide average of 0.84%.
Charlotte Extras
If your budget allows for spending on more than just the necessities, you'll be pleased to learn that Charlotte has a lot to offer. Admission to the NASCAR Hall of Fame will cost you $19.95, or $17.95 for seniors and military personnel with ID and $12.95 for children ages 5 to 12.
The average price of a ticket to see the Charlotte Hornets is $30.60 according to Statista. Season tickets to see the Hornets play in the 2016-2017 season start at $430 for 43 games (one ticket per game) but average $1,634.
More interested in art? You can visit the Bechtler Musem of Modern Art for just $8. Admission to the Mint Museum costs $12, or $24 if you want to check out the special exhibition.
Next Steps If You're Moving to Charlotte
A financial advisor can help you navigate big life changes like a cross-country move, or just help you to meet your financial goals in general. A matching tool like SmartAsset's can help you find a professional to work with to meet your needs. First you answer a series of questions about your situation and your goals. Then the program matches you with up to three financial advisors who meet your needs. You can then read their profiles to learn more about them, interview them on the phone or in person and choose who to work with in the future. This allows you to find a good fit while doing much of the hard work for you.
If you'll be switching jobs when you move, your paycheck may end up looking quite different than it does now. Try using our paycheck calculator to estimate what your take-home pay will be.
Photo credit: ©iStock.com/skiserge1