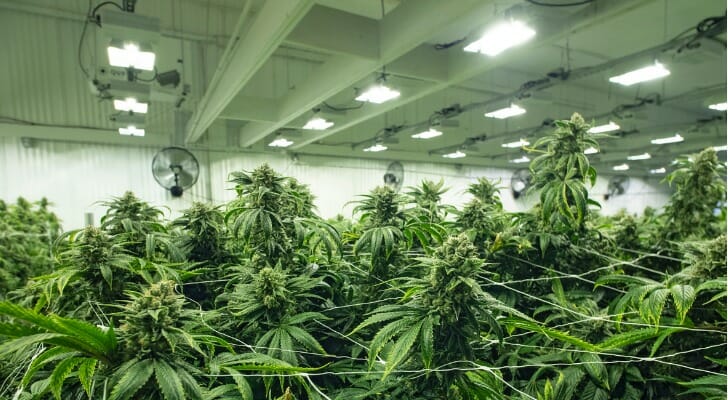 Marijuana stocks are becoming more popular as more states legalize the medical and recreational use of the drug. In fact, you can now even invest in marijuana stocks through a normal brokerage account. However, just like any other type of stock, marijuana stocks can be risky, even if market growth is encouraging. That's because stocks are typically some of the most dangerous investments since companies can be quite volatile. If you need help investing in marijuana stocks, consider working with a local financial advisor.
How to Invest in Marijuana Stocks
You can invest in marijuana stocks on your own by opening an online brokerage account or you can utilize a financial advisor to make the investments for you. Before you move forward, though, it's important to consider how to find the right marijuana stocks, research the risk involved, and make sure you're making the right decision for your investment portfolio. We cover all of that below, but first, let's go over how to actually invest in marijuana stocks in four steps.
Step 1: Understand the Types of Marijuana Products
Marijuana generally falls into two different categories: medical and recreational. While medical cannabis is legal in 36 states, Washington, D.C., Guam, Puerto Rico and the U.S. Virgin Islands, recreational use is legally permitted in only 19 states, D.C. and Guam.
In addition, other types of cannabis products fall under the umbrella of the marijuana market. Some of the most common medical marijuana products include cannabidiol (CBD) or tetrahydrocannabinol (THC).
Both CBD and THC are naturally occurring compounds, and they are usually used to treat illnesses such as chemotherapy-induced anorexia, nausea, or vomiting. Recreational marijuana, on the other hand, is usually ingested either through smoking the cannabis plant or by consuming cannabis edibles.
Step 2: Choose the Right Marijuana Stocks
There are dozens and dozens of potential marijuana investments and it can be difficult to decipher which ones might net you the best overall return. Many of these investments are extremely affordable, but that might be because there just isn't enough information about those companies to make a smart investment decision. Marijuana stocks can be risky enough without adding a layer of no information.
To determine how legitimate the stock or investment opportunity might be, you can look at these things:
Where the Stock is Traded: If the stock isn't listed on a U.S. exchange like the NYSE or NASDAQ then it's even riskier. This provides a level of comfort because of the requirements that these exchanges have to disclose certain information. Over-the-counter stocks can pose a significant risk because they don't have to comply with those requirements.
How Analysts Review the Stock: Investment research firms are now covering marijuana stocks that they can verify as legitimate investment opportunities. If there isn't enough analyst chatter from the big shops, like Morningstar, then you may want to pass.
Product Itself: You should consider what the company actually does. Do they just sell pure marijuana or is it a company that is taking advantage of the use of marijuana to solve a problem, such as a medical condition? Knowing this beforehand will help you understand the type of investment you're taking on, and with it the risk involved.
Market Capitalization: Understanding what the market cap is will give you a good idea of how much money is invested into the stock. This could mean that it's more established if it has a higher market cap and has proven its legitimacy.
Financial History: Any disclosed financial information that has been publicly released will give you a good idea of how the company has been performing and where the revenue is coming from.
Step 3: Open a Brokerage Account
The simplest way to purchase publicly traded marijuana stocks is to open a brokerage account. After you've established how much you can afford to spend, you'll be ready to register and fund your account. In addition, whether it's exchange-traded funds (ETFs) or stocks that you're interested in, you'll have a range of investment options to choose from.
When choosing a brokerage to open an account with, consider what features you find most important. For example, some brokerages specialize in simplified mobile/online trading, whereas others offer extensive stock market tools that you can use for analysis. Here are a few popular options to get you started:
Brokerage Comparison
Brokerage Firm
Stock Trading Fees
Minimum
Best For
Robinhood
Read Review
$0
$0
– Mobile/online traders
– Self-sufficient investors
Merrill Edge
Read Review
$0
$0
– Bank of America account holders
– Those who prioritize customer support
Charles Schwab
Read Review
$0
$0
– Sophisticated online traders
– New investors who can afford to pay for assistance
Step 4: Make the Purchase
Now that you have a brokerage account open, and its funded, you're ready to make the purchase of stock that you want. Remember that you can only buy up to the value in your brokerage account. Once you purchase the stock you should keep a close eye on it for a while and see how it performs and what updates the company releases.
If you're new to investing or don't have much time or energy to devote to it, a financial advisor may be able to help. Advisors typically specialize in different types of investments, strategies, and markets, so try to find one who aligns with your needs. Also, make sure you do your research on the various types of financial advisor fees. If you need help choosing an advisor, SmartAsset's free financial advisor matching tool can help.
Overview of the Marijuana Industry
Most companies in the marijuana industry fall under one of three categories: marijuana growers/producers, cannabis-focused drug-makers, and ancillary product/service providers. Here's a breakdown of each major area within the market:
Marijuana Market Overview
Marijuana Growers & Producers
– Marijuana cultivation
– Cannabis products
– Product distribution
Cannabis-Focused Drug-Makers
– Pharmaceuticals
– Cannabis biotech companies
Ancillary Product & Service Providers
– Support for marijuana growers
– Hydroponic products
The marijuana industry is growing rapidly, as more and more states legalize the drug on both a medicinal and recreational level. Just like any other burgeoning industry, the marijuana market is attracting plenty of investors.
If you're looking to buy equity in a marijuana-centric company, make sure you understand the market. Both marijuana products and marijuana stocks fall into different categories. In addition, though the product is now legal in many states, cannabis is still federally illegal. Therefore, this poses a considerable legal risk for investors.
However, you'll have a range of companies to choose from when purchasing marijuana stocks. In fact, some of the most popular Nasdaq-listed U.S. marijuana stocks include Tilray Inc. (TLRY), Cresco Labs Inc., Cronos Group Inc. (CRON), and Jushi Holdings Inc.
Risks of Investing in Marijuana Stocks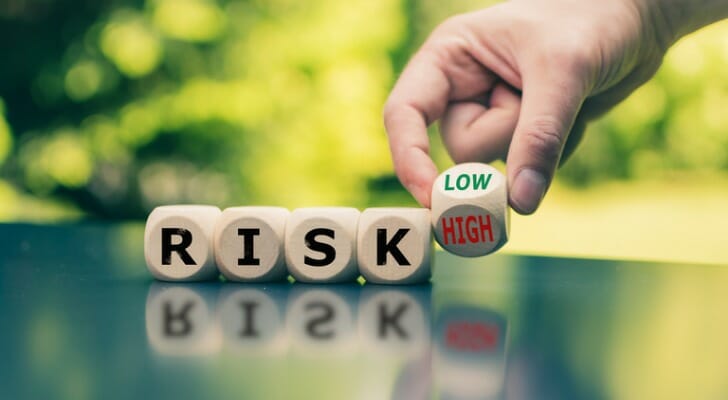 Because marijuana is still federally illegal in the U.S., the market poses a notable risk to potential investors. This risk applies not only to those in states that haven't legalized the sale of marijuana but also to those in states that have. This means that businesses currently growing and supplying cannabis products are subject to possible federal intervention, even if the federal government has left it up to the states up until now.
The industry also faces investment fraud and schemes facilitated by scammers. In fact, the SEC has issued warnings to investors in regard to market manipulation and scams. Because the cannabis industry is still relatively new, you should keep these risks in mind as you think about your long-term savings goals.
Should You Invest in Marijuana Stocks?
Though the marijuana industry is an up-and-coming market, it's still wise to conduct thorough research before purchasing shares. You should also weigh the risks associated with investing and whether your current holdings can withstand a potentially volatile pursuit. In addition, be sure to carefully determine how your portfolio may be affected by an industry still facing a potential legal intervention.
A great first step when deciding whether to invest is to determine your risk tolerance. A financial advisor can help you with this, but it involves choosing your financial goals and when you want to achieve them. This pursuit will likely lead you to the best decision possible for your financial situation.
Tips for Growing Your Investments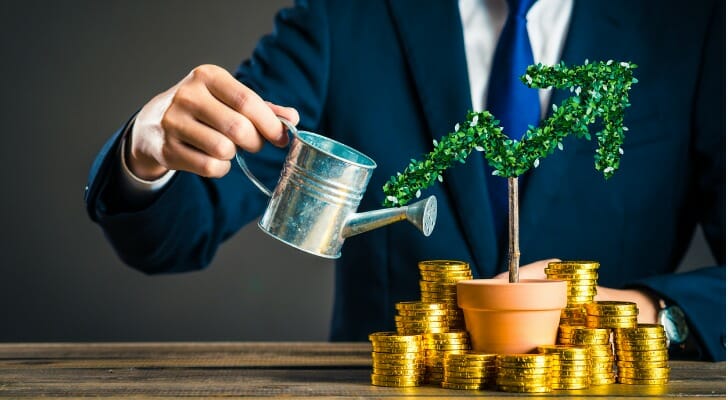 If you have questions about various investment strategies, consider working with a financial advisor. Finding a qualified financial advisor doesn't have to be hard. SmartAsset's free tool matches you with up to three financial advisors who serve your area, and you can interview your advisor matches at no cost to decide which one is right for you. If you're ready to find an advisor who can help you achieve your financial goals, get started now.
Stocks are one of the riskier investment types, so it's essential that you have some incoming knowledge prior to investing in them. In fact, go beyond just stocks to get a better idea of the investment market at large. As a starting point, check out SmartAsset's guide to investment types.
Photo credit: ©iStock.com/SEASTOCK, ©iStock.com/Fokusiert,©iStock.com/bee32