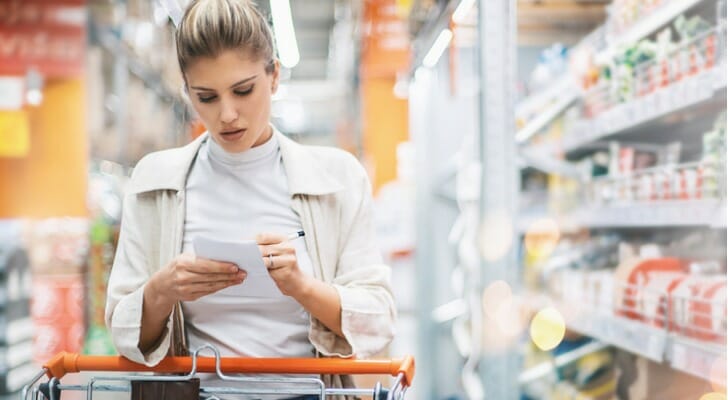 The consumer price index (CPI) is an economic term you've probably heard before but may not know much about. It's importance has risen since President Biden's trillion-dollar spending initiatives aimed at countering the effects of the pandemic. And the April 2022 CPI report of a 8.3% jump from April 2021 has only furthered interest in this economic metric. Broadly speaking, the CPI measures the price of consumer goods and how they're trending. It's a tool for measuring how the economy as a whole is faring when it comes to inflation or deflation. When planning how you spend or save your money, the CPI can influence your decisions. Here's how.
Consumer Price Index Definition
First, let's look at the formal definition of the consumer price index. According to the Bureau of Labor Statistics, the CPI is "a measure of the average change over time in the prices paid by urban consumers for a market basket of consumer goods and services."
Now, let's break that down further. Average change over time means how prices rise or fall during a specific period. Urban consumers refers to people living in urban areas. So, for the purposes of calculating CPI, the BLS excludes those living in rural or non-metro areas, people who are imprisoned, and military families.
A "market basket of consumer goods and services" means a specific group of items people buy. The CPI measures prices in several major categories of consumer spending, including:
Food and beverages
Housing
Medical care
Transportation
Education and communication
Recreation
Clothing
Other goods and services
The CPI doesn't factor in non-tangible things consumers spend money on. Intangibles can include life insurance or investments.
How is the CPI Calculated?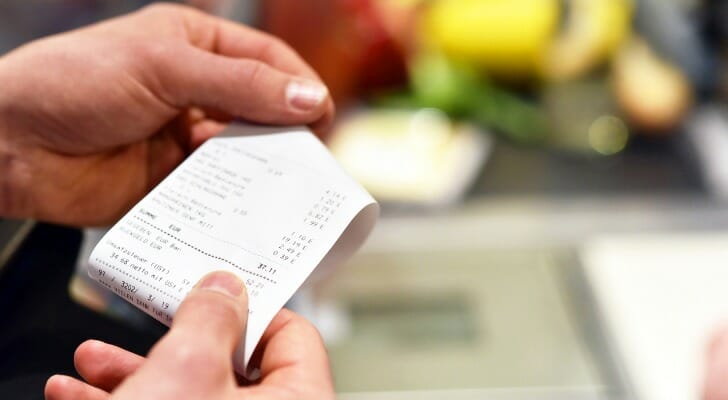 The Bureau of Labor Statistics has a process for calculating the consumer price index.
First, the market baskets for each category and the urban areas for measuring prices are identified. To fix the market basket, the BLS looks expenditure data that's self-reported by families and individual consumers over a two-year period. There's a gap between the period from which spending data is collected and when it's used to calculate CPI. So for example, if the BLS were calculating the CPI for 2022, the data used to determine the market basket might come from 2019 and 2020.
Next, the prices for individual items in the market basket in each urban area are determined. The BLS does this through telephone sampling. In other words, they call retailers and service providers to ask about pricing for various goods and services. The BLS can also collect this information through in-person visits.
The consumer price index uses these two sets of data in its calculations. The formula for doing so looks like this:
CPI = Cost of market basket in a given year/Cost of market basket in base year x 100
The base year is a benchmark number that's used to measure changes in pricing from the given year. The consumer price index recalculates and updates monthly.
Using the Consumer Price Index

The CPI has a number of uses. Many of them can directly or indirectly impact your financial life. Here are some of the most important uses of the consumer price index:
1. Measuring inflation
Inflation means a rise in prices that affects your purchasing power. As prices rise, your money doesn't go as far because you're spending more to pay for the same goods and services. The CPI can indicate inflation, how it's trending, and by extension, the effectiveness of current economic policy.
2. Measuring deflation
Deflation is when prices for goods and services drop and inflation falls below 0%. Purchasing power increases during periods of deflation but at the same time, the money supply also shrinks. Spending can also decline when the economy is deflating, as is usually the case following a recession.
3. Cost-of-living adjustments
The consumer price index ties itself adjustments in the cost of living index. That's important because the cost of living index determines things like Social Security benefit amounts and how much money you can contribute to tax-advantaged retirement accounts on a yearly basis. Employers can also use cost of living adjustment data to increase wages paid to employees.
Are There Limitations to the Consumer Price Index?
The short answer is yes, a few. The key limitation is that the CPI doesn't apply to all population groups so it doesn't take into account the buying habits of people living outside urban or metro areas. Also, it doesn't consider the prices they're paying for the things they buy. So in that sense, it's not a true measure of how much price inflation the entire country experiences.
The CPI also doesn't take into account other factors that affect cost of living, beyond prices for consumer goods and services. It doesn't measure social or environmental causes or trends that could cause prices to rise or fall over time. And as with any statistical measure, leave room for a certain amount of sampling error.
What the CPI Means for Investors
The consumer price index is a good tool to use to measure inflation and deflation, and what each one means for your spending power. It also has its use from a saving and investing perspective.
If the CPI is signaling that a period of inflation or deflation may be on the horizon, that might encourage you to make strategic moves to preserve cash savings and other investments. For example, you may want to increase your liquid cash reserves if prices are dropping. That fall could signal a broader economic slowdown.
On the other hand, if prices are picking up, you might consider making defensive moves in your portfolio to hedge against inflation. Investing in Treasury Inflation-Protected Securities, money market funds, commodities, real estate or bonds are all ways to counter some of the effects of inflation on your investment portfolio. Or, you may want to seek out investments that benefit from a period of inflation, such as growth stocks or mutual funds.
Bottom Line
The April 2022 CPI report of a 8.3% gain intensified already heightened concerns about inflation as the federal government boosted spending to help the economy recover from the pandemic. Some economists said the surprisingly big number vindicates their warnings about inflation; other economists said the big percentage gain just reflects how depressed the metric was one year earlier, due to the pandemic-induced recession.
Consumer price index has several important uses. On an individual level, it's a good idea to have a sense of which way prices are trending. That can help you better plan your budget. It also can affect how you plan to save or invest the money you're working hard to earn.
Saving and Investing Tips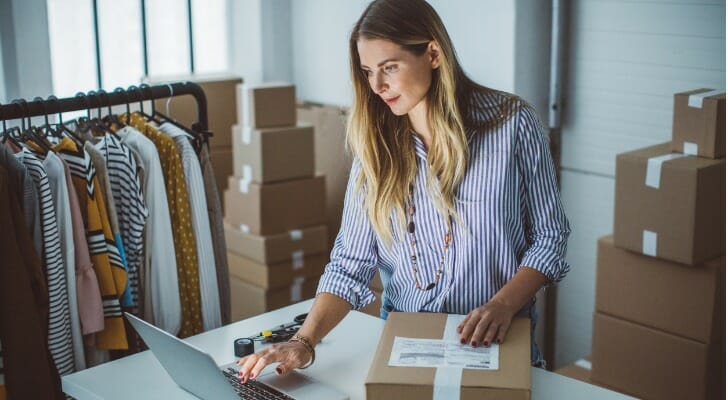 Talk to a financial advisor if you're concerned about how inflation or a recession could impact your investment portfolio. An advisor can answer your questions about the potential impacts of inflation or deflation. An advisor also can help you devise an investment strategy insulating you from either. Finding a qualified financial advisor doesn't have to be hard. SmartAsset's free tool matches you with up to three financial advisors who serve your area, and you can interview your advisor matches at no cost to decide which one is right for you. If you're ready to find an advisor who can help you achieve your financial goals, get started now.
If you're planning to grow your emergency fund or shore up cash, ming where you keep your money. A high-yield savings account or CD, for instance, can offer more growth than traditional scounterparts. Shop around at different banks to see who's offering the best combination of higher APY and minimal fees.
Photo credit: ©iStock.com/gilaxia, ©iStock.com/industryview, ©iStock.com/svetikd