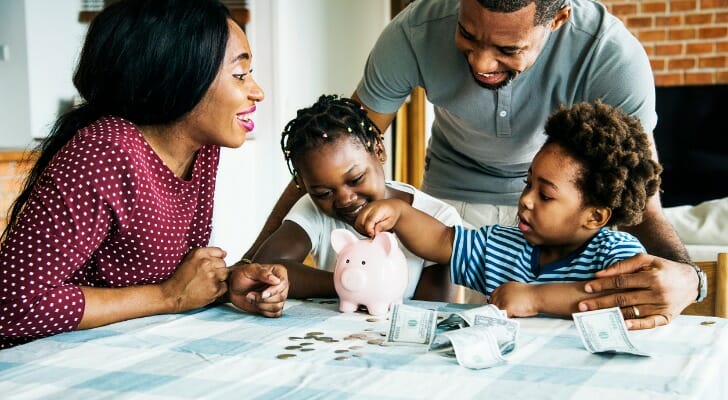 You may think you have a good sense of where in the country residents are making the most money. But the counties whose well-heeled, deep-pocketed denizens are pulling in the most coin may not include the fanciest zip codes you're imagining. That's because there's more to income than just wages.
In fact, a Federal Reserve survey found that wage income makes up only 61% of pretax income for the average family. From interest income saved in a high-yield saving account to investment income earned through a financial advisor and retirement income through an IRA built up over years of saving, the different ways to make money are vast. When it comes to average income in places across the nation, of course, the usual suspects do make the list. Tech in the San Francisco Bay area and finance in New York are both high-paying industries. But when you take a more holistic look at income, the places where people earn the most money across all income types may surprise you.
Below, we take a look at IRS data to find the wealthiest counties in America. We look at all kinds of income and compare it to the number of tax returns. Check out our data and methodology below to see where we got our data and how we put it together to create our final rankings.
Key Findings
Stark inequality – The county with the highest average income in our study, Teton County, has an average income 10 times higher than that of the county with the lowest average income, Hayes County, Nebraska.
New York and San Francisco metro areas top the charts – The wealthiest parts of these affluent cities are also the richest parts of the country. New York County and San Francisco County both claimed spots in our list of the top 10 richest counties. But counties within the metro area but outside the city center, like Westchester County, New York and Marin County, California, also appeared in the top 10.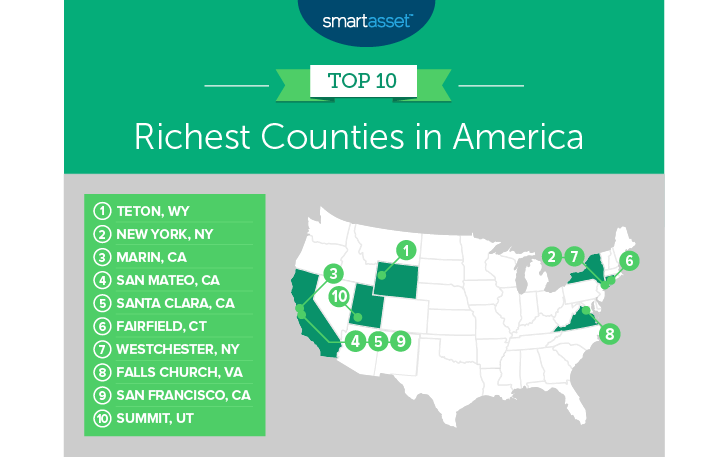 1. Teton County, WY
Teton County, Wyoming is the richest county in America on an income per tax return basis. This county is an outdoor enthusiast's paradise, containing all of Grand Teton National Park, Jackson Hole Ski Area and 40% of Yellowstone National Park. The average tax return in this county has $214,800 in income. Unlike other wealthy counties, the majority of the $3.05 billion earned here comes from investments. The 14,200 tax returns filed from Teton County reported $2.1 billion in investment income from interest, capital gains or dividends.
2. New York County, NY
New York City is so large it makes up five counties. The most famous, expensive and wealthiest of these counties is New York County, better known as Manhattan. The average tax return in this county takes in just under $200,000 per year. This does not mean everyone in New York county is taking home six-figures. The average figure used in this analysis is the statistical mean, which is biased toward outliers. That means a few billionaires here or there will raise the average income. New York is largely a county of people who work for their income rather than merely investing for it. Of the $172 billion in income taken in by New York County residents, $95.6 billion came from salaries or wages.
3. Marin County, CA
The counties that make up the San Francisco metro area are prominent in this top 10. The first among their ranks to appear in this top 10 is Marin County. This county has a per-return income of nearly $170,000. Marin County has one of the more distinct income profiles in our top 10. Pensions and IRA payments have a 7% share of total income, while wages and salary make up 53%, investment income accounts for another 25% and business or professional net income accounts for 6.4%. This is the only county in the top 10 where each of those four categories makes up at least 6% of the county's overall income.
4. San Mateo County, CA
San Mateo County covers most of the San Francisco Peninsula that runs south from the Golden City. The 385,300 tax returns with income in this county earned nearly $60.4 billion. That leaves the county with a per-return income of $156,700. More than 64% of income earned in this county comes from wages and salaries, the third-highest rate in our top 10.
5. Santa Clara County, CA
San Jose's wealthiest county is Santa Clara. Not only is this county one of the wealthiest, but it is also one of the largest. This county had the most tax returns with income in the top 10, with more than 912,000. Only New York County comes close, with just under 875,000. Even more so than San Mateo County, Santa Clara County residents make most of their money off their wages. Wages and salaries account for 67% of total income earned in the county.
6. Fairfield County, CT
Fairfield county takes sixth. Residents here have easy access to New York City thanks to the fact that Fairfield County borders the New York metro area. This county has just under 458,000 tax returns with a combined income of $69.4 billion. That leaves the average tax return with an income of $151,500. That should be quite enough to live on given the cost of living in Fairfield is not too high, and Connecticut is only a slightly-higher-than-average income tax state.
7. Westchester County, NY
North of the Bronx lies Westchester County, the second-wealthiest county in New York. This county earned just short of $71 billion, according to our analysis. The 484,470 tax returns average $145,700 in income. This is one of two counties where investment income generates less than 20% of income for the average tax return. Instead of investment income, retirement income from IRAs, pensions and annuities takes up a fairly large share, above 6%.
8. Falls Church, VA
Falls Church is a small independent city in the Commonwealth of Virginia. Only 6,700 tax returns were filed from this county. But between them, the people behind those tax returns generated an average of $144,891, for a total county income of $972 million. Falls Church is the most prominent retirement city in the top 10. About $83 million of the county's $972 million in income comes from retirement sources like annuities or IRAs.
9. San Francisco County, CA
The county representing the city of San Francisco comes in ninth. There are roughly 475,000 returns with income in this county. Combined, they took in a nearly $67.2 billion. The vast majority of the income earned here comes from either investment or wages. Those two sources alone account for 88% of the average San Francisco County tax return's income.
10. Summit County, UT
Our list rounds out in Summit County, Utah. This is another county with fantastic outdoor entertainment. As the name suggests, Summit County is famed for its heights. The mean elevation is nearly 8,400 feet above sea level. The largest city here is Park City, home to some of the best skiing in the country. Apart from all that, Summit County residents are also wealthy. On average, we estimate the average tax return here has about $138,000 in income.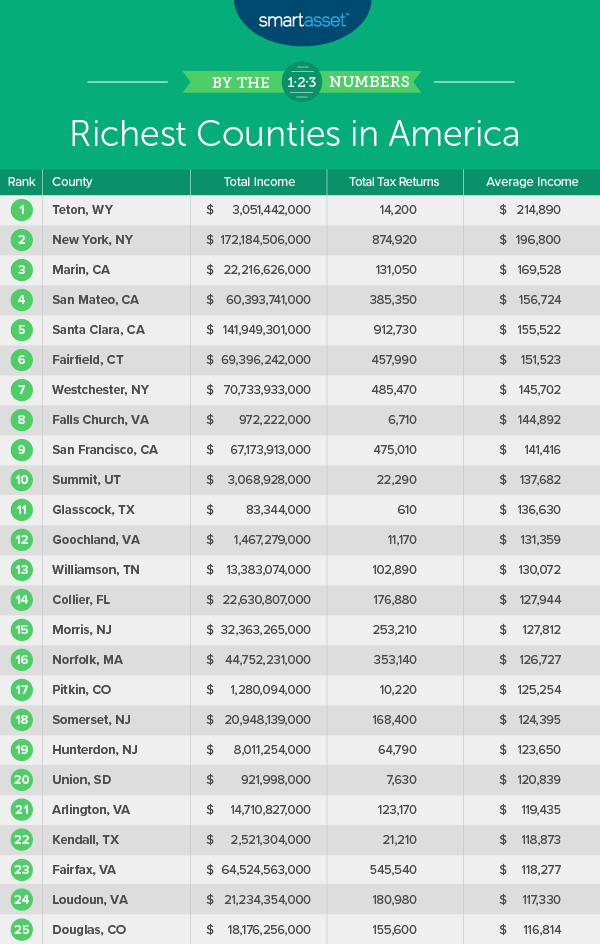 Data and Methodology
In order to find the richest counties in America, we looked at data on 3,151 counties. Specifically, we looked at them for the following two factors:
Total income. This is the total income in the county.
Total returns with income. This is the number of tax returns reporting an income.
Data for both metrics comes from the IRS and is for 2016.
To create our final rankings, we divided total income by the total number of returns with income. This gave us the average income per return.
Tips for Building Your Wealth
A financial advisor can help you decide how to invest effectively. Finding the right financial advisor that fits your needs doesn't have to be hard. SmartAsset's free tool matches you with financial advisors in your area in 5 minutes. If you're ready to be matched with local advisors that will help you achieve your financial goals, get started now.
When people talk about making your money work for you, they mean investing it and letting it grow. But while you may think you need to have a sizable pot of money to invest before you can see the benefits, you don't. Even a small amount of money invested over a long period of time can improve your financial position.
Questions about our study? Contact press@smartasset.com
Photo credit: ©iStock.com/Rawpixel