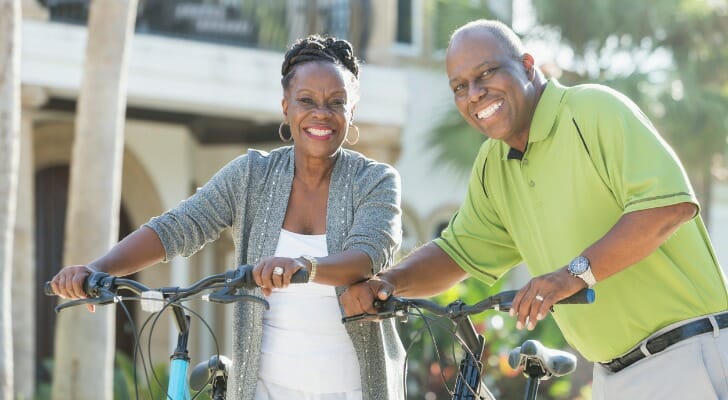 Who doesn't want to retire early. Getting to retire in your 50s or early 60s can mean being able to do some of the things you've always dreamed of while you still have some youthful energy. But retiring early requires a ton of planning and preparation. One great strategy for retiring early, that many financial advisors would recommend, is to retire somewhere affordable. Retiring somewhere tax-friendly with a low cost of living can stretch your earnings enough that you can retire a few years early.
Below we look at a number of factors to rank the cities where you can retire early. In total, we compare cities across 10 factors looking at a combination of costs of living and quality of living factors. Check out our data and methodology below to see where we got our data and how we put it together to create our final rankings.
Key Findings
The South is a good landing spot – Four of the top 10 cities where you can afford to retire early are in the South. In particular Kentucky scores well with two top 10 cities. Texas has the other two Southern cities in the top 10.
Retirees are making smart decisions – In past analysis we have seen that retirees are flocking to Arizona and Florida for their retirement. One positive coming out of this analysis is that it would appear retirees are getting good financial advice. Mesa, one of the most popular spots for retirees scores in the top 10, and two Florida cities also take top 15 spots.
1. Lexington, KY
Lexington, Kentucky takes the top spot where it's possible to retire early. This city ranks in the top 10 for cost of living, health care costs and housing costs as a percent of income. This city also has a fairly low rate of violent crime, a sign of how livable the city is. If you find you need to supplement your income in retirement, it should be possible to do so in Lexington. This city scores in the top 20 for unemployment.
2. Plano, TX
Even the best retirement plans can go wrong somewhere down the line. Maybe the stock market didn't go as well as planned or maybe you couldn't save enough to contribute to your long-term investment portfolios. Because of these risks, it is a great idea to retire somewhere with a low cost of living where padding your retirement income is possible. Plano has some of the lowest housing costs relative to local income in the study. Jobs here are also plentiful: Plano ranks fourth in unemployment. Perhaps best of all, Texas is a tax-friendly retirement state and taxes no retirement income.
3. Boise, ID
If you are moving to a new city, it is important you can feel comfortable there. Boise scores high on livability and affordability to claim the third spot. Specifically Boise boasts some of the lowest crime rates in our study, scoring 11th and seventh in property crime and violent crime, respectively. Housing here is also affordable relative to local income. This city ranks sixth for percent of median income needed to pay for the average home. Boise is not just affordable for locals either, just about everyone should be able to afford Boise. This city has the third-lowest cost of living in our study.
4. Madison, WI
Coming in fourth is Madison. While this city ranks in the bottom half for effective income tax rate and cost of living, the city's healthcare costs, something seniors care quite a bit about, lean towards the affordable side. Madison does offer senior homeowners a break on their property taxes as well, which can be very useful for someone retiring early. Overall, Madison has the lowest effective property tax rate in our study. Combine that with the fifth-lowest sales tax rate and, despite the initially high cost of living, Madison puts up some competitive scores.
5. Louisville, KY
In fifth is another Blue Grass State representative. Louisville scores no worse than 32nd on any of our metrics that capture the cost of living. Highlighting that affordability are the low overall costs of living and affordable healthcare costs. Where Louisville could use some help is its livability scores. Louisville has a fairly high crime rate and a high unemployment rate for our top 10.
6. Henderson, NV
Lying just outside of Las Vegas is Henderson, Nevada, the sixth-ranked city on this list. It scores highly as a good place to retire early thanks to low tax rates. Nevada is one of the tax-friendliest states for retirees and this city has some of the lowest property taxes in our study. One slight concern is the sales tax, which is high at 10.4%. Another plus for Henderson is crime. Our data shows Henderson is a safe city for retirees, scoring in the top 10 for both crime rates. Henderson also has plenty of medical facilities. Henderson ranks seventh for medical facilities per 1,000 residents.
7. Pittsburgh, PA
Pittsburgh, one of the most undervalued cities in America, comes in seventh. According to our data healthcare costs here are competitive, ranking in the top 10 for the study. Plus, while the costs of healthcare are low, the quality on offer is high. This city is home to some of the best hospitals in the country and ranks highly in access to healthcare. Data from the Census Bureau shows that Pittsburgh ranks ninth in medical facilities per 1,000 residents.
8. Fort Wayne, IN
In eighth is Fort Wayne, Indiana. This city is one of the most affordable in the country ranked first for cost of living and median housing costs as a percent of median household income. Fort Wayne may not be perfect for everyone. Indiana is not the most tax-friendly state for retirees and that hurts Fort Wayne's ranking.
9. Mesa, AZ
Mesa, Arizona, one of the top destinations for retirees, takes ninth. One reason retirees flock here is the great weather, but Mesa is also affordable. Mesa ranks in the top 20 for median housing costs as a percent of median household income. This city also has plenty of medical care facilities, meaning any medical complications that may arise in retirement can be dealt with quickly. Overall Mesa ranks fifth for medical facilities per 1,000 residents.
10. Arlington, TX
Arlington, Texas claims the last spot on this top 10. When you retire early, you need to make sure you are tracking every penny to make sure you are on pace for a secure long-term retirement. By living somewhere with a low tax burden for retirees, you can save on taxes. Arlington ranks highly because of how tax-friendly Texas is to retirees. This city also offers residents plenty of medical access to healthcare. This city ranks in the top 10 for medical facilities per 1,000 residents.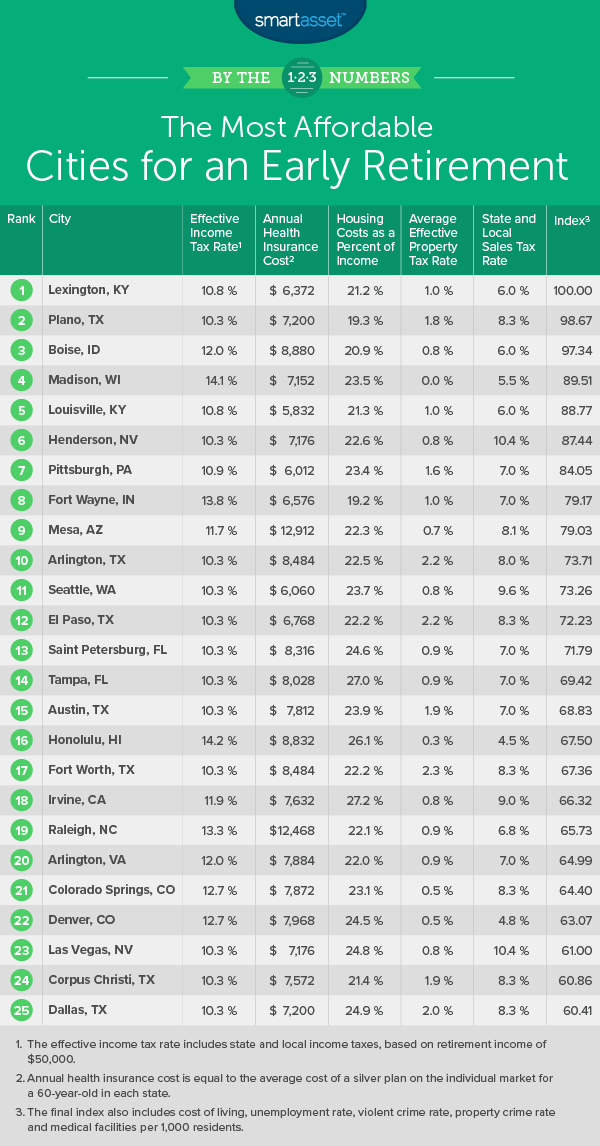 Data and Methodology
To rank the cities where you can retire early we looked at data for 80 cities. Specifically we compared them over the following 10 metrics.
Effective income tax rate. This is the estimated income tax rate for a retiree with 50,000 in annual income. That income is split between $15,000 from Social Security, $10,000 from a private pension, $15,000 from retirement savings like a 401(k) or an IRA and $10,000 in wages.
Average annual cost of a silver health insurance plan. To find this number, we used the Kaiser Family Foundation health insurance calculator. We estimated the cost of a silver plan for a 60-year-old in each city, not including any subsidies.
Cost of living. This is the cost of living for one person. Data comes from the MIT living wage study.
Median housing costs as a percent of median household income. This is median housing costs divided by median household income. Data comes from the Census Bureau's 2016 1-year American Community Survey.
Average effective property tax rate. This is annual property taxes divided by median home value. Data comes from the Census Bureau's 2016 1-year American Community Survey.
Sales tax. This is the local sales tax rate.
Property and violent crime rates. This is the number of violent property crimes and violent crime rates per 100,000 residents. Data comes from the FBI UCR report and is for 2016.
Medical facilities per 1,000 residents. Data comes from the Census Bureau's County Business Patterns Survey and the Census Bureau's American Community Survey. Data for both metrics is from 2016.
Unemployment rate. Data comes from the Census Bureau's 2016 1-year American Community Survey and is from 2016.
In order to create our final ranking, we first ranked each city in each metric. We then found each city's average ranking, giving a half weight to both crime metrics and a full weight to every other metric. Using this average ranking, we created our final score. The city with the best average ranking received a 100 and the city with the worst average score received a 0.
Tips for saving for retirement
To get the most out of your savings and create the most detailed retirement plan possible, it's a good idea to talk to a financial advisor. Finding the right financial advisor that fits your needs doesn't have to be hard. SmartAsset's free tool matches you with financial advisors in your area in 5 minutes. If you're ready to be matched with local advisors that will help you achieve your financial goals, get started now.
To be best prepared for retirement, you should start planning early. By planning and saving early you can take advantage of compound interest. You are also less at the mercy of swings in the market. If you decide to start saving later in life and the market takes a turn for the worst, it may be difficult to get the returns necessary to fund your retirement.
Questions about our study? Contact press@smartasset.com.
Photo credit: ©iStock.com/kali9