North Carolina does not levy an estate tax. However, your estate may still be subject to the federal estate tax if the value is high enough. If you think you need help with estate planning or any other financial planning issues, you may want to consider working with a financial advisor. You can find an advisor in your area who meets your specific needs and preferences by using SmartAsset's financial advisor matching service.
North Carolina Estate Tax
North Carolina is one of 38 states with no estate tax. Prior to 2013, the state did have an estate tax but it was repealed in July 2013. The repeal retroactively applied to all deaths from January 2013 onward.
What Is the Estate Tax?
The estate tax, sometimes referred to as the "death tax," is a tax levied against the estate of a recently deceased person before the money passes to the designated heirs. There is a federal estate tax and some states also levy a local estate tax. North Carolina is not one of those states.
The estate tax is different from the inheritance tax. Inheritance taxes are levied on heirs after they have received money from the deceased.
North Carolina Inheritance Tax and Gift Tax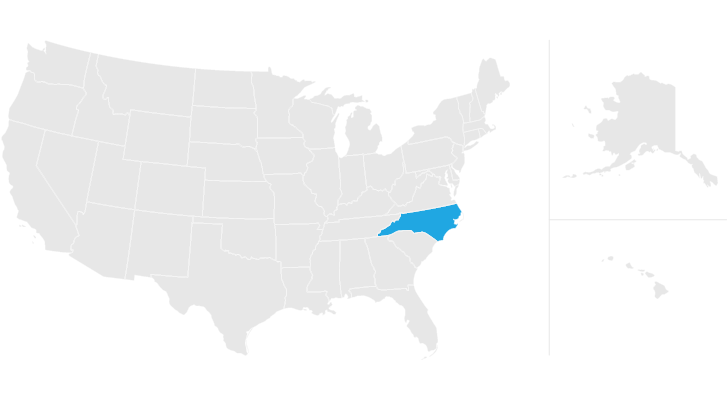 There is no inheritance tax in North Carolina. The inheritance tax of another state may come into play for those living in North Carolina who inherit money. If you inherit property in Kentucky, for example, that state's inheritance tax will apply even if you live in a different state.
There is no gift tax in North Carolina. The federal gift exemption is $15,000 per year per recipient for 2021 and increases to $16,000 per year per per recipient in 2022.
Federal Estate Tax
While there isn't an estate tax in North Carolina, the federal estate tax may still apply. The federal estate tax exemption was $11.70 million for deaths in 2021 and goes up to $12.06 million for deaths in 2022. The exemption is portable for spouses, meaning that with the right legal steps a couple can protect up to $24.12 million upon the death of both spouses.
A full chart of federal estate tax rates is below. The rates range from 18% to 40%.
Here's an example of how to calculate your federal estate tax burden: Let's say your estate is worth $14.88 million and you aren't married. Subtracting the exemption of $12.06 million, leaves you with a taxable estate of $2.82 million. If you consult the table below, you'll see that you are in the highest bracket. Your base tax payment on the first $1 million is $345,800. You'll also pay 40% on the remaining $1.82 million, which comes to $728,000. That sum ($728,000), plus the base tax of $345,800, means your total federal estate tax burden is $1,073,800.
FEDERAL ESTATE TAX RATES
Taxable Estate*
Base Taxes Paid
Marginal Rate
Rate Threshold**
$1 – $10,000
$0
18%
$1
$10,000 – $20,000
$1,800
20%
$10,000
$20,000 – $40,000
$3,800
22%
$20,000
$40,000 – $60,000
$8,200
24%
$40,000
$60,000 – $80,000
$13,000
26%
$60,000
$80,000 – $100,000
$18,200
28%
$80,000
$100,000 – $150,000
$23,800
30%
$100,000
$150,000 – $250,000
$38,800
32%
$150,000
$250,000 – $500,000
$70,800
34%
$250,000
$500,000 – $750,000
$155,800
37%
$500,000
$750,000 – $1 million
$248,300
39%
$750,000
Over $1 million
$345,800
40%
$1 million
*The taxable estate is the total above the exemption of $12.06 million.
**The rate threshold is the point at which the marginal estate tax rate kicks in.
Overall North Carolina Tax Picture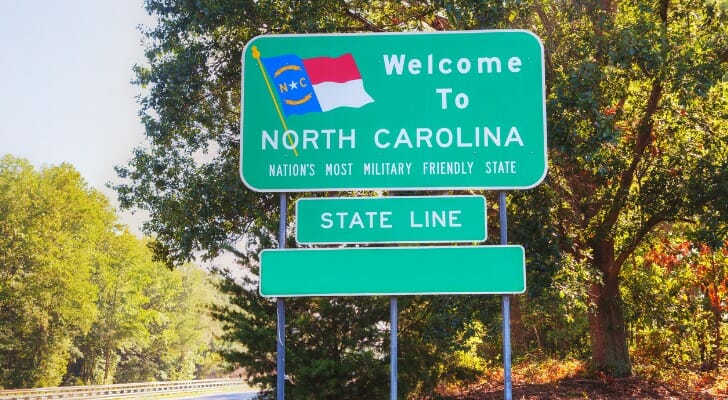 North Carolina is moderately tax-friendly for retirees. Social Security is not taxed but other retirement income sources are fully taxed. North Carolina's income tax is a flat rate of 5.25%. The state adopted a flat income tax rate in 2014. Prior to that, it had a progressive income tax.
The average effective property tax rate in North Carolina is 0.77%. The sales tax in the state ranges from 6.75% to 7.5%, depending on the county. You can use SmartAsset's North Carolina paycheck calculator to see what your take home pay will be in the Tar Heel State.
Estate Planning Tips
When dealing with any big financial event, it can be helpful to have the expertise of a professional financial advisor. Finding an advisor who is suited to you and your family, though, can be difficult. Luckily, SmartAsset has a financial advisor matching service that can help. You'll answer a few questions on your personal finances and preferences and then you'll be matched with up to three financial advisors in your area who fit what you're looking for. The advisors will be given your contact information and they'll get in touch and see if you want to work with them. Keep in mind that all of the advisors on our platform have been fully vetted and are free of disclosures.
One common estate planning mistake is to forget about certain assets. It's not just money and investments you need to think about, but property like cars and family heirlooms, as well.
Photo credit: ©iStock.com/Bet_Noire, SmartAsset, ©iStock.com/AndreyKrav