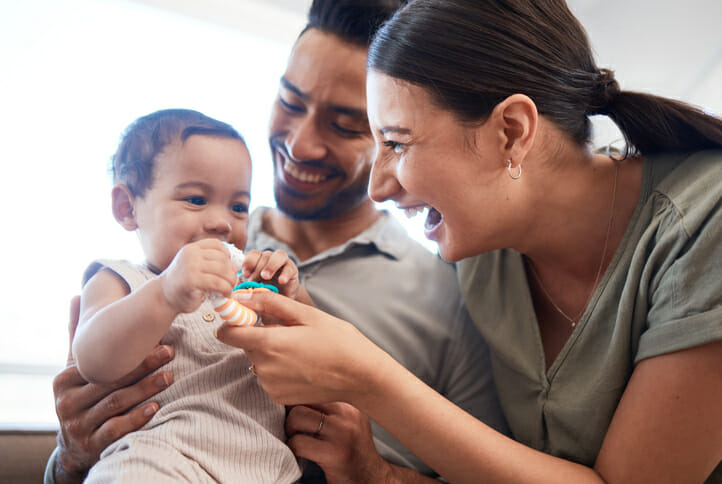 The ongoing costs of child-rearing can be hard to size up – and digest. The average cost to raise a child in the U.S. is $20,813 annually. By understanding what to expect to pay for a child's needs, parents can better plan for their family's financial future.
With this in mind, SmartAsset set out to calculate the cost of raising one child in 381 metro areas across the U.S., considering the extra costs of food, housing, childcare, healthcare, transportation and other necessities when a two-adult household adds a child.
Key Findings
Childcare costs an average of $9,051 annually. Childcare is the largest cost of having a child, accounting for nearly 50% of the annual cost of raising a child, on average. Childcare costs as much as $22,154 in Ann Arbor, MI, and as little as $4,807 in Sumter, SC.
Raising a child costs more than $32,000 per year in these California and Massachusetts areas. In San Francisco, Santa Cruz and San Jose, it costs more than $33,000 annually to raise a child. Barnstable Town and Boston follow with a child costing above $32,000 per year.
South Carolina has some of the most affordable places to raise a child. Five of the 10 metro areas with where costs are lowest are located in the Palmetto State: Sumter, Columbia, Florence, Hilton Health Island-Bluffton and Spartanburg. However, the absolute most affordable place to raise a child is Morristown, Tennessee.
Couples with one child spend an average of $3,407 on housing than childless couples. The Santa Cruz metro has the most expensive additional housing costs for a child at $12,636 per year. Meanwhile, housing for a child in Fayetteville, NC costs one tenth of that $1,252 per year.
Annual food costs for a child come in between $1,768 and $2,111. There's relatively little variation in this cost based on location. It averages $1,890 annually, while transportation costs come in slightly higher at $2,116.
Most Expensive Places to Raise a Child
San Francisco-Oakland-Berkeley, CA
In one year, couples with one child in the San Francisco-Oakland-Berkeley metro area spend $10,499 more on housing than childless couples. That's no surprise considering the median value of a home in this part of California is over $1 million. Meanwhile, the cost of child care is also particularly high in the Bay Area ($16,317). After accounting for other expenses, including food and medical care, the total one-year cost of parenting one child in San Francisco-Oakland-Berkeley is $35,647.
Santa Cruz-Watsonville, CA
Raising a child costs an extra $33,877 per year in this metro area, which is located about 70 miles south of San Francisco. Parents with one child in the Santa Cruz-Watsonville area spend $12,636 more per year on housing than two adults with no children – the most across all 381 metro areas in our study.
San Jose-Sunnyvale-Santa Clara, CA
Raising a child in the San Jose-Sunnyvale-Santa Clara metro area is only slightly less expensive than in nearby San Francisco and Santa Cruz, costing $33,228 annually. Childcare in this part of the Bay Area averages $15,785 per year. Meanwhile, parents with one child spend $8,612 more per year on housing than childless couples. But the cost may be worth it to some parents, considering the San Jose-Sunnyvale-Santa Clara metro is home to the three highest-rated public school districts in California.
Barnstable, MA
The Cape Cod town of Barnstable may be great for summer vacations, but it's an expensive place to raise a child. Parents with one child in the Barnstable metro area can expect to spend $18,094 per year on care. Meanwhile, housing costs an additional $7,572 annually when a child is added to the mix. Add in medical care, food and other expenses, and the total cost of raising a child in Barnstable is $33,184 per year.
Boston-Cambridge-Newton, MA-NH
Raising a child in the greater Boston area will cost you an extra $32,307 per year. Like in Barnstable, the average couple with one child in the Boston-Cambridge-Newton metro area spends $2,054 more on food than childless couples each year. They also spend $6,897 more than their childless counterparts.
Ann Arbor, MI
Raising a child in Ann Arbor costs $31,670 per year, making this college town the sixth-most expensive place. Child care ($22,154) comprises a massive chunk of that annual expense. However, Ann Arbor has one of the top-rated public school systems in the state.
Trenton-Princeton, NJ
Raising a child in the Trenton-Princeton metro area in Central Jersey costs $31,314 per year. While parents have to contend with some of the highest annual child care costs in the country ($17,437), they also typically spend $1,509 more each year on medical care than childless couples. But housing costs are significantly lower than in parts of California and Massachusetts. A couple with one child typically spends $6,492 less on housing annually than a childless couple.
Kalamazoo-Portage, MI
The Kalamazoo-Portage metro area in southwestern Michigan is home to the second-highest child care costs at $19,853 per year. However, a couple raising a child typically spends just $3,997 more than two adults living together without any children. Raising children in Kalamazoo also has a unique financial benefit: the Kalamazoo Promise program provides graduates of the local school system free tuition to any in-state public college or university.
Napa, CA
Located about 50 miles northeast of San Francisco, the Napa metro area is the ninth-costliest place to raise a child. The additional cost of housing one child averages $8.712. In total, a child costs couples an extra $30,412 per year in the Napa area.
Santa Rosa-Petaluma, CA
The Santa Rosa-Petaluma metro area, which sits due west of Napa, has the second-lowest child care costs in the top 10. A couple can expect to spend $12,733 per year on child care and another $9,486 on medical care. In total, it costs $29,544 per year to raise a child in this part of Northern California.
Least Expensive Places to Raise a Child
Morristown, TN: $14,577
Sumter, SC: $14,702
Jackson, TN: $15,246
Gadsden, AL: $15,261
Longview, TX: $15,345
Columbia, SC: $15,389
Florence, SC: $15,556
Dothan, AL: $15,570
Hilton Head Island-Bluffton, SC: $15,652
Spartanburg, SC: $15,823
Data & Methodology
SmartAsset used MIT Living Wage Calculator data to compare the living costs of a household with two adults and one child to that of a childless household with two adults. The data is as of 2022. The costs included in our analysis are food, housing, childcare, healthcare, transportation and other necessities within each metro area.
Financial Tips for New Parents
Start saving for your child's education. It's never too early to start putting money away for your child's future education. 529 savings plans are tax-advantaged accounts that help investors put money away for future education costs. Money that's saved in a 529 plan grows tax free and can also be withdrawn tax free as long as you use the funds to pay for qualified higher education expenses like tuition, mandatory fees and books required for enrollment.
Don't forget about retirement. You'll have added financial responsibilities as a new parent, but try your best to continue to save for retirement. SmartAsset's retirement calculator can help you track your progress and estimate how much money you'll have at retirement age.
Work with a financial professional. Whether you want to buy a home, invest in the stock market or purchase life insurance to protect your family, a financial advisor can help. Finding a financial advisor doesn't have to be hard. SmartAsset's free tool matches you with up to three vetted financial advisors who serve your area.
Questions about our study? Contact us at press@smartasset.com
Photo credit: ©iStock.com/PeopleImages