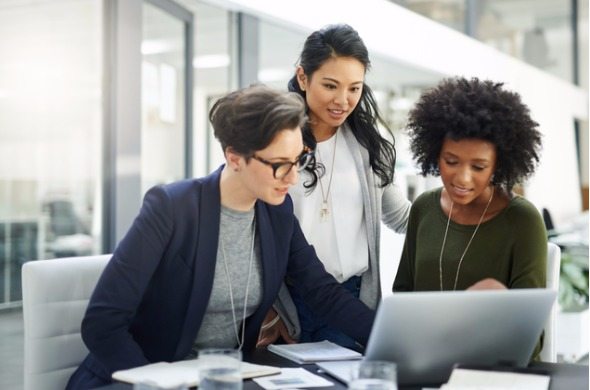 One constant in the U.S. economy over the past 40 years has been the ascendency of women in the work place. In 1976 the number of men in the workforce was about 47% higher than the number of women (57.1 million to 38.9 million). By 2016 that number had dropped to almost 14% (84.7 million to 74.4 million). But the gains to women's employment have not been evenly spread across the country. In some parts of the country you are more likely to see women employed, earning high salaries and spending less on housing than you are in others.
Below we compare employment rates and earnings data to find the best places for working women. We looked at data on workforce representation, income after housing, female labor force rate, female unemployment rate and the pay gap for 472 metro areas. Check out our data and methodology section below to see where we got our data and how we put it together.
This is our second annual study of the best places for working women. Check out the 2016 version here.
Key Findings
Capital cities do well – Four of our top 12 cities are capital cities. Why these cities score well is not immediately clear. One explanation might be that the economy in general is propped up by the state agencies housed in capital cities. This benefits both men and women in those cities. Government hiring may also have stronger protections when it comes to gender equality in hiring.
Few repeaters – Many cities in this study are starting to build a reputation as being great for working women. Rochester, Minnesota and Columbia, Missouri both secured back-to-back top 3 finishes, for example.
Women find employment, struggle for pay equality – In general women face lower unemployment rates than men. Across all the metro areas we analyzed men have an unemployment rate of around 6% on average while women have an unemployment rate around 5.3%. However when it comes to pay gap, we see an average pay gap of around 70% across the metro areas analyzed.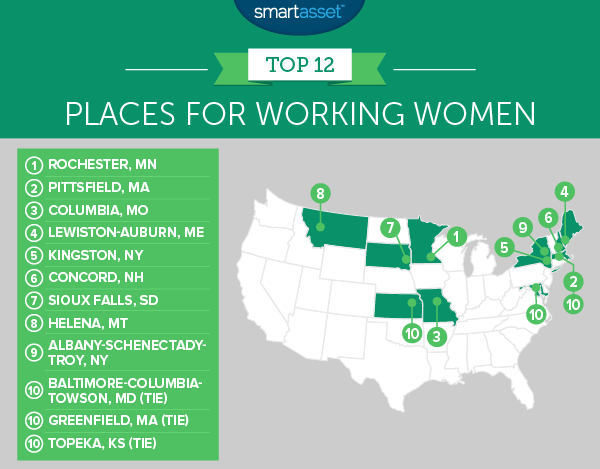 1. Rochester, Minnesota
Once again Rochester takes the top spot as the best place for working women. The reason Rochester ranks so high is the pay. Women here, on average, have about $26,000 left after paying housing costs. That is the highest figure in our study, and over $5,000 more than second-placed Pittsfield. A decent chunk of that is probably going to the tax man however. Minnesota has some of the highest state taxes in the nation.
Women in Rochester also tend to be able to find work. According to Census Bureau, only 3.2% of women in Rochester are unemployed and just under 67% of all women are in the work force.
2. Pittsfield, Massachusetts
In Pittsfield women make up the majority of the workforce. Overall just under 53% of all workers in Pittsfield are female. Another positive sign for female workers in Pittsfield is the average pay. While they don't take home as much as women in Rochester, women here still earn a decent amount. After paying for housing, we estimate female workers in Pittsfield will have about $20,700 left, on average. For that figure Pittsfield ranks in the top 10% of metro areas.
The pay gap in Pittsfield is also low. In this metro area, the average woman is paid 83% of what the average man is paid. If Pittsfield wants to take the number one spot next year it should look to improve its unemployment rate for women. According to our data, 4.2% of women in Pittsfield are unemployed.
3. Columbia, Missouri
Columbia falls one spot from last year's analysis but this city still put up great scores. This city's best scores came in availability of work. According to our data, only 2.2% of women are unemployed while just under 64% of women are in the labor force.
One reason while this metro area may be good for women is the University of Missouri. The university offers good employment opportunities in education, a field in which women tend to excel. There are also over 10,000 healthcare-related jobs in the area, another industry women tend to be well represented in.
4. Lewiston-Auburn, Maine
Lewiston-Auburn just narrowly misses out on the top 3. This city scores in the top 20% in each of our metrics and in the top 15% in four. This city's best score is its unemployment rate. Women in the area have no trouble finding jobs, only 3% of them are unemployed.
5. Kingston, New York
Due to how well women are paid in Kingston, this metro area finds itself ranking fifth. According to our data, after paying for housing the average woman should have over $21,400 left, a top 20 score. That figure is fairly competitive with men. The average woman here earns about 79% of what the average man earns.
6. Concord, New Hampshire
Another New England metro area takes sixth place. Women in New Hampshire's capital have relatively little trouble finding work. Only 3.1% of women here are unemployed. There is also an almost even split in work force representation between men and women in this city. According to data from the Census Bureau, 49.6% of workers in Concord are women.
7. Sioux Falls, South Dakota
Sioux Falls is a great place for working women. It scored well on our study on young professionals and now ranks as a top 10 place for working women. Our data shows that only 2% of women here are unemployed, a top 15 score. Plus, over 70% of all women who reside in this metro area are active in the labor force. That is the second-highest rate in our study.
The only downside for working women in Sioux Falls is that, numbers wise, they tend to be less represented in the labor force. Over 52% of the workforce in Sioux Falls is male.
8. Helena, Montana
Another Great Plains' capital takes eighth. Women in Helena are well paid, especially when you consider how affordable housing in the area can be. According to our data, the median home in the area costs about $10,600 per year and the average women earns over $32,300 per year. That leaves the average working women with $21,600 after paying for housing.
Another plus for homeowners in Big Sky Country? Montana has some of the lowest property taxes in the country.
9. Albany-Schenectady-Troy, New York
Albany-Schenectady-Troy has a slightly high women's unemployment rate for our top 10 (3.7%), making work relatively hard to find. However to compensate, the average pay is high. We estimate the average working woman would have about $22,000 left after paying for housing.
The pay gap here is also relatively low. Women on average make 78% of what men make.
10. (tie) Baltimore-Columbia-Towson, Maryland
Baltimore-Columbia-Towson comes in a three-way tie for 10th. Women here are very well paid, especially when you take into account local housing costs. We estimate the average working women earns just shy of $40,000 per year and the average home costs about $16,300 per year. That leaves the average working women with about $23,300 after paying for housing, a score only beaten by Rochester.
This city is especially good for women who want to get into the high-paying STEM field.
10. (tie) Greenfield, Massachusetts
The second of two Massachusetts metro areas to crack this list is Greenfield. This area is located in northwestern Massachusetts. Women here do not tend to earn as much as they do in other cities. We estimate after paying for housing the average women in Greenfield is left with only $19,100.
The average woman also only earns 69% of what the average man earns. But employment opportunities here are relatively plentiful and women make up the majority of the workforce.
10. (tie) Topeka, Kansas
Another capital rounds out this top 12. Topeka dropped a few spots from last year but is still a great place for working women. Women here face low unemployment rates and good pay. In both of those metrics Topeka's scores beat 90% of metros.
Topeka women are slightly underrepresented in the workforce. Women only make up 48.7% of the workforce in Topeka.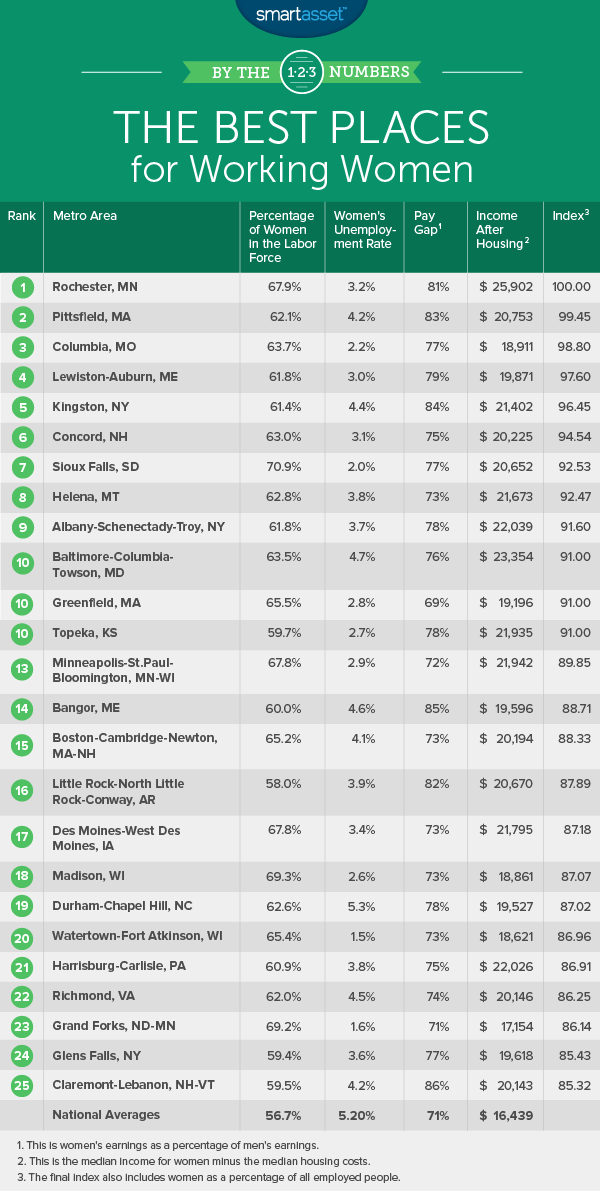 Data and Methodology
In order to rank the best places for working women, we looked at 472 metropolitan areas across the following five metrics:
Pay gap. This is how much the average woman earns as a percent of what the average man earns.
Women's unemployment rate. This the unemployment rate for women in each metro area.
Percentage of women in the labor force. This is the percentage of women over age 15 in a metro area who are either employed or looking for employment.
Percentage of workers who are women. This is the percentage of the total working population in a metro area who are women.
Women's income after housing. This is the median income for women in a metro area minus the area's median annual housing costs. This metric measures an area's affordability.
Data for all five metrics is from the U.S. Census Bureau's 2016 American Community Survey 1-Year Estimates.
To come up with the final index we ranked each metro area across all five metrics, giving equal weight to each metric. Then we averaged those rankings and gave each metro area a score between 0 and 100. The highest-ranking metro area scored a 100 while the lowest-ranking metro area received a 0.
Tips for Making the Most out of Your Income
Most people focus on raises when they think about how they can increase their income. But there are other much simpler ways to maximize your income. For example you can double your saving rate just by choosing the best savings account. For example the America Express Personal Savings Account offers annual interest rates of 1.25% with no minimum monthly balance or monthly fees. Ally Bank offers a similar account with 1.25% annual interest rate, also without a minimum balance. Both of those accounts have returns five times the national average.
In order to get the most out of your savings though you will also want to keep putting as much money away as possible. Check out our budget calculator to make sure you are saving as much as possible and see if there is fat to trim in your budget.
Questions about our study? Contact us at press@smartasset.com
Photo credit: iStock.com/AJ_Watt