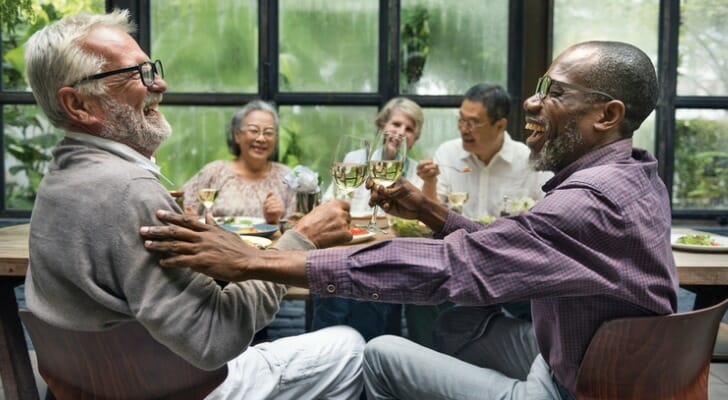 Thailand receives a lot of attention as a retirement destination — and for good reason. The cost of living is low, which means you can stretch your retirement savings further. The country has a rich culture with delicious cuisine and friendly people. The weather is sunny and hot, and there are plenty of beaches to kick back on. For more active retirees, you can visit beautiful temples or go for a hike. If you're interested, it may be worth consulting with a financial advisor before actually making your move.
How Much Does It Cost to Retire in Thailand?
Many people consider retiring in Thailand, because it costs relatively little to live comfortably there. Estimates for the cost of living in Thailand generally say it's between 35% and 75% cheaper than living in the U.S. According to March 2022 Numbeo, a site that collects cost of living data from around the world, the average cost of living in Thailand is roughly 40% lower than the average cost of living in the U.S. Rents are around 70% lower on average.
So how do these costs translate to your monthly budget? You should plan to live in Thailand on a budget of at least $1,500 per month, with $2,000 being a more reasonable benchmark. This will allow you to live comfortably without breaking the bank. You could potentially live a lot cheaper, as low as $1,000 a month, but you would probably have a difficult time. If you can afford to live off a budget of $5,000 per month, you can expect a rather luxurious life.
Housing and Food
A one-bedroom apartment in the center of the Thai capital Bangkok will run you about $562 per month for rent. When you factor in utilities, that cost reaches more than $640. Other monthly costs are likely to add up to between $600 and $700 per month. Living outside of the city center could cut your rent to roughly $300 per month.
For a comparison, a one-bedroom apartment in the city center of New York costs under $3,100 per month in rent, which is almost five times more than Bangkok. And consumer prices in the Big Apple are almost 91% higher when you exclude rent. However, if you compare a popular U.S. city for retirees like Sarasota, Florida, consumer prices are 52% higher than Bangkok when you exclude rent. And a one-bedroom apartment in the city center of Sarasota costs roughly $1,600 in rent per month, almost 2.5 times more than Bangkok.
In general, you can save the most by living and eating like a local. For example, international foods often cost significantly more than buying local produce or eating out at a small, local restaurant. The cost of alcohol can also add up quickly.
Getting an Initial Retirement Visa for Thailand
First of all, it's worth noting that citizens of the U.S. and much of Europe do not need a visa in order to visit Thailand. All you need is a valid passport and a return trip scheduled before you enter the country.
If you wish to retire in Thailand, you will need to need to get a retirement visa, also known as a Non-Immigrant Long Stay Visa. It's possible to do this in Thailand or at a consulate in your home country. The process for getting a retirement visa is relatively simple, but it can also become quite long depending on how, exactly, you want to spend your retirement (more on that in the next section).
To get a such a visa, you have to be at least 50 years old and pass a criminal background check. You also need to have a valid passport that doesn't expire for at least one year. Lastly, you will need to meet certain financial requirements. There are a few ways to satisfy these requirements:
Have a Thai bank account with at least 800,000 baht (about $24,500)
Have a monthly income or pension of at least 65,000 baht (about $2,000)
Have a combination of the previous options, if they bring your total funds to at least 800,000 baht ($24,500)
Note that if you go with the first option in the list above, you need to have the money in the Thai account for at least two months prior to your visa application. You have to provide a letter from the bank showing proof of deposits.
Next Steps on Your Visa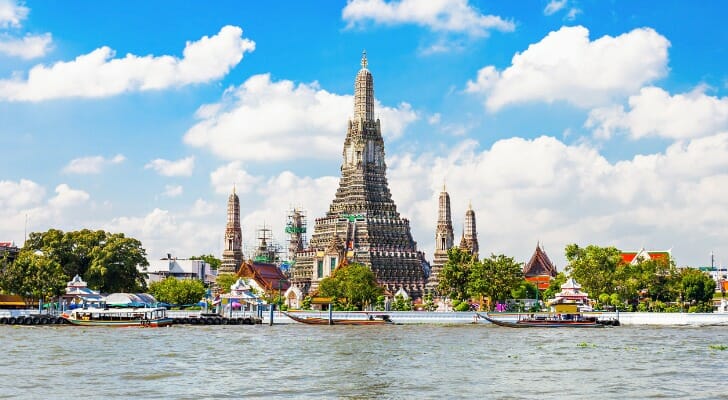 Getting a retirement visa is simple, but that's not the end of the story. There are many reasons why you might need to get additional permits or different visas.
Your retirement visa is valid for one year, but you still need to report to immigration every 90 days. If you fail to do this, your visa may become void. The retirement visa also does not allow you to work in the country. You will need a work visa for that. If you attempt to work or even to volunteer with only a retirement visa, it could void your visa.
The retirement visa also does not allow you to leave and re-enter the country. If you plan to travel, even just to visit home, anytime in your first year of residence, you will need to apply for a re-entry permit. The permit application is relatively simple. Besides the application form, you need to have a picture of yourself and various parts of your passport.
Once your retirement visa is nearing expiration, you will need to apply for a visa extension. This application is similar to the initial application with some additional requirements. For example, you will need to provide proof of address, copies of a bank statement and pictures of every page of your passport.
Residents of the U.S., as well as those of a handful of other countries, are actually able to obtain five-year retirement visas, although the threshold to do so is more rigorous. Instead of 800,000, you'll need at least $3 million baht in a Thai bank account, and you'll need it at least 12 months prior to your application.
Healthcare in Thailand
Healthcare is important to factor into your budget. There is no public health insurance for expatriates in Thailand. You will need to get private insurance. The average cost of healthcare is still lower than in the U.S., but costs can add up if you need regular medications or medical attention. For some people, the best insurance option is to have traveler's insurance from your home country. This may work for you if you plan to travel a lot or return home frequently.
Taxes in Thailand
Once you live in Thailand for six months you will need to pay income taxes. This includes all domestic and international income. You need to pay taxes even if you don't have a work visa.
Your best bet is to work with a tax accountant to file your taxes. Even if you can file the taxes on your own, everything is in Thai. Thailand also has agreements with a number of other countries to ensure that you don't pay taxes twice on your income.
Reasons You May Not Want to Retire in Thailand
Individuals moving to Thailand from the U.S. may suffer a bit of culture shock. The language (Thai) is notably difficult to learn for those from Western countries. Thai culture is also quite different from U.S. culture. The people are generally friendly and understand that it's a new culture for retirees, but it's easy to make a faux pas.
The weather, which is beautiful for a few months of the year, may be too hot for the rest of the year. During the hot season, temperatures can stay above 100 degrees Fahrenheit for weeks at a time. And keep in mind that because Thailand is in a tropical area, the wildlife is very diverse. There are many types of insects, including mosquitoes, many types of ants and cockroaches (that can fly). There are also snakes, monitor lizards and mongooses. If you aren't comfortable being around these types of critters, make sure you research Thailand a bit before moving.
Keep in mind that there are also other affordable, international destinations where you can spend your retirement. For example, you can retire in Argentina on a similar budget.
Bottom Line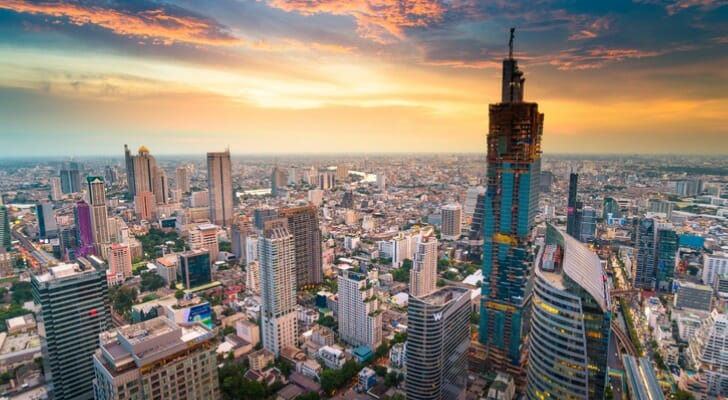 There are lots of reasons why you may want to retire in Thailand. The cost of living is low, as is the cost of healthcare. There is a lot to see and do in the country. You will need to get a retirement visa, which is simple but still requires regular check-ins with immigration. You will also need separate visas or permits if you want to work, volunteer or travel out of the country at any point. Anyone considering a move should also make sure to research the Thai culture. It is not the most similar to U.S. culture. Those unfamiliar with it may suffer some culture shock.
Tips to Make Your Retirement Savings Last
Before you decide where you'd like to spend your retirement, you need to make sure your financial plan can provide the income you need in retirement. A financial advisor can build or fine-tune a financial plan, invest your assets and account for taxes. Finding a qualified financial advisor doesn't have to be hard. SmartAsset's free tool matches you with up to three financial advisors who serve your area, and you can interview your advisor matches at no cost to decide which one is right for you. If you're ready to find an advisor who can help you achieve your financial goals, get started now.
Thailand is an affordable travel destination, and a budget of $1,500 each month is enough for many people to live comfortably. As it happens, this isn't much more than the average Social Security benefit. To see how far your benefit could take you, try this Social Security benefit calculator.
Photo credit: ©iStock.com/Rawpixel, ©iStock.com/saiko3p, ©iStock.com/primeimages