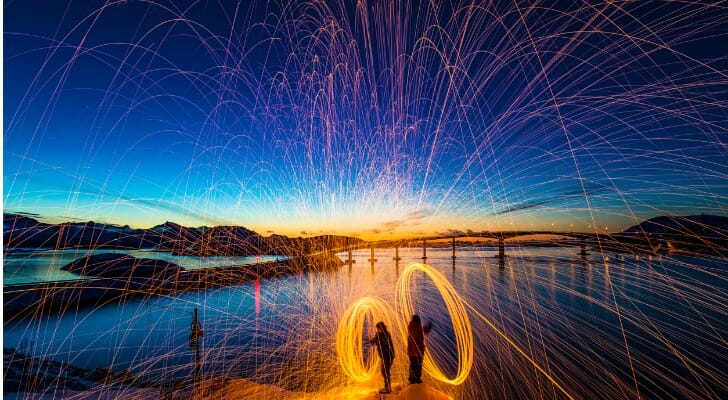 Financial Independence / Retire Early (FIRE) is a movement driven mostly by optimistic millennials who pledge to cut back on expenses and boost savings in order to retire as comfortably and as early as possible. But is it as hot as it sounds? Or is it just going to fade away like the last fad? This article will explore the movement and give you tips on how you can follow FIRE. We can also point you to the right financial advisor if you want some hands-on, professional guidance.
What is FIRE?
You've probably heard plenty of stories about people retiring into riches before they even turn 45. They've written books on the topic, and their names grace the chyrons of morning news shows.
Today, thousands of would-be early retirees visit online blogs and forums sharing their tips on how to ignite FIRE. Often, this involves turning to a life of extreme frugality. But you don't have to resort to eating spam every day and pumping your savings into the next hot stock to reach FIRE. In fact, that might not even work.
Most financial planners would give you sound advice around trying to retire early. And none of it involves starving yourself. We'll explore some tips below.
Develop a Solid Savings Strategy
One of the pillars of FIRE is aggressive saving. Most financial planners recommend you establish an emergency fund with at least six months worth of living expenses. So if you don't have one, open one as soon as possible. Unfortunately, many banks today are offering savings accounts paying dismal interest rates that can barely keep up with inflation. Plus, some charge high fees that eat away at your savings.
Still, you can find some high-yield savings accounts out there. Money market accounts function very similarly to savings accounts. But they tend to offer better rates and easier access to your money.
You can also turn to certificates of deposit (CD). They typically pay higher interest rates than savings and money market accounts. But you have to keep your deposit locked in for a certain amount of time. These time-frames can range anywhere from three months to five years.
For long-term savings, you might be better off investing in low-fee funds. Many brokerage firms and robo-advisors can make this easy for you.
To help, we've published research on where you can find the best of these products. Check out our studies below:
Best savings accounts
Best money market accounts
Best CD rates
Top 10 robo-advisors
Online brokerage accounts
Set the Right Asset Allocation
In the world of robo-advisors, it's becoming increasingly easier for ordinary people to begin investing with the change in their pockets. But all too often, newbie investors fall for the hype. They dump their money into the next (insert major corporation) and tomorrow's old news. Or they stick to one area in the market that suffers a major downturn and they're left with very little to cling onto.
But in order to build an investment portfolio that can withstand market volatility, however, you need to stick to an asset allocation driven by your risk tolerance and time horizon. It also needs to be well diversified with stocks, bonds, cash and other securities that may suit your risk profile. This move would help protect your overall investment in the event one asset class undergoes some damage in the market cycle.
You can use our asset-allocation calculator to get a glimpse of what a portfolio that's right for you may look like.
Minimize Investment Fees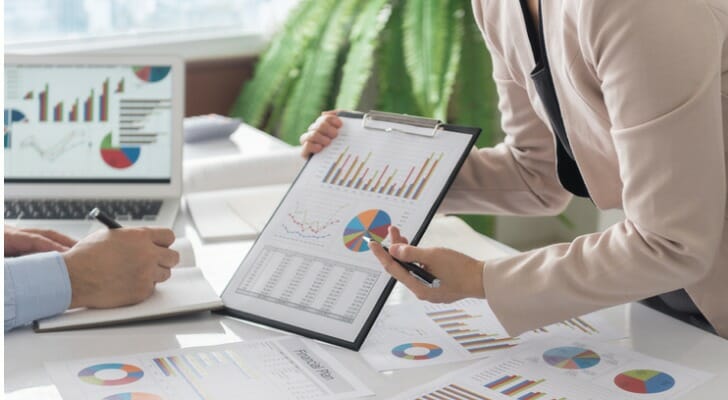 In the world of investing, market volatility isn't the only thing that will cut into your investments. You may not even know it, but fees could be chewing a major chunk of your returns right now. Combine both of these and you can say goodbye to FIRE.
That's why it's always important to take a magnifying glass to every fund you invest in. Investing in mutual funds, for example, means your account will be chipped away by an expense ratio. This combines the annual fees paid to fund managers for overall operating costs.
But you can also face sales loads, which can shave a portion off your investment when you buy shares of the fund or if you sell these shares within a certain time frame.
Nonetheless, you can find no-load mutual funds to invest in. Investment companies sell these funds directly. So there's no need for a third party to collect a commission for recommending it.
"You want to make sure that you are using low-cost and extremely diversified investment options within your portfolio," suggests Michael Mezheritskiy, president of Milestone Asset Management Group. "Internal expenses of funds, sales loads, commissions– all of that eats away at your bottom line."
Invest in the Right Retirement Plan
The IRS places strict rules on when you can withdraw money from tax-advantaged retirement plans without penalty. So if you have your eyes on FIRE, you probably don't have your mind on an individual retirement account (IRA) or a 401(k).
But it doesn't hurt to have one or both. If you're lucky enough to work for a company that offers a 401(k), you should go for it. But what if it doesn't? Don't fret. You can open an IRA at most banks and financial institutions, and you don't even have to leave your house. You can open one online. To help you out, we rated the best IRAs out there.
An IRA works similarly to a 401(k). You fund both directly from your paycheck before taxes. So it effectively lowers your taxable income when Uncle Sam comes for his cut. And any interest, capital gains or dividends your money earns are tax-free as long as the money stays in the account.
However, the earnings on your investments will be taxed when you take the money out. And you'd be hit with a 10% penalty if you do so before age 59.5. It doesn't sound very FIRE, but it's a good backup in case you find out the movement wasn't really for you.
In addition, you can open a Roth IRA. These don't reduce your taxable income. But withdraws are tax-free as long as you make them after turning age 59.5 and you've had your account open for at least five years.
Look into Rule 72(t)
There's a little-known exception to the withdrawal rules covering retirement plans like IRAs, 401(k)s and 403(b)s. Buried in the tax code is Rule 72(t). This guideline states that you can make penalty-free withdrawals before age 59.5 as long as you make at least substantially equal periodic payments (SEPPs) based on your life expectancy, as set by the IRS.
You must stretch these withdrawals through five years or until you reach age 59.5, whichever is longer. In other words, the most you can enjoy these penalty-free withdrawals is five years. But you'd still owe income tax on the withdrawals.
Downsides of FIRE
The main drawback to the FIRE movement is that it involves taking on major risk. And it's still a relatively new movement. So there's no real track record. Plus, some proposed methods to getting there are downright brutal. Many so-called FIRE bloggers recommend extreme penny-pinching. And that ascetic lifestyle still offers no guarantee of long-term security. You also have to ask yourself if you're ready to leave your world behind and start retirement tomorrow. It's not always as glamorous as it sounds. Even people retiring in their 60s and 70s still fear outliving their retirement savings.
But maybe there's a middle ground.
Take a Semi-Retirement
You don't have to stay in your 9-to-5 to keep getting a steady paycheck. You can always work part-time or freelance in your own field. Maybe you have a hobby you can generate some income from. How about that novel you've been trying to write for the past ten years? But if you don't have a story to tell, you can still find other ways to make some cash outside of an office.
These days, the internet offers plenty of freelancer websites where people seek everything from copy editors to website designers. In any case, you can still utilize the tips we mentioned above, while earning a steady or somewhat steady paycheck.
Work With a Fee-Only Financial Advisor
As you can see, reaching FIRE can get complicated and immensely risky. So it doesn't hurt to let a professional hold the torch for you. But how do you choose the right financial advisor to work with?
One of your best options would be a fee-only financial planner. These advisors don't work off commissions, so they don't stand to gain any extra compensation for recommending one fund as opposed to another, for example. Plus, they function under a fiduciary standard. This means they're legally obligated to work in your best interests.
So how do these people make their money? They generally earn compensation through asset-based fees. It crunches down to a certain percentage of your account size factored out on a quarterly basis.
This structure applies mainly to investment advice. Some fee-only advisors can charge hourly or fixed fees based on specific services they provide. These can revolve around everything from paying down debt to estate planning.
The Takeaway
FIRE or achieving financial independence and retiring early can sound like a luxurious concept for many. Who doesn't want to kick it into their Golden Years and stop worrying about money right now?
But it's not as easy as it sounds. You can find thousands of articles and online forums promising some solid formula or road map. But the truth is these won't work for everyone. Still, taking careful steps to manage your finances, save what you can and invest what you can tolerate right now can help. And if you stick to these, you may find it easier to retire early. Of course, you can always just cut back and switch to a freelance gig or part-time work while you test these points.
Tips on Retiring Early
Photo credit: ©iStock.com/AmArtPhotography, ©iStock.com/utah778, ©iStock.com/Tinnakorn Jorruang