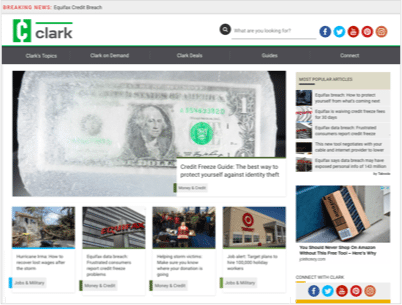 Clark Howard is a consumer expert whose goal is to help people save more and spend less. He offers his financial advice through a nationally syndicated radio show and also makes regular TV appearances in his hometown of Atlanta, Georgia. If you struggle to save money, Howard could be the guy that helps you to finally kick that overspending habit.
Clark Howard: Financial Advice
Clark Howard's philosophy is to save more and spend less. That's also his biggest piece of consumer advice. He offers numerous tips to save money on every consumer item from razor blades to cars.
In general, Howard recommends taking advantage of free services. For example, people generally spend a lot of money for cable television. However, many people don't watch the majority of channels that they pay for. Howard advises saving money by ditching cable and using an antenna. This advice is especially useful today since so many people use online streaming services.
Howard also stresses the importance of making sure that you understand what you're paying for. As an example, cell phone bills are a big expense for many people. If you're going to pay that much, you should go through your entire bill each month to make sure you aren't overcharged for anything.
In his book, "Living Large in Lean Times," Howard says that he finds a mistake in his phone bill about every four months. This same advice applies to credit card bills. Go through your credit card bill each month to make sure the charges are correct. Did that bar charge you $38 when it should have charged you $36? The difference is only a couple of dollars, but that adds up over the years.
When it comes to credit cards, make sure to find a credit card that works for you. Howard recommends a simple cash back credit card. Yes, it is useful to get rewards for specific companies or products (e.g. airline miles), but Howard argues that a simple cash back card won't require you to track points or spend in certain categories.
He also strongly advocates that people have a Roth IRA. A Roth IRA is funded with after-tax dollars, so once you reach 59.5 years old, you can withdraw money without paying additional income taxes. As a comparison, money that you withdraw from a 401(k) is subject to income tax. You can also withdraw the money that you contribute to a Roth IRA at any time without paying a penalty.
Clark Howard Bio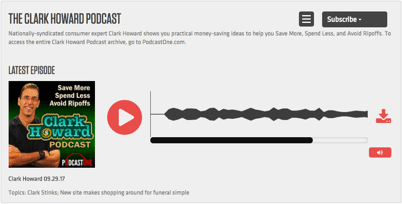 Clark Howard was born in Atlanta, Georgia in 1955. He received a B.A. in urban government in 1976 and an MBA from Central Michigan University in 1977. He began working in real estate and launched a travel agency in 1981. It grew into a successful chain with locations across the Atlanta metro area. In 1987, he sold the company and retired at the age of 31.
Next he began giving travel advice on through guest appearances on Atlanta radio. Howard wasn't planning a career in TV or radio. It occurred mostly by accident. He was enjoying the beaches in Florida when someone asked him to make a guest appearance on a radio show about travel. His guest appearances were so successful that he got his own program, "The Clark Howard Show," which is still on the air. He also created the Consumer Action Center for people to get answers to their financial questions off the air. In 1991, Howard became a consumer affairs reporter for Atlanta's WSB-TV. He has since appeared on multiple TV and radio shows to spread consumer advice.
Howard continues to live in Atlanta and has started multiple volunteer programs to improve the community and help its people. He has built over 50 homes in and around the Atlanta metro area through Habitat for Humanity. He's also a member of the Georgia State Defense Forces to help prepare and assist the military. He joined after the terrorist attacks in September 2001 and has since performed medical evacuation work in New Orleans following Hurricane Katrina.
Clark Howard Financial Focus and Philosophy
Save more and spend less. That is Clark Howard's motto. All of his projects – television, radio, podcasts, books – revolve around saving people money. He doesn't focus on any one topic either. His advice covers all areas that affect people's day-to-day lives. You can find tips to save money on debt, cars, cell phones and just about everything else.
Howard also offers advice on avoiding scams. Sometimes he just offers general advice on how to protect your personal information. Other times he will warn people of specific scams, like phishing scams.
On his shows, Howard frequently gives product, service and company reviews. His reviews are well-researched and he is not afraid to give a strongly worded opinion either for or against something. An important thing to keep in mind is that Howard does not do personal sponsorships or endorsements. He doesn't give good or bad reviews just because someone is paying him. Instead, he bases his reviews strictly on research and the way he honestly feels about something.
Where You Can Find Clark Howard
You can find more advice on Clark Howard's website. There you can find all his advice on saving money and avoiding scams. The website has articles, videos and money guides on topics like cars, student loan debt and investing.
If you prefer reading, Howard has published 10 books. His most recent book, "Living Large in Lean Times," was a national bestseller. The book offers more than 250 ways to earn extra money, reduce debt and to be smarter with your money.
Current Projects
"The Clark Howard Show" is a nationally syndicated radio show that airs weekdays from 1 p.m. – 3 p.m. ET. Howard offers consumer advice on just about everything. There are hot deals, scam alerts and a lot of practical, money-saving ideas. If you can't sit through a two-hour show, you can also listen to "The Clark Howard Podcast." Episodes are about 35 minutes long and you can find them on either PodcastOne or iTunes.
Howard is a consumer reporter for Atlanta's WSB-TV. His segments are sometimes syndicated to other TV stations across the country.
Bottom Line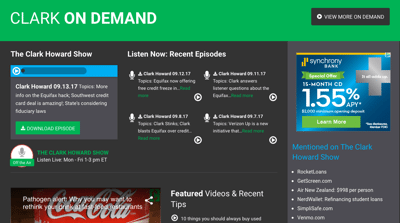 It's no secret that Americans struggle to save money. The average credit card debt continues to rise and many Americans have no retirement savings. If you're trying to cut back on your spending, you should check out Clark Howard. He is a master penny-pincher with lots of simple and useful consumer advice. His reviews are well-researched and his goal really is to give people the best advice possible.
Tips to Help You Save for Money
Photo credit: First and third images from Clark.com, Second image from PodcastOne.com