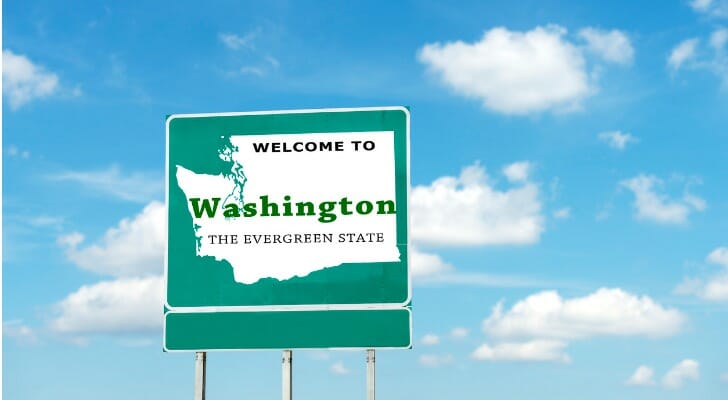 Most people envision retirement as relaxing on a bright beach without a care in the world. But if retiring along sunny shores isn't quite your thing, consider a retirement in Washington state. Many of the best cities to retire in Washington give you access to beautiful bay views with the cooler weather of the Pacific Northwest. Plus, Washington is tax-friendly toward retirees, ensuring a more affordable retirement option.
How We Determined the Best Places to Retire
To find the best places to retire in Washington, we examined a number of factors important to retirement. To check for affordability, we looked at each city's tax burden so retirees won't be surprised by any big tax bills. We also found the number of medical centers per 1,000 residents, since medical attention does become a priority in retirement. On the fun side of our investigation, we found the number of recreation centers and retirement communities in each city for the more sociable retirees out there.
1. Gig Harbor
Gig Harbor is the best place to retire in Washington and the fourth best place to retire in the country, according to our data. Located on Puget Sound, Gig Harbor offers fantastic and relaxing views for retirees. Plus, you'll have access to various recreation centers and retirement communities throughout the city. About a quarter of the Gig Harbor population consists of seniors.
The city has a tax burden of 16.40%, which is second only in Washington to the fifth-ranked city of Clarkston. This burden is a bit higher than what you can find in other states like Oregon or Florida. In case of emergency, you'll be comforted to know that Gig Harbor has the largest number of medical centers per 1,000 residents available in Washington.
2. Sequim
For some company in your Washington retirement, look to Sequim, which has the highest percentage of seniors in the state at 37.0%. You'll have decent access to recreation centers, too, of which there are about 1.94 per 1,000 residents. Sequim also offers 1.34 retirement communities per 1,000 residents.
The city's tax burden comes in at 16.8%, which is pretty average compared to those of the other cities on the list. As for medical attention, you'll have some of the best access in Sequim with 6.72 medical centers available per 1,000 people.
3. Snohomish
In between the Puget Sound and the Okanogan-Wenatchee National Forest, Snohomish prides itself on its Snohomish Historic District and many antique shops. The city also offers the fourth-most medical centers out of this top 10. However, with seniors accounting for 14.5% of the population, there aren't too many retirement communities. Seniors, especially those looking to stay active, will have better access to recreation centers with 1.48 centers per 1,000 residents.
Retirees in Snohomish will face a tax burden of 16.6%. It may seem high, but it's actualyl one of the best rates on this list.
4. Olympia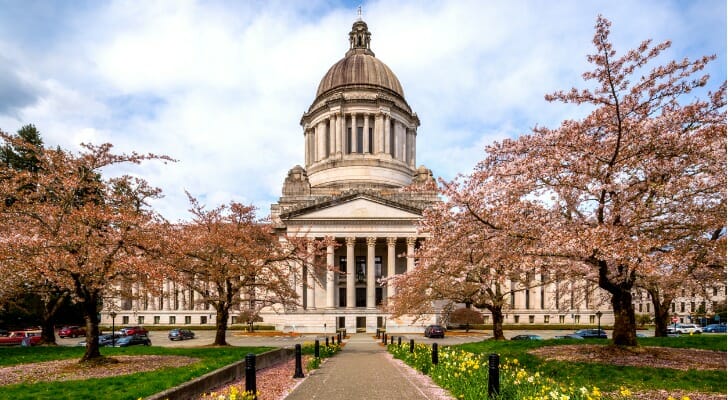 Washington's capital, Olympia, offers retirees the fourth-best place to settle down in the state. At the southern end of the Puget Sound, the capital gives retirees the opportunity to explore a variety of public parks, nature conservation areas and recreation centers. With seniors making up less than a quarter of the population, it makes sense that the city doesn't contain too many retirement communities.
Olympia does have the third-highest number of medical centers on this list, offering all its residents pretty easy access to medical attention.
5. Clarkston
Despite its relatively small number of retirees in the city, Clarkston can offer future retiree residents the lowest tax burden in Washington. On the other side of the state from the previous top cities, Clarkston sits along the Snake River right at the Idaho state border. You'll find just about one retirement community and about one recreation center per 1,000 residents in the city.
6. Woodinville
Unlike Clarkston, Woodinville imposes the second-highest tax burden, at 17.4%, out of these top-10 cities. Still, you'll find much larger tax burdens elsewhere in the state and the country. Currently, Woodinville has the lowest percentage of seniors as its population compared to the rest of this list. This could change, though, if you choose to take advantage of its easy access to medical centers, recreation centers and retirement communities.
7. Lynnwood
With seniors making up 15.3% of Lynnwood's population, this Seattle suburb certainly provides for its seniors, with about 1.18 retirement communities per 1,000 residents. Lynnwood doesn't offer many recreation centers itself. Still, with Seattle only 16 miles away, seniors can take advantage of the big city's resources.
Lynnwood does have the highest tax burden out of these best cities to retire in Washington, with a tax rate of 18.1%. While there are states and cities with bigger tax burdens, it still helps to save for retirement as much as you can while working. That way, you won't get hit with surprise taxes and expenses.
8. Anacortes
The largest city on Washington's Fidalgo Island, Anacortes is a great retirement destination for retirees who love boating and the outdoors. You'll have easy access to the San Juan Islands, plus prime locations for whale-watching. If this sounds like your type of retirement, you'll be comforted to know the city has the fourth-largest percentage of seniors out of this top-10 list. That way, you'll be able to share in these exciting activities with other Anacortes retirees.
Anacortes has a slightly high tax burden of 16.9%. You'll have access to roughly 2.24 medical centers per 1,000 residents.
9. Port Townsend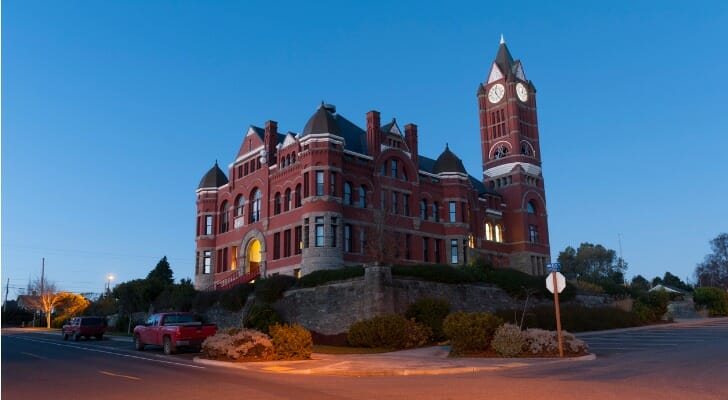 Port Townsend offers the chance for some company in retirement with the second-highest percentage of senior residents in this top 10. However, the city offers the smallest number of retirement communities of all these top-10 cities. There are close to two recreation centers per 1,000 residents, giving room for ample retirement activity. And the Port Townsend Historic District, a U.S. National Historic Landmark District, offers more opportunity to enjoy in your golden years.
In case of emergency, you'll also have access to a decent number of medical centers in Port Townsend, with 2.93 locations per 1,000 residents.
10. Port Orchard
Port Orchard closes out our list of best places to retire in Washington. With the Sinclair Inlet to the north, this little city also offers some stunning mountain views. For more activities, you can also turn to the solid number of recreation centers in the city. Interestingly however, Port Orchard has the second-lowest percentage of seniors when compared to the rest of the top 10.
You will want to be careful of the slightly high tax burden here at 17.1%.
Retirement Tips
No matter where you settle down, whether in Washington or across the country in North Carolina, it helps to have a financial advisor coach you along the way. The right advisor can help you start saving for retirement the right way now and guide you all the way into your golden years. That will ensure you save enough for retirement no matter your tax burden or how you plan to spend your free time. SmartAsset can help you find that financial advisor with our free advisor matching tool. We'll take your own personal and financial goals into account to connect you with qualified advisors in your area.
When it comes to saving for retirement on your own, start by ensuring you're making the most of your 401(k). See if you can responsibly contribute a little bit more each month (without harming your current financial situation). Plus, you can also look into whether your employer can match your own contributions. That can help boost your savings without too much extra work on your part.
Photo credit: ©iStock.com/Lady-Photo, ©iStock.com/4nadia, ©iStock.com/LoweStock