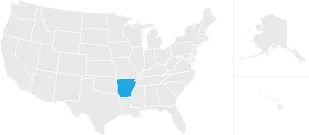 Overview of Arkansas Retirement Tax Friendliness
Arkansas does not tax Social Security retirement benefits. Property taxes in the state are among the lowest in the U.S. On the other hand, sales taxes in Arkansas are quite high.
To find a financial advisor who serves your area, try our free online matching tool.
Enter your financial details to calculate your taxes
Annual Social Security Income

Dismiss

Annual Retirement Account Income

Dismiss

Annual Wages

Dismiss

Dismiss

Year of Birth

Dismiss

Filing Status
Add Pension

Annual Income from Private Pension

Dismiss

Annual Income from Public Pension

Dismiss
You will pay

of Arkansas state taxes on your pre-tax income of
Quick Guide to Retirement Income Taxes
is toward retirees.
Social Security income is taxed.
Withdrawals from retirement accounts are taxed.
Wages are taxed at normal rates, and your marginal state tax rate is %.
Save more with these rates that beat the National Average
Share Your Feedback
How would you rate your experience using SmartAsset's financial advisor matching service so far?
What is the most important reason for that score? (optional)
Please limit your response to 150 characters or less.
Thank you for your answer! Your feedback is very important to us.
Arkansas Retirement Taxes
Arkansas is a mid-sized state, with a population of about three million people. Retirees living in Arkansas enjoy relatively low taxes, especially on income and property. The state does not tax Social Security, and its property taxes are among the lowest in the U.S. On the other hand, sales taxes in Arkansas are high.
A financial advisor in Arkansas can help you plan for retirement and other financial goals. Financial advisors can also help with investing and financial plans, including taxes, homeownership, insurance and estate planning, to make sure you are preparing for the future.
Is Arkansas tax-friendly for retirees?
Arkansas is a relatively tax-friendly state for retirees. Social Security is totally exempt from the state's income tax. Arkansas also offers seniors a deduction of $6,000 for other types of retirement income like from pensions or an IRA. While the state sales taxes are some of the highest in the country, that is at least partly offset by property taxes that rank among the lowest in the U.S.
Is Social Security taxable in Arkansas?
While Arkansas does have a state income tax, it does not apply to Social Security income.
Are other forms of retirement income taxable in Arkansas?
Yes, but they may also be eligible for an exemption. Specifically, for persons age 59.5 or older, income from pensions or retirement accounts qualifies for an exemption of up to $6,000.
That deduction applies to the combined total from all accounts and pensions, so if you have income from both a 401(k) and a public pension, you can still only claim one deduction of up to $6,000. Married couples who both have retirement income can claim the deduction twice, one for each person's retirement income. Retirement income above that deduction is taxed at the normal income tax rates, shown in the table below.
Income Tax Brackets
All Filers
Arkansas Taxable Income
Rate
$0 - $4,700
0.00%
$4,700 - $9,200
2.00%
$9,200 - $13,900
3.00%
$13,900 - $22,900
3.40%
$22,900 - $38,500
5.00%
$38,500+
5.90%
How high are property taxes in Arkansas?
Property taxes in Arkansas are quite low. Homeowners here typically pay about $834 annually, one of the lowest amounts in the country. One reason for this is that home values in Arkansas are below-average compared to the rest of the country. In fact, the median home value in the state is $136,200, about $104,000 lower than the national median.
What is the Arkansas homestead exemption?
In Arkansas, the homestead exemption is called a homestead tax credit. It is equal to up to $375 per year and may be claimed on a homeowner's principal place of residence. Any homeowner living in his or her principal place of residence may claim the credit, including seniors. Retirees who live in a nursing center or retirement home but also own their own home may still claim the credit.
How high are sales taxes in Arkansas?
Sales taxes in Arkansas are very high. In fact, when considering both state and average local taxes, Arkansas has the third-highest sales tax rate in the entire country. This rate, including the state rate of 6.50% and the average of all local rates, is 9.48%.
That does not apply to all purchases. Some items that are especially important to seniors are exempt, including prescription drugs and all durable medical equipment like wheel chairs or prosthetic limbs. Groceries are subject to a lower state sales tax of 0.125%. Local sales tax rates are the same.
What other Arkansas taxes should I be concerned about?
One tax seniors should be aware of in Arkansas is the capital gains tax. Capital gains are taxed as regular income in Arkansas, but receive an exemption of 50%. So if you have investments in assets outside of a retirement account and they gain value, keep in mind you will pay income taxes on most of those gains.
On the other hand, Arkansas does not have an estate or inheritance tax. Retirees hoping to pass on some of their wealth to the next generation can do so tax-free, at least at the state level.
Calculate Your Retirement Taxes in These Other States