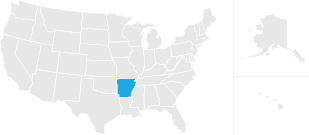 Overview of Arkansas Retirement Tax Friendliness
Arkansas does not tax Social Security retirement benefits. Property taxes in the state are among the lowest in the U.S. On the other hand, sales taxes in Arkansas are quite high.
Enter your financial details to calculate your taxes
Annual Social Security Income

Dismiss

Annual Retirement Account Income

Dismiss

Annual Wages

Dismiss

Dismiss

Year of Birth

Dismiss

Filing Status
Add Pension

Annual Income from Private Pension

Dismiss

Annual Income from Public Pension

Dismiss
You will pay

of Arkansas state taxes on your pre-tax income of
Quick Guide to Retirement Income Taxes
is toward retirees.
Social Security income is taxed.
Withdrawals from retirement accounts are taxed.
Wages are taxed at normal rates, and your marginal state tax rate is %.
Our Tax Expert

Jennifer Mansfield, CPA Tax

Jennifer Mansfield, CPA, JD/LLM-Tax, is a Certified Public Accountant with more than 30 years of experience providing tax advice. SmartAsset's tax expert has a degree in Accounting and Business/Management from the University of Wyoming, as well as both a Masters in Tax Laws and a Juris Doctorate from Georgetown University Law Center. Jennifer has mostly worked in public accounting firms, including Ernst & Young and Deloitte. She is passionate about helping provide people and businesses with valuable accounting and tax advice to allow them to prosper financially. Jennifer lives in Arizona and was recently named to the Greater Tucson Leadership Program.

...read more
Save more with these rates that beat the National Average
​If you could change one thing about ​this page what would it be?​
Thank you for your answer! Your feedback is very important to us.
We are working hard to improve our product and could use your help!
We pay $30 for 30 minutes on the phone to hear your thoughts on what we can do better.
Please enter your email if you'd like to be contacted to help.
| | | | |
| --- | --- | --- | --- |
| | | | |
| Please enter your name | Please enter a valid email | | |
Arkansas Retirement Taxes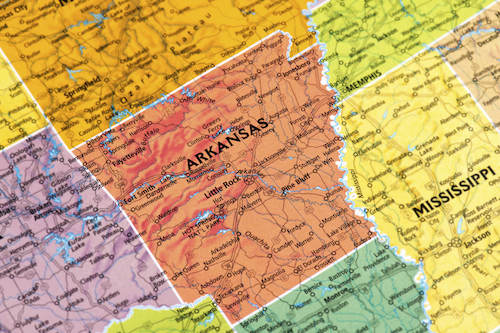 Photo credit: ©iStock.com/omersukrugoksu
Arkansas is the 32nd largest U.S. state, with a population of about three million people. According to the U.S. Census Bureau, 15.6% of the population of Arkansas is older than 64 years of age. This is somewhat higher than the national percentage of 14.5%.
Retirees living in Arkansas enjoy relatively low taxes, especially on income and property. The state does not tax Social Security, and its property taxes are among the lowest in the U.S. On the other hand, sales taxes in Arkansas are quite high. Below, we will take a closer look at each of these taxes and how they might affect a retiree's budget in Arkansas.
Is Arkansas tax-friendly for retirees?
Arkansas is a relatively tax-friendly state for retirees. Social Security is totally exempt from the state's income tax. Arkansas also offers seniors a deduction of $6,000 for other types of retirement income like from pensions or an IRA. While the state sales taxes are some of the highest in the country, that is at least partly offset by property taxes that rank among the lowest in the U.S.
Is Social Security taxable in Arkansas?
No, it isn't. While Arkansas does have a state income tax, it does not apply to Social Security income.
Are other forms of retirement income taxable in Arkansas?
Yes — but they may also be eligible for a deduction. Specifically, for persons age 59.5 or older, income from pensions or retirement accounts qualifies for a deduction of up to $6,000.
That deduction applies to the combined total from all accounts and pensions, so if you have income from both a 401(k) and a public pension, you can still only claim one deduction of up to $6,000. Married couples who both have retirement income can claim the deduction twice, one for each person's retirement income. Retirement income above that deduction is taxed at the normal income tax rates, shown in the table below.
Income Tax Brackets
All Filers
Arkansas Taxable Income
Rate
$0 - $4,399
0.9%
$4,400 - $8,699
2.4%
$8,700 - $13,099
3.4%
$13,100 - $21,699
4.4%
$21,700 - $36,299
5.0%
$36,300 - $77,400
6.0%
$77,401+
6.9%
How high are property taxes in Arkansas?
Property taxes in Arkansas are quite low. Homeowners pay about $721 annually on average, the third lowest amount in the country. That is one reason housing — the largest part of the average retiree's budget — is almost 10% less expensive in Arkansas than it is in the rest of the U.S.
What is the Arkansas homestead exemption?
In Arkansas, the homestead exemption is called a homestead tax credit. It is equal to up to $350 per year and may be claimed on a homeowner's principal place of residence. Any homeowner living in his or her principal place of residence may claim the credit, including seniors. Retirees who live in a nursing center or retirement home but also own their own home may still claim the credit.
How high are sales taxes in Arkansas?
Very high. In fact, when considering both state and local taxes, Arkansas has the third highest sales tax rate in the entire country. The average rate, including the state rate of 6.5% and the average of all local rates, is 9.30%.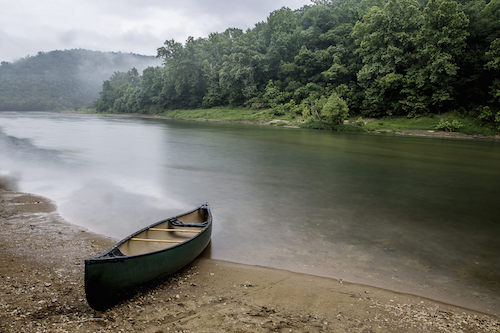 Photo credit: ©iStock.com/benjaminjk
That does not apply to all purchases. Some items that are especially important to seniors are exempt, including prescription drugs and all durable medical equipment like wheel chairs or prosthetic limbs. Groceries are subject to a lower state sales tax of 1.5%. Local sales tax rates are the same.
What other Arkansas taxes should I be concerned about?
One tax seniors should be aware of in Arkansas is the capital gains tax. Capital gains are taxed as regular income in Arkansas but receive an exemption of 50%. So if you have investments in assets outside of a retirement account and they gain value, keep in mind you will pay income taxes on most of those gains.
On the other hand, Arkansas does not have an estate or inheritance tax. Retirees hoping to pass on some of their wealth to the next generation can do so tax-free, at least at the state level.
Calculate Your Retirement Taxes in These Other States
Most Tax Friendly Places for Retirees

SmartAsset's interactive map highlights the places in the country with tax policies that are most favorable to retirees. Zoom between states and the national map to see the most tax-friendly places in each area of the country.

Methodology To find the most tax friendly places for retirees, our study analyzed how the tax policies of each city would impact a theoretical retiree with an annual income of $50,000. Our analysis assumes a retiree receiving $15,000 from Social Security benefits, $10,000 from a private pension, $10,000 in wages and $15,000 from a retirement savings account like a 401(k) or IRA.

To calculate the expected income tax this person would pay in each location, we applied the relevant deductions and exemptions. This included the standard deduction, personal exemption and deductions for each specific type of retirement income. We then calculated how much this person would pay in income tax at federal, state, county and local levels.

We calculated the effective property tax rate by dividing median property tax paid by median home value for each city.

In order to determine sales tax burden we estimated that 35% of take-home (after-tax) pay is spent on taxable goods. We multiplied the average sales tax rate for a city by the household income after subtracting income tax. This product is then multiplied by 35% to estimate the sales tax paid.

For fuel taxes, we first distributed statewide vehicle miles traveled to the city level using the number of vehicles in each county. We then calculated miles driven per capita in each city. Using the nationwide average fuel economy, we calculated the average gallons of gas used per capita in each city and multiplied that by the fuel tax.

For each city we determined whether or not Social Security income was taxable.

Finally, we created an overall index weighted to best capture the taxes that most affect retirees. The income tax category made up 40% of the index, property taxes accounted for 30%, sales taxes 20% and fuel taxes 10%.

Sources: Internal Revenue Service, Social Security Administration, state websites, local government websites, US Census Bureau 2018 American Community Survey, Avalara, American Petroleum Institute, GasBuddy, UMTRI, Federal Highway Administration