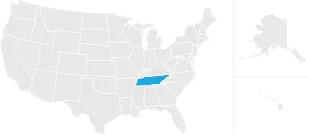 Overview of Tennessee Retirement Tax Friendliness
Tennessee does not levy any income taxes. Therefore, Social Security retirement benefits and income from retirement accounts are not taxed at the state level. Property taxes in Tennessee are quite low, but sales taxes are very high.
To find a financial advisor who serves your area, try our free online matching tool.
Enter your financial details to calculate your taxes
Annual Social Security Income

Dismiss

Annual Retirement Account Income

Dismiss

Annual Wages

Dismiss

Dismiss

Year of Birth

Dismiss

Filing Status
Add Pension

Annual Income from Private Pension

Dismiss

Annual Income from Public Pension

Dismiss
You will pay

of Tennessee state taxes on your pre-tax income of
Quick Guide to Retirement Income Taxes
is toward retirees.
Social Security income is taxed.
Withdrawals from retirement accounts are taxed.
Wages are taxed at normal rates, and your marginal state tax rate is %.
Save more with these rates that beat the National Average
Share Your Feedback
How would you rate your experience using this SmartAsset tool?
What is the most important reason for that score? (optional)
Please limit your response to 150 characters or less.
Thank you for your answer! Your feedback is very important to us.
Tennessee Retirement Taxes
Tennessee combines the lowest cost of living in the country with a warm climate and terrific recreational offerings. Cultural hotspots like Nashville and Memphis are great retirement destinations for seniors who love the arts. The Blue Ridge Mountain region in western Tennessee is perfect for outdoor enthusiasts.
The state's retirement taxes (or lack thereof) are another reason seniors in Tennessee are smiling. As of Jan. 1, 2021, the Volunteer State no longer levies any state income taxes. Prior to then, the state didn't tax traditional salaries and wages, but did tax income from interest and dividends. However, this tax, which was called the Hall Income Tax, has now been fully repealed.
This can add up to hundreds, or even thousands, of dollars in retirement tax savings as compared with many other states. Tennessee also has low property taxes, although its sales tax is one of the highest in the U.S.
A financial advisor can help you plan for retirement and other financial goals. SmartAsset's free tool matches you with up to three vetted financial advisors who serve your area, and you can interview your advisor matches at no cost to decide which one is right for you. If you're ready to find an advisor who can help you achieve your financial goals, get started now.
Is Tennessee tax-friendly for retirees?
As Tennessee does not have an income tax, all forms of retirement income are untaxed at the state level. This includes Social Security and income from retirement accounts. Additionally, property taxes in Tennessee are quite low, with an average effective rate of just 0.56%.
That being said, one tax that hits seniors in Tennessee especially hard is the sales tax. Tennessee has one of the highest state and local sales taxes of any state, with an average overall rate of 9.61%.
Is Social Security taxable in Tennessee?
Tennessee does not tax Social Security benefits in any way.
Are other forms of retirement income taxable in Tennessee?
There are no income taxes whatsoever in Tennessee.
How high are property taxes in Tennessee?
Tennessee's property taxes and property tax rates are quite low. The average effective property tax rate is 0.56%, 14th-lowest in the country. Most Tennessee homeowners pay around $1,300 annually in property taxes.
What is the Tennessee Property Tax Relief Program?
The state of Tennessee provides property tax relief to some elderly or disabled homeowners. To qualify, the applicant's total household income (including spousal income) can be no greater than $31,600. This includes Social Security benefits and other retirement income.
Senior applicants must be at least 65 years old, while disabled homeowners must be fully disabled according to the Social Security Administration (SSA). Eligible homeowners will receive an exemption of $30,000 on their home value. So, if your total home value is $100,000, your taxes will only apply to $70,000 of that amount.
How high are sales taxes in Tennessee?
Tennessee has one of the highest state sales taxes in the U.S. The state rate is 7% and that is supplemented by local rates that can be as high as 2.75%. On average, the total rate paid by Tennessee residents is 9.61%.
While prescription drugs are fully exempted in Tennessee, groceries are not. Tennessee charges a lower tax rate for groceries, but it is still one of just a handful of states that taxes grocery purchases. The sales tax rate for groceries is 4%.
What other Tennessee taxes should I be concerned about?
Tennessee has no inheritance tax, and its estate tax expired in 2016.
Calculate Your Retirement Taxes in These Other States