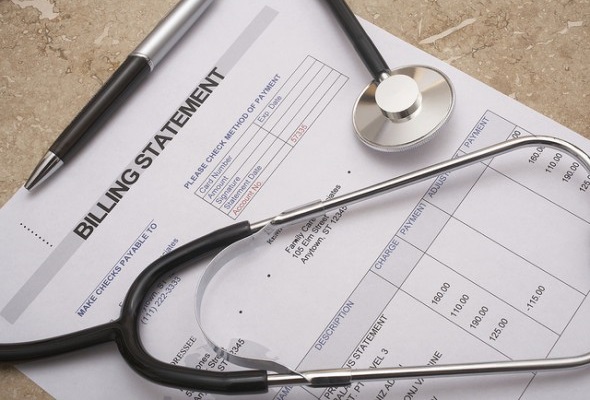 A trip to the emergency room or an unexpected illness can be a recipe for financial disaster if you don't have health insurance or your coverage isn't that great. According to a study released earlier this year, medical bills are the number one factor leading to personal bankruptcy filings in the U.S. If your medical bills are piling up because of an injury, illness or other health crisis, here are a few strategies for dealing with the debt when you can't afford to pay.
Find out now: How much do I need to save for retirement?
Negotiate the Costs Down
Just about everything in life is negotiable, including your medical bills. If you've got bills that are past due, try calling up the service provider to see if they'll reduce the charges. Explain to them what your financial situation is like and let them know that you want to pay the bill but you can't afford to cover it in full right now. If you can offer them something as a good faith payment towards the balance, they may be willing to give you a discount towards the rest of what you owe.
If you're planning to try and negotiate your bill down, go over it carefully to make sure it's accurate first. If you see charges for services or items that you don't remember receiving, contact the billing office and ask for an explanation. If you were charged something in error, you'll want to make sure your bill is correct before you try to cut a deal with your service provider. Don't be afraid to get the negotiations process started as soon as possible. Otherwise, the bill could end up getting sent to collections which will only create more problems.
Check Into Government-Funded Aid
Medicare and Medicaid are designed to provide help to low-income individuals and families who are unable to cover the full cost of their medical care. Your eligibility for these programs is typically based on your age, disability status, family size and income. Each state has different guidelines and you'll need to fill out an application through your local social services division to determine if you qualify. If you're able to get covered through one of these programs, it can reduce or even eliminate your outstanding medical bills.
Apply for Charity Care
If you don't qualify for government-funded medical care but you still can't afford to pay your medical bills, you may be able to get charity care. Charity care programs are designed to help people who can't get Medicare or Medicaid but can't afford to pay the full cost of their medical care. Typically, charity care only applies to costs related to treatment at a hospital, rather than a doctor's office.
Whether or not you're eligible for charity care depends on your income and assets. If you have too many assets to qualify, you may be required to spend them down before you'll be approved for the program. If you qualify, you may still have to pay a percentage of your medical bills based on your income.
Consider Bankruptcy Carefully
If you can't get the hospital to lower your bill and you don't qualify for any type of aid program, bankruptcy may be your last option for dealing with medical debt. You can file Chapter 7 bankruptcy regardless of how much you owe. Then once your case is discharged, the debt is erased. The downside of Chapter 7 is that you may have to give up some or all of your assets in order to file. Also, it will stay on your credit for ten years. You can only get a Chapter 7 discharge once every eight years so if you've got an ongoing health condition, filing bankruptcy may only be a short-term solution.
Filing Chapter 13 may be a better option if you're struggling with medical bills along with other types of debt. In a Chapter 13 filing, you get to keep all of your assets but you have to agree to pay back some or all over your debt over a three- to five-year period. If trying to keep up with medical debts has caused you to fall behind on your mortgage or car payments, filing Chapter 13 can help you get back on solid financial ground. Keep in mind that there limits to how much debt you can discharge with this type of bankruptcy.
Final Word
If you're feeling crushed by the weight of medical debt, you can't afford to put off taking action to deal with it. The faster you're able to find a solution, the sooner you can kiss those medical bills goodbye.
Update: You may want to talk with a financial advisor when making this or any other big financial decision. So many people reached out to us saying they wanted help with financial planning, that we built a tool to match you with a financial advisor who can meet your needs. First you answer a series of questions about your situation and your goals. Then the program narrows down thousands of advisors to up to three fiduciaries who meet your needs. You can read their profiles to learn more about them, interview them on the phone or in person and choose who to work with in the future. This allows you to find a good fit while doing much of the hard work for you.
Photo Credit: flickr