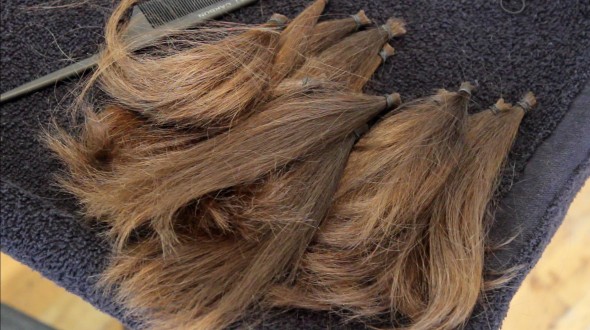 It's the time of year when many of us think about giving back. You can donate money or time, new toys or old coats. But this year, I decided to donate my hair. It doesn't cost a thing (often the salon will offer a free haircut if you are donating) and it can mean a lot to someone else. Check out the video of my hair donation here:
Find out now: How much do I need to save for retirement?
Why Donate
There are organizations that accept this donated hair and make wigs. These wigs are given for free or at reduced cost to people suffering hair loss because of cancer treatment or other diseases. Wigs for Kids, Locks of Love and Pantene Beautiful Lengths are three of these organizations.
Related Article: The 50 Worst Charities in America- How to Keep from Being Scammed
Like many of you, I have watched family and friends suffering from cancer. This is a small way that I can help ease the pain for someone who has lost his/her hair during cancer treatment (or battling another disease like alopecia or Graves' disease). This is my second time donating. I wish I could do it more frequently – it takes me about two years to grow my hair long enough. I am inspired by the many others who have donated numerous times and of course, those fighting cancer and other diseases bravely every day.
How You Can Donate
You can donate your hair this holiday season or anytime. Be sure to do some research before you go to the salon because each organization has their own specific requirements. I've broken down some of the information here:
Organization: Wigs For Kids
Minimum Length to Donate: 12 inches
Ponytail/Braid: Yes
Clean & Dry: Yes
Permed : No
Color Treated: No
Bleached: No
Temporary/wash-out Color: Yes
Special Instructions: Yes, see Web site
Web site: Wigs For Kids donation information
Organization: Locks Of Love
Minimum Length to Donate: 10 inches (for longest layer)
Ponytail/Braid: Yes
Clean & Dry: Yes
Permed : Yes
Color Treated: Yes
Bleached: No
Temporary/wash-out Color: Yes
Special Instructions: Yes, see Web site
Web site: Locks Of Love donation information
Organization: Beautiful Lengths
Minimum Length to Donate: 8 inches
Ponytail/Braid: Yes
Clean & Dry: Yes
Permed : No
Color Treated: No
Bleached: No
Temporary/wash-out Color: Yes
Special Instructions: Yes, see Web site
Web site: Beautiful Lengths donation information
Related Article: Using Your Smartphone to Track Spending
Photo Credit: waltertyler.com