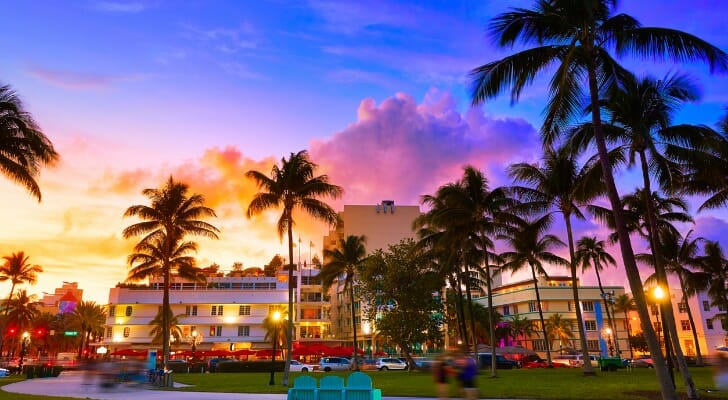 From 2010 to 2017, the population of Miami grew by 15.6%, rising from 400,864 to 463,347. If you're moving to Miami, you should have a good idea of whether you can afford to relocate to the Sunshine State's most beguiling city. Housing costs in Miami are a bit high for both renters and homebuyers, but taxes are low. We also go over the costs of utilities, food and more.
Miami Home Prices
Miami was hit hard by the financial crisis in 2008. The city is still dealing with relatively high rates of foreclosure, as April 2019 data from RealtyTrac.com shows a 0.07% units by area foreclosure rate in the city. In comparison, the U.S. average is 0.04%. Despite this, Miami homes are generally more expensive than other Florida cities.
According to the National Association of Realtors, the median home sale price in the Miami metro area is $350,000. Jacksonville and Orlando, on the other hand, are around $100,000 cheaper at $246,900 and $265,000, respectively. These prices, along with the fact that Miami is home to many young people, have contributed to the city's low homeownership rate. In fact, just 29.5% of residents own a home, according to NeighborhoodScout.
If you have questions about how you can fit a mortgage into your personal financial life, consider speaking with a financial advisor.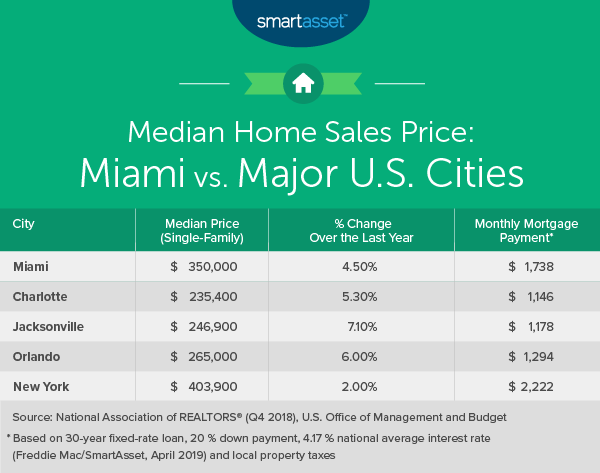 Rent in Miami
Rent in Miami is a little on the pricey side. According to Apartment List's March 2019 report, the current median rent for a studio in Miami is $864. If you want to rent a one bedroom apartment, you should expect to pay around the median of $1,068. Two bedroom places are renting for around $1,355. If you need three bedrooms, prepare to shell out around $1,865 a month.
Each of the medians for Miami are well above national marks. Here's how they compare to their respective U.S. medians:
Studio: $37 higher than the $827 nationwide median
One bedroom: $121 higher than the $947 nationwide median
Two bedroom: $180 higher than the $1,175 nationwide median
Three bedroom: $287 higher than the $1,578 nationwide median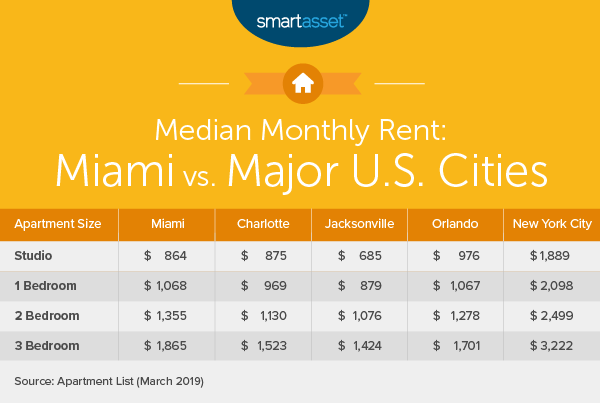 Miami Utilities
The utility costs in Miami are fairly low. According to Numbeo.com's May 2019 data, the average monthly utility bill for a 915-square foot apartment here is $115.27. That's almost $37 cheaper than the national average ($152.08). This estimation includes a basic package of garbage, electricity, heating and water.
Groceries and Dining Out in Miami
A 2019 report from Numbeo.com recommends a minimum daily food expenditure in Miami of $11.57, or $358.70 a month. That's makes Miami's grocery scene a bit pricier than the national average, which is $10.47 per day and $324.53 per month.
Of course, the above estimations assume that you're buying the bare minimum at the grocery store and never eating out. If you decide to head to a restaurant, you can expect to pay around $15 for a meal at an inexpensive place. A three-course meal for two at a mid-range restaurant should cost you around $72.50, according to Numbeo.com.
Florida is the citrus capital of the U.S. Again, according to Numbeo.com, a pound of oranges goes for $1.62 in Miami, which is around 20 cents less than the U.S. average. Apples, on the other hand, are much more expensive, as a pound of apples in Miami is $2.36, or 38 cents above the national average.
Miami Taxes
Florida is generally a low-tax state, which is part of why it's such a popular destination for retirees. There are no state income taxes whatsoever here. That means that if you retire here, your Social Security, pension income and other forms of payouts will not be taxed.
Miami residents pay a 7% sales tax. This is divided between a 6% statewide sales tax and a 1% sales tax instituted by Miami-Dade County. Residents of Miami-Dade County pay an average effective property tax rate of 1.12%. This is a slightly higher rate than the Florida average.
Healthcare Costs in Miami
According to the Health Care Cost Institute's 2016 report, healthcare prices in Miami are a bit more expensive than the U.S. median. To be specific, the Miami metro area comes in at 6% higher than the national mark. This doesn't appear to only be the case in Miami, though. For example, the Tampa and Port St. Lucie metro areas are each 7% above the U.S. median.
Miscellaneous Cost of Living Facts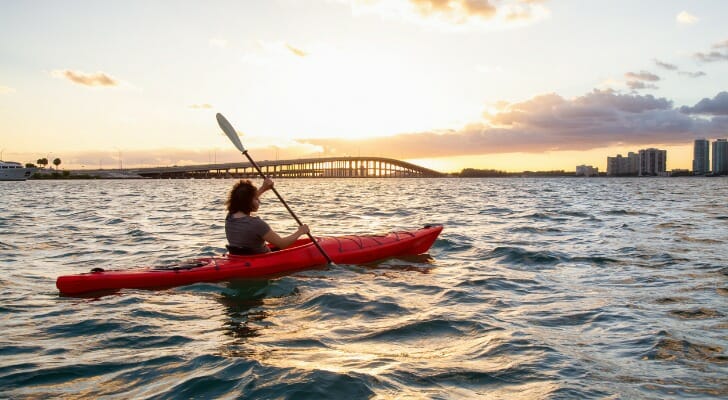 According to Statista.com, the average price of a ticket to see the Miami Dolphins in 2018 was $86.36. Basketball fans can check out the Miami Heat for an average of $76.73 a ticket (Statista.com, 2015/2016 season). Miami also boasts a baseball team called the Miami Marlins. You can catch some Marlins ball at their 37,000-seat stadium, complete with a retractable roof. According to Statista.com (2018), Marlins tickets carry an average price of just $31.76.
Miami also boasts an impressive art scene. The Miami Design Preservation League offers walking tours of the city's Art Deco architecture for $30. Admission to the Pérez Art Museum Miami will cost you $16. Want to spend a day at Miami's famous Art Basel? You'll pay $50, or $75 for combined entry to both Art Basel and Design Miami.
No tour of Miami's cultural spots would be complete without a visit to Calle Ocho, traditionally the hub of Cuban and Cuban-American culture in Miami. One of the most famous gathering places on Calle Ocho is Versailles Restaurant, where one of their unmissable cortaditos (an espresso shot with a little steamed milk) will cost you just $1.85. There's even a to-go window for coffee so you don't have to tear your eyes away from the lively street scene.
Next Steps for Your Move to Miami
Photo credit: ©iStock.com/LUNAMARINA, ©iStock.com/edb3_16