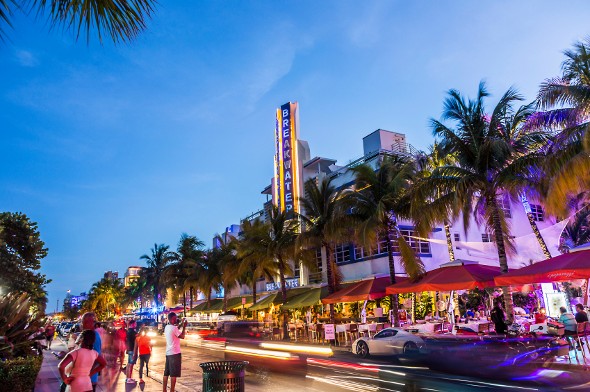 Between 2000 and 2014, the population of downtown Miami almost doubled, going from 40,466 to 80,750. Are you considering joining in the fun and moving to Miami? You're probably wondering whether you can afford to relocate to the Sunshine State's most beguiling city. We've got you covered with our guide to the cost of living in Miami, from housing costs to the expenses of being a sports fan in the city.
Check out our cost of living calculator.
Miami Home Prices
Miami was hit hard by the financial crisis and is still dealing with relatively high rates of foreclosure. Partly as a result of the burst housing bubble, Miami home prices likely aren't as high as you might expect.
According to trulia.com, the median sale price in Miami between June and September of 2015 was $135,000 for a one-bedroom. For a two-bedroom, the median sale price was $176,000. Need three bedrooms? Expect to pay around $250,000. The median price rises to $340,000 for a four-bedroom home. The median sale price for all properties was $245,000. Check out the chart to see how the median value of owner-occupied homes in Miami compares to other cities.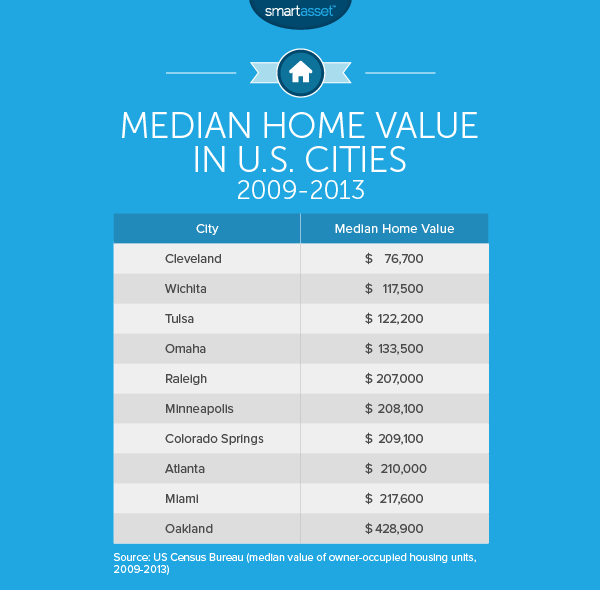 Find out now: How much house can I afford?
Rent in Miami
Rent in Miami is a little on the pricey side. According to myapartmentmap.com, the current average rent for a studio in Miami is $1,260. If you want to rent a one-bedroom apartment you should expect to pay around the average of $1,508. Two-bedroom places are renting for around $1,965. If you need three bedrooms, prepare to shell out around $2,479.
Miami Utilities
Whether you decide to rent or buy you'll be responsible for keeping up with your utility bills. According to numbeo.com, the average monthly utility bill for a 915 square-foot apartment in Miami is $165.78. That's for a basic package of garbage, electricity, heating and water. It's around 6% higher than the US average. If you want to add internet to your utility bill, expect to pay around the average Miami price of $45.42.
Find out now: Should I rent or buy?
Groceries and Dining Out in Miami
Numbeo.com recommends a daily minimum spend on food in Miami of $10.56, or a monthly minimum of $327.51. That's around 4% above the numbeo.com minimum for the U.S. as a whole.
Of course, these minimums assume that you're buying the bare minimum at the grocery store and never eating out. If you decide to head to a restaurant, you can expect to pay around $15 for a meal at an inexpensive restaurant. A three-course meal for two at a mid-range restaurant should cost you around $60, according to numbeo.com.
You might think that picking up some citrus would be cheap in Miami, considering how many of the country's oranges are grown in Florida. In fact, a pound of oranges will cost you more in Miami than in many other U.S. cities. Take a look at the chart to see how Miami prices compare.
Related Article: 13 Things to Know Before Moving to Miami
Miami Taxes
Florida is a low-tax state, which is part of why it's such a popular destination for retirees. Miami residents pay a 7% sales tax, which includes the 6% statewide sales tax and a 1% Miami-Dade County sales tax.
Residents of Miami-Dade County pay an average effective property tax rate of 1.272%, according to the SmartAsset property tax calculator. That's a higher rate than both the Florida average and the national average.
But here's the good news: Miami residents don't pay any state or local income taxes. That's right. If you move to Miami you'll only have to worry about federal income taxes. As any of Miami's top 10 financial advisor firms would likely tell you, that's a big financial win.
Related Article: Where You Need to be a Millionaire to Retire
Healthcare Costs in Miami
According to Castlight Health, the average cost of a lipid panel in Miami is a bargain, at $57. Prices range from $15 to $276. A preventive primary care visit in Miami carries an average cost of $95, with a price range of $82 to $153. Things get steep when it comes to a lower-back MRI, which carries an average price in Miami of $1,968. Prices range from $963 to $3,465.
Miami Sports Costs
According to the Forbes NFL Team Valuation, the average price of a ticket to see the Miami Dolphins play at Sun Stadium is $65. Prefer basketball? Tickets to see Dwyane Wade, Chris Bosh and the Miami Heat can range from $10 for cheap seats early in the season to hundreds of dollars for playoff games, if the 2014-2015 season is anything to go by. If baseball is your thing, you can catch the Miami Marlins at their 37,000-seat stadium, complete with a retractable roof. According to Forbes, Marlins tickets carry an average price of just $27.
Miami Arts
If you're ready to branch out from lounging on the beach, people-watching and catching sports games, you'll love Miami's arts scene. The Miami Design Preservation League offers walking tours of the city's Art Deco architecture for $25. Admission to the Perez Art Museum Miami will cost you $16. Want to spend a day at Miami's famous Art Basel? You'll pay $47, or $60 for combined entry to both Art Basel and Design Miami.
No tour of Miami's culture scene would be complete without a visit to Calle Ocho, traditionally the hub of Cuban and Cuban-American culture in Miami. One of the most famous gathering places on Calle Ocho is Versailles Restaurant, where one of their unmissable cortaditos (an espresso shot with a little steamed milk) will cost you just $1.85. There's even a to-go window for coffee so you don't have to tear your eyes away from the lively street scene.
Next Steps
If you're thinking about moving to Miami, it can be helpful to know how the change will affect your budget so you can plan accordingly.
If you'll be starting a new job, your paycheck may end up looking quite different than it does now. Try using our Florida paycheck calculator to estimate what your new take-home pay will be.
A financial advisor can help you navigate big life changes like a cross-country move, or just help you to meet your financial goals in general. A matching tool like SmartAsset's can help you find a professional to work with to meet your needs. First you answer a series of questions about your situation and your goals. Then the program matches you with up to three advisors who meet your needs. You can then read their profiles to learn more about them, interview them on the phone or in person and choose who to work with in the future. This allows you to find a good fit while doing much of the hard work for you.
Photo credit: ©iStock.com/Meinzahn