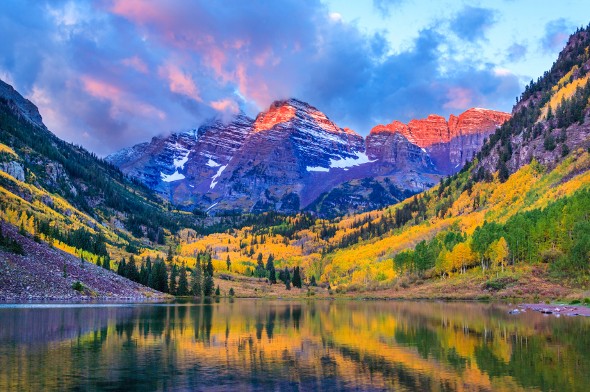 Between 2010 and 2014, the population of Colorado grew by over 6.5%. If you've ever seen pictures of Colorado, you probably understand why the state is growing. It's a beautiful place, perfect for nature-lovers. Is Colorado still affordable? The answer to that question depends on where you live and on your means. Here's our guide to the cost of living in Colorado.
Home Prices in Colorado
Hearing "Colorado" conjures up visions of beautiful ski chalets and cabins in the mountains. Home values in Colorado took a serious dip after the recession but they've since rebounded. Back in September 2011, home prices were at a 10-year low with a median home value of $201,000, according to Zillow.com. By September 2015, the median home value in Colorado was $282,000.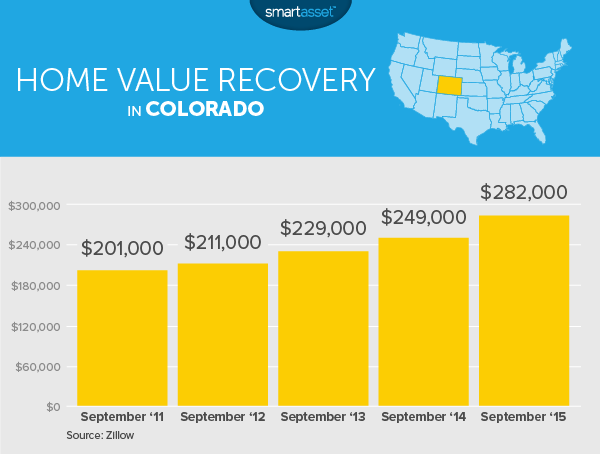 Rent in Colorado
Still not sure whether you want to rent or buy? Rent in Colorado is more expensive than the U.S. average, but it's not San Francisco-level expensive. According to myapartmentmap.com, the average rent for a studio apartment in Colorado is $1,039. That's $22 cheaper than the average U.S. studio.
Things get more expensive from there. A one-bedroom in Colorado rents for an average of $1,147, $164 above the U.S. average. Two-bedrooms carry an average rent of $1,396, which is $192 more expensive than the national average for a two-bedroom apartment.
For a three-bedroom apartment you can expect to pay around the Colorado average rent of $1,744. That's $225 pricier than the national average. Rents are more expensive in Colorado than they are in neighboring states. Wyoming, Utah, New Mexico, Nebraska, Oklahoma, Arizona and Kansas all have lower average rents than Colorado does.
Find out now: How much house can I afford?
Utilities
According to a study by the U.S. Energy Information Administration (EIA), residents of Colorado consume 15% more energy than the U.S. average, but pay less for that energy. As of 2009, energy costs in Colorado were 23% cheaper than the national average. This was largely due to cheap gas in Colorado.
As of 2014, the average monthly utility bill in Colorado was $83.73, according to the EIA. That's about 27% below the U.S. average. Not bad!
Food
According to the Bureau of Labor Statistics, food prices have been on the rise in the whole Western Region, which includes Colorado, Alaska, Arizona, California, Hawaii, Idaho, Montana, Nevada, New Mexico, Oregon, Utah, Washington and Wyoming.
In the Denver-Boulder-Greeley metro area, food prices increased 1.4% between the first half of 2014 and the first half of 2015. During the same period from 2013 to 2014, food prices increased by 2%.
Between 2014 and 2015, costs for food away from home rose 2.9%, while prices for food at home (think: grocery items) rose by 0.9%. Between 2013 and 2014, costs for food away from home rose 1.3%, while prices for food at home rose 2.2%.
Transportation
According to gasbuddy.com, the average price of a gallon of gas in Colorado is $1.94. That's below the U.S. average of $2.06. Gas prices vary from city to city. In Denver, they average $1.88 per gallon. In Colorado Springs drivers pay an average of $1.89 per gallon.
Public transportation is available in Colorado's Regional Transportation District, with bus, rail and light rail service to Denver, Boulder and nearby cities. A month of access will cost you $79, $140 or $176 depending on whether you want local, express or regional service.
Colorado Taxes
Colorado is a flat-tax state. The income tax rate in Colorado is 4.63% regardless of income level. That's great if you're rich (it's lower than the top rates for many states that have marginal taxes), but not-so-great if you're on the lower end of the income scale. The base sales tax rate in Colorado is 2.9%, though many cities add their own sales taxes on top of that 2.9%.
In case you were wondering, marijuana, whether medical or recreational, is subject to the 2.9% state sales tax, plus any applicable local sales taxes, an additional 10% sales tax and a 15% marijuana excise tax. There are also application and licensing fees for medical and retail marijuana sales that may apply.
Here's some good news for homeowners. Colorado's property tax rates are some of the nation's lowest. The Centennial State has an average effective property tax rate of just 0.63%. The money Coloradans pay in property taxes stays within their county of residence. No property tax revenue goes to Colorado's state government.
Healthcare
According to the National Conference of State Legislatures (NCSL), the cost of Marketplace health insurance premiums in Colorado declined by 8% between 2014 and 2015.
As of 2015, the average premium for a catastrophic plan in Colorado is $222. For Bronze coverage, the Colorado average is $262. That jumps to $323 for silver, $366 for gold and $405 for platinum. These averages are based on a 40-year-old non-smoker.
Extras

Colorado is famous for its ski slopes and ski towns. We all know that skiing can be a pricey pastime. Check out the chart above to see how the price of a lift ticket varies among Colorado resorts. The cheapest day pass on our list is Arapahoe at $76. The most expensive? Aspen Snowmass at $139.
Next Steps
If you're thinking about moving to Colorado, it can be helpful to know how the change will affect your budget so you can plan accordingly.
If you'll be starting a new job, your paycheck may end up looking quite different than it does now. Try using our Colorado paycheck calculator to estimate what your new take-home pay will be.
A financial advisor can help you navigate big life changes like a cross-country move, or just help you to meet your financial goals in general. A matching tool like SmartAsset's can help you find a professional to work with to meet your needs. First you answer a series of questions about your situation and your goals. Then the program matches you with up to three advisors who meet your needs. You can then read their profiles to learn more about them, interview them on the phone or in person and choose who to work with in the future. This allows you to find a good fit while doing much of the hard work for you.
Photo credit: © iStock.com/David Sucsy