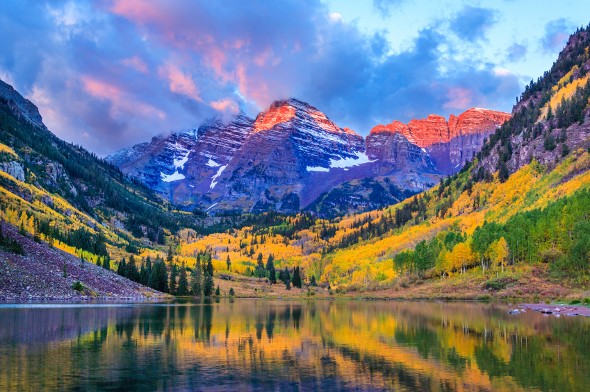 U.S. Census Bureau data shows Colorado's population grew by 1.4% from 2017 to 2018, which is the seventh highest rate in the nation. That growth probably isn't surprising to anyone who's visited or seen pictures of Colorado: It's a beautiful state that's perfect for nature-lovers. But is Colorado affordable? The answer depends on where in the state you live. It also depends on how sound your financial plan is; if you need help figuring out what's within your means, try speaking with a financial advisor.
Housing Costs in Colorado
Hearing "Colorado" conjures up visions of beautiful ski chalets and cabins in the mountains. Home values in Colorado took a serious dip after the recession but they've since rebounded. Based on 2008 to 2018 data from NeighborhoodScout, Colorado homes have appreciated an average 5.08% a year. As of the end of 2018, the median home value in the state stands at $373,564.
Under 40% of Colorado residents choose to rent, as renting in the state is slightly more expensive than the rest of the country. According to 2019 data from Apartment List, a two bedroom apartment in Colorado has a median rent of $1,305, which is $130 above the national median. Compare this to San Francisco's two bedroom median of $3,108, and Colorado suddenly appears much better.
Renting is much more common in big cities, though. In Boulder, studio and one bedroom median rent is $1,017 and $1,158, respectively. Despite being the largest city in the Colorado, Denver's medians for the same apartment types sit at just $871 and $1,064 each.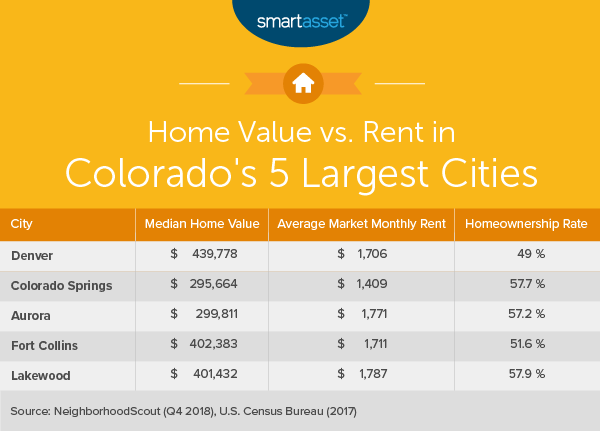 Utilities
According to a 2017 report from the U.S. Energy Information Administration (EIA), residents of Colorado consume much less energy than the U.S. average. As a result, the average Colorado monthly bill is $82.47, which is $29.20 less than the $111.67 national average. For further reference, the highest monthly bill in the U.S. is Hawaii at $149.33. Cheap gas in Colorado is partially to blame for this disparity.
Food
MIT's Living Wage Calculator places the annual living wage of a single adult with no children in Colorado at $27,444. Of that income, MIT estimates that $3,573 will be spent on food, which makes up 13%. This percentage raises slightly for a family with two working adults and two children, as 14.4% of their $73,132 worth of income is spent on food.
The monthly costs of food vary from city to city. 2019 data from Numbeo.com indicates that Denver residents can expect to spend $337.09 a month on food, whereas Colorado Springs residents will pay $348.53. For reference, the national average is $323.72.
Transportation
According to May 2019 data from GasBuddy, the average price of a gallon of gas in Colorado is $2.78. That's just below the U.S. average of $2.90. In Denver, though, gas averages $2.72 per gallon. In Fort Collins, drivers pay an average of $2.76 per gallon.
Public transportation is available in Colorado's Regional Transportation District, with bus, rail and light rail service to Denver, Boulder and nearby cities. A month of access will cost you $114 or $200 depending on whether you want local or regional service.
Colorado Taxes
Colorado is a flat-tax state. The income tax rate in Colorado is 4.63% regardless of income level. That's great if you're rich, but not-so-great if you're on the lower end of the income scale. The base sales tax rate in Colorado is 2.9%, though many cities add their own sales taxes on top of it. At a city level, sales tax can get as high as 10.40% (in the small ski town of Snowmass Village).
In case you were wondering, marijuana, whether medical or recreational, is subject to the 2.9% state sales tax plus any applicable local sales taxes, as well as an additional 15% sales tax and a 15% marijuana excise tax. There are also application and licensing fees for medical and retail marijuana sales that may apply.
Here's some good news for homeowners: Colorado's property tax rates are some of the nation's lowest. The Centennial State has an average effective property tax rate of just 0.57%. The money Coloradans pay in property taxes stays within their county of residence. No property tax revenue goes to Colorado's state government.
Healthcare
The average Colorado employee annually contributes about the national average for single coverage healthcare. A 2017 report from the Agency for Healthcare Research and Quality has Colorado ($1,375) just $40 below the national average of $1,415.
On the other hand, the overall healthcare prices in the state are far above the U.S. median rate. More specifically, the Fort Collins metro area is 18% higher, the Denver metro area is 13% higher and the Boulder metro area is 6% higher, according to 2016 data from the Health Care Cost Institute.
Miscellaneous Cost of Living Facts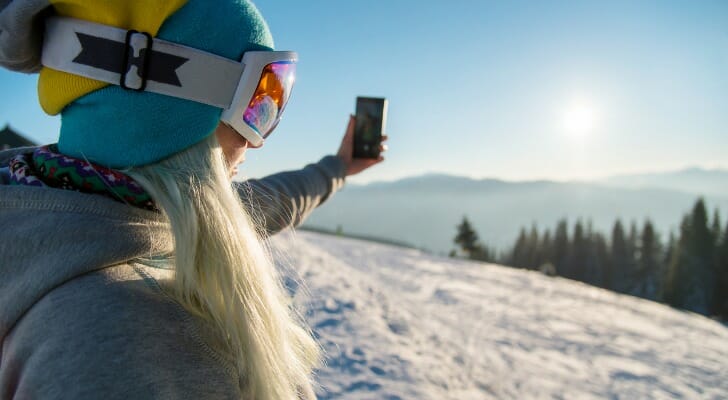 Colorado is famous for its ski slopes and ski towns. We all know that skiing can be a pricey pastime. Prices of lift tickets vary among Colorado resorts. One of the cheapest day passes is for Arapahoe Basin at $85. Breckenridge Resort is priced at $109 and a three-day pass at Steamboat will run you over $300.
Next Steps for a Move to Colorado
Photo credit: © iStock.com/David Sucsy, © iStock.com/anatoliy_gleb