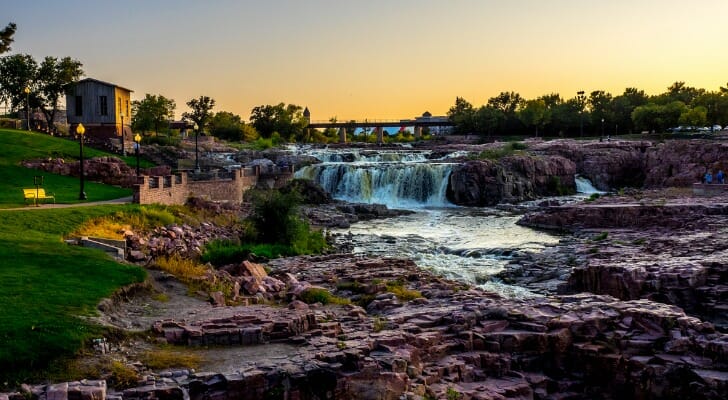 The South Dakota state government and the federal government both offer special programs for first-time homebuyers who need loans to purchase a home. Which loans you have access to will depend on your exact needs and circumstances, but there are many types of loans out there. For example, you can find loans that only require a small down payment or low credit score minimums. You can also find demographic-specific loans, such as those for veterans. If you want more personalized help throughout the home buying process, it may be worth talking to a financial advisor.
Federal First-Time Homebuyer Programs
FHA Loans
Pros
– No down payment required
– Finance up to 100% of home's value
Cons
– Larger down payment needed for those with a credit score below 580
Eligibility
– As little as a 3.5% down payment
– Credit score must be 500 or above
Best For
– Those who don't have a great credit history and money for a down payment
Several lenders in South Dakota issue low-interest FHA loans. Backed by the Federal Housing Administration, these loans offer very low down payments. In fact, most lenders allow a down payment as low as 3.5%. That rate sinks lower than that of most non-veteran specific mortgages on the market today.
However, the 3.5% down payment only applies to applicants with a FICO® credit score of 580 or higher. Should you fall below that threshold, the FHA requires you to pay a 10% down payment. Nonetheless, it still beats what most mortgages in South Dakota can offer.
VA Loans
Pros
– Can have up to 100% loan coverage of your home's value
– Usually comes with lower closing costs than conventional loans
– No private mortgage insurance
Cons
– The application process can be drawn out
– Must pay a VA funding fee
Eligibility
– Must be a current or former military member, or a member's spouse or another eligible beneficiary
– Must have a credit score of 620 or higher
Best For
– Veterans with little monthly income and savings for a comfortable down payment
Veterans, current members of the U.S. military, their spouses and other eligible beneficiaries can apply for a VA mortgage. The Department of Veterans Affairs backs these loans. Generally, these options best suit first-time homebuyers who can take on a mortgage but need help with down payments. And as long as your new home's value falls within the standards of a VA loan, you can have as much as 100% of the price covered by your loan.
As great as this sounds, VA loans do come paired with a VA funding fee that can range anywhere from 1.25% to 2.4%. You could think of this as a substitute down payment, but even if you do, it's still less than the vast majority of other options. On top of this, you need a minimum FICO® credit score of about 620 for approval.
Outside of this funding fee, you won't have to pay much else at the time of your purchase. All mortgage applications involve closing costs. But the VA sets closing cost maximums on VA loans. And because the VA backs these loans, you don't need private mortgage insurance (PMI) to cover the lender in case you default.
USDA Loans
Pros
– Veterans with little monthly income and savings for a comfortable down payment
Cons
– If you qualify for a conventional mortgage, you can't get one
Eligibility
– Cannot make more than 115% of the adjusted household median income for the area if applying for guaranteed loan program
– Must purchase a home within an eligible rural area
Best For
– Low-to-mid income Americans looking to live in a rural or suburban area
In an effort to get homebuyers, especially first-timers, to move into rural, semi-rural and certain suburban areas around the U.S., the United States Department of Agriculture developed the USDA loan program. These apply to single-family homes located in approved areas.
Similar to their VA loan counterparts, USDA loans do not come with minimum down payment requirement, allowing you to finance up to 100% of your new home's value. However, your lender can hike your down payment up to around 10% if your FICO® credit score lands too low.
In addition, you may not qualify for a USDA loan if your adjusted household income breaches beyond 115% of the area's current median income.
Good Neighbor Next Door Program
Pros
– Get a flat 50% discount on the value of your new home
– After three years, you can sell the home and keep all equity
Cons
– Not available to most people and in most areas
– You're required to live in the home for at least three years following purchase
Eligibility
– Must be a police officer, firefighter, emergency medical technician or a pre-K to 12th-grade teacher
Best For
– Teachers or emergency personnel with little in savings
The Good Neighbor Next Door Program provides benefits to pre-K through 12th-grade teachers and emergency personnel. The Department of Housing and Urban Development (HUD) designed it to attract these professionals to areas where they make a small portion of the home-owner pool.
The federal government has identified these various places and deemed them "revitalization areas." So if you're a police officer, firefighter, emergency medical technician or K-12 teacher, you can use this program to get a house in one of these areas for 50% off.
While this program is obviously beneficial, you don't physically obtain your mortgage through it. Instead, your discount will apply through the program, and you can pay cash or get a conventional, FHA or VA mortgage to cover the balance. You will, however, be required by law to make this home your primary residence for no less than three years. At this point, you can sell it and keep the profits.
Fannie Mae/Freddie Mac
Pros
– Very low down payment stipulations
– Little-to-no credit needed for approval
– Many loan styles available
Cons
– Could come with higher interest rates
Eligibility
– In some cases, no income requirements in underserved areas
Best For
– Anyone who is looking for a low down payment loan option, but doesn't qualify for any of the above options
The federal government created Freddie Mac and Fannie Mae to help build stability in the mortgage market, and each offers a loan program geared towards first-time homebuyers.
Fannie Mae's HomeReady® mortgage requires a lower down payment than an FHA loan at 3%. So on a $250,000 home, that would be a $7,500 down payment, which should be doable for most applicants. Just make sure that your monthly income doesn't cross the U.S. median by much, if at all, and your credit score is at least a 620. While you will be required to pay for private mortgage insurance, you can cancel once you have accrued 20% equity in your home.
The Home Possible 97% LTV mortgage from Freddie Mac is very similar to Fannie Mae's offering, just with some minor tweaks. The loan is available in 15- to 30-year fixed-rate terms, and also as a 5/1, 5/5, 7/1 or 10/1 adjustable-rate mortgage (ARM).
NADL
Pros
– Minimal credit score requirements
– No down payment and no private mortgage insurance
– Cheap closing costs
Cons
– Limited group of eligible borrowers
Eligibility
– Home must be located on allotted lands, Alaska Native corporations, Pacific Island territories or federally-recognized trusts
Best For
– Native American veterans that lack money for a down payment
As an alternative to traditional VA loans, the Department of Veterans Affairs created the Native American Direct Loan (NADL) just for Native American veterans and their spouses. These mortgages feature a 0% down payment requirement and do not call for private mortgage insurance, as they're backed by the VA. You'll also receive lower closing costs than most mortgage alternatives to even further ease the initial financial stress. NADLs are extremely forgiving when it comes to credit score requirements for approval as well.
Unfortunately, you cannot use these loans to purchase, build or renovate just any home. To remain eligible, the house has to be situated on allotted lands, Alaska Native corporations, Pacific Island territories or federally-recognized trusts.
South Dakota First-Time Homebuyer Programs
South Dakota Housing Development Authority (SDHDA)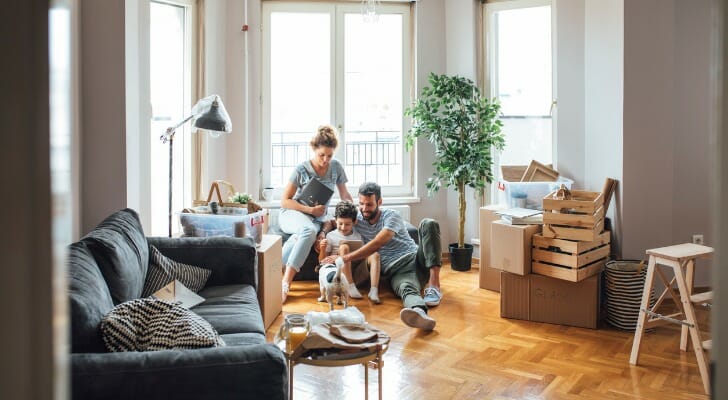 Pros
– Low-interest mortgages
– Down payment assistance
– Educational resources
Cons
– Income limits
Eligibility
– Meet income and credit requirements as well as other conditions set by SDHDA-partnered lender you wish to work with
Best For
– Low-to-moderate income South Dakotans
The non-profit South Dakota Housing Development Authority (SDHDA) offers a range of services aimed at low-to-moderate income South Dakotans. This self-sustaining agency works with local lenders to offer low interest, 30-year-fixed rate mortgages. It also offers cash assistance and educational programs designed for first-time homebuyers.
To qualify, you must meet gross household income limits based on county. The property you're considering can't exceed the current purchase price maximum of $250,200. In addition, you must be a first-time homebuyer to qualify for an SDHDA loan. The SDHDA waives the first-time homebuyer requirement for eligible U.S. military veterans.
Interest rates, down payments and other factors depend on your individual situation. To learn more, you'd have to contact an SDHDA-participating lender. You can find their contact info on the SDHDA website. You should also ask about any down payment assistance programs you may qualify for.
Governor's House Program
Pros
– Low-cost housing available for elderly South Dakotans with disabilities
– Low-income families can qualify as well
Cons
– Does not offer mortgages
– Strict Income limits
– You're responsible for foundation, utilities and other components
Eligibility
– Meet income limits
Best For
– Low-income South Dakotans
The Governor's House Program exists under the SDHDA. It helps elderly South Dakotans with disabilities and low-income families become homeowners. The program sets income limits each year.
To qualify, household income can't breach a $49,910 limit for couples or individuals. That limit rises to $57,040 for families. Furthermore, families and individuals under the age of 62 must have a net worth less than $90,000. The net income for families and individuals older than 62 must fall between $100,000 and $175,000. These funds must come in the form of liquid assets.
In addition, the program sets the following current home price maximums
$49,700 for two-bedroom dwellings
$56,700 for three-bedroom dwellings
According to the SDHDA, the program keeps housing costs low because inmates build these properties through the Governor's Inmate Training Program. In addition, you're responsible for the following:
Building permit
Lot, foundation, floor coverings and appliances
Utility hookups
Grow South Dakota
Pros
– Down payment assistance
– 0% deferred-interest mortgage
Cons
– Meet specific underwriting criteria set by lender
– Program can't fund mobile homes unless they're on a permanent foundation with property owned
Eligibility
– Meet specific requirements set by lender you work with
Best For
– South Dakotans having trouble funding down payments and closing costs
Although Grow South Dakota doesn't issue mortgages directly, it manages down payment/closing cost assistance initiatives. This private non-profit also provides free resources and educational material aimed at first-time homebuyers.
Grow South Dakota also creates a unique "home-purchase package" based on the information you provide to the agency. Think of it as a personalized blueprint for buying a home. It lays out services and programs that may suit you based on your individual situation. It also provides you with some tips on how to keep your mortgage in good standing and avoid foreclosure. You also have access to home purchase specialists. For access to these services, you must create a Grow South Dakota account online.
Homes Are Possible, Inc. (HAPI)
Pros
– Down Payment/Closing cost assistance
– Home improvement Grants available
Cons
– Income limits
– Geographic restrictions
Eligibility
– Meet income limits based on county and household size as well as HUD rules
– Take first-time homebuyer education course
Best For
– Mortgage-holding South Dakotans who need help paying off down payments and closing costs.
Founded in 1999, Homes Are Possible Inc. helps low-to-moderate income South Dakotans buy homes in underserved areas. It provides down payment assistance programs and grants. The organization currently serves the counties of Beadle, Brown, Buffalo, Campbell, Clark, Codington, Davison, Day, Deuel, Edmunds, Faulk, Grant, Hand, Hughes, Hyde, Jerauld, Marshall, McPherson, Potter, Sanborn, Spink, Stanley, Sully, and Walworth.
HAPI currently offers down payment/closing cost non forgivable loan to buy homes in Brown County. You can pay this loan bank interest-free when you sell your home, transfer title or take a cash-back refinance. To qualify for this and other HAPI programs, you must complete a first-time homebuyer education course. You must also meet income limits depending on location and household size. Further eligibility depends on individual circumstances. Contact HAPI for the latest details. HAPI extends this benefit outside of Brown County in the form of a $3,500 forgivable grant.
House Hunting Tips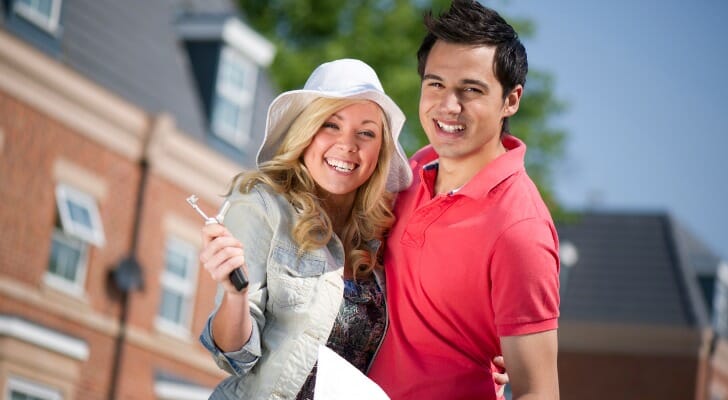 There's more to a mortgage than just a monthly payment. You have to consider down payments, closing costs, insurance and more. To see the true cost of buying a home, check out our mortgage calculator.
Even if you think you've found the perfect home, make sure you are honest with yourself about how much house you can afford. Staying within your means can save you headache and financial difficulties in the future.
If you need help with the house-hunting process, a financial advisor if a good resource. Our financial advisor matching tool can link you with up to three local financial advisors. These are professionals who can guide you through every step of the home-purchasing process, plus other financial issues like estate tax law.
Photo credit: ©iStock.com/Geoff Eccles, ©iStock.com/LuminaStock, ©iStock.com/sturti