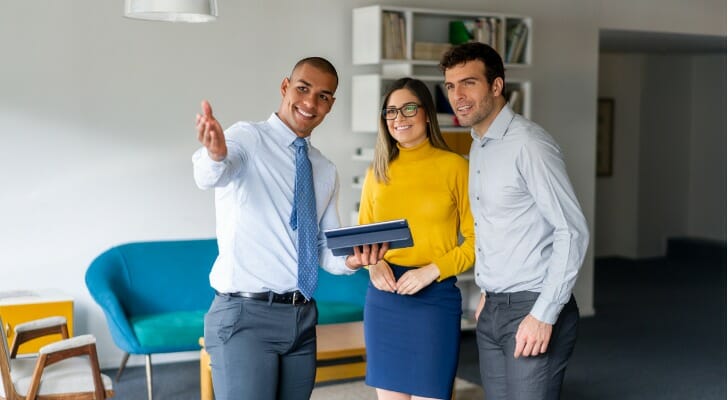 When you purchase a home, you need to understand what makes a property valuable so you can get a sense of what you should pay. One of the biggest factors in assessing a property's value is real estate comps, which show what similar properties have recently sold for in the nearby area. The value is being set by what others have been willing to pay for what you're wanting to buy. Before buying real estate, you may want to work with a financial advisor to see how it fits into your future financial goals.
What Are Real Estate Comps?
Real estate comps, or "comparables," are other, comparable homes that have recently sold in the same area as the place you're considering. They're essential for getting a sense of the market in your area whether you're buying a family home or looking for passive real estate income. By comparing your house against similarly situated properties you can decide if you're getting a fair and sustainable price.
For example, say you're looking at a two-bedroom condo in your city. You would look up other two-bedroom condos that recently sold nearby, then compare the price of your property against them. Here is how to assess the value based on how the real estate comps compared to the house you're wanting to buy:
Lower: If other, comparable two-bedroom condos sold for less than the asking price on your condo, you might be overpaying.
Similar: If other, comparable two-bedroom condos sold for around the asking price on your condo, you might be getting a fair price.
Higher: If other, comparable two-bedroom condos sold for more than the asking price on your condo, you might be getting a good deal or you might be looking at a lemon.
Real estate comps are an essential way to get a sense of the potential value. For most buyers and sellers, these comps are the best source of information when it comes to pricing. You can see how much people have paid for other houses, which in turn can tell you what might be a fair price.
It's also important to note that comps are important for both buyers and sellers. If you're buying a house, comps are good for figuring out how much you should pay and if you're getting a good price on any given home. If you're selling a house, comps are good for figuring out how much you should ask. In this context, when the comps come in lower than your asking price, you might want to charge more. If the comps come in higher, you might need to drop your price.
How To Use Real Estate Comps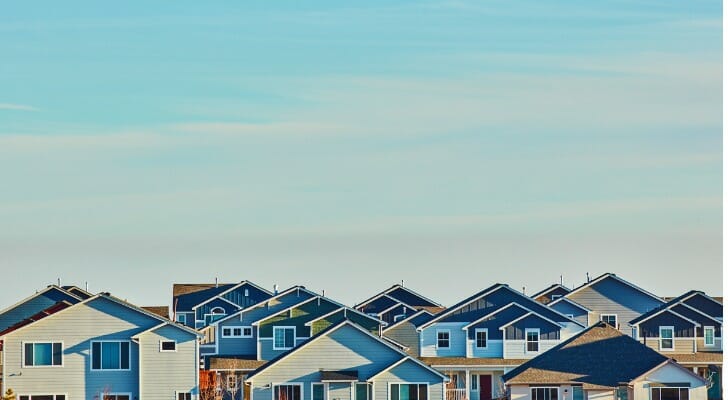 When you evaluate prices using real estate comps, it's essential to make sure that you're comparing your property against other homes that are actually comparable. There are a few essential qualities to keep in mind when you look for comparable properties:
Location: Make sure that the property is near your own, ideally within a few blocks and absolutely within the same neighborhood.
Local Features: Check for any major features near the property. For example, a waterfront place will cost more than some place even a block away without that view.
Timing: The more recently a comparable property sold, the more relevant your information will be. Ideally, you want a property that sold within the last three months. Do not use currently listed properties as comps. A seller's listing price is irrelevant. You want to see the sales that have actually closed.
Property Type: Look at similar property types. For example, if you're looking at buying a two-bedroom house, compare it against other two-bedroom houses (or as close as you can get).
Property Features: Try to find homes with similar major features. For example, does the property you're looking at have with a swimming pool? Does it have central air conditioning? Is it in good repair, or is it a fixer-upper? All of these are important points of comparison.
Square Footage: Look for homes with similar square footage. Try to come within 10% of the size of the property you're looking to buy. Do the same with the overall size of the property. Two houses that are roughly the same size will sell for very different prices if one has an enormous yard.
Now, usually, you won't be able to find exact matches for the property you want to buy. Instead, try to come as close as you can and pull multiple listings so that you can get as many data points as possible to build a strong case for what the value should be. Having several listings will give you a general sense of the market, which is important given how particular each real estate deal can be. Any given deal may have different moving pieces.
How To Find Real Estate Comparables
If you're working with a real estate agent you'll have access to the MLS, or "multiple listing service." This is the best way to find comparable homes. The MLS is a real estate database that contains all of the professionally listed properties in any given area. Using that will let you pull properties by price, location, property type and several other features. A real estate agent can also just pull the data for you.
You can also do your own research online. Websites like Zillow and Redfin often have the pulled sales data from government tax databases. If a property was sold in the last year then you should be able to find it, but with these free tools it can be a lot more complicated. You may have to search house by house on the app until you find recently sold homes and then look into the data behind each.
Who Uses Real Estate Comps?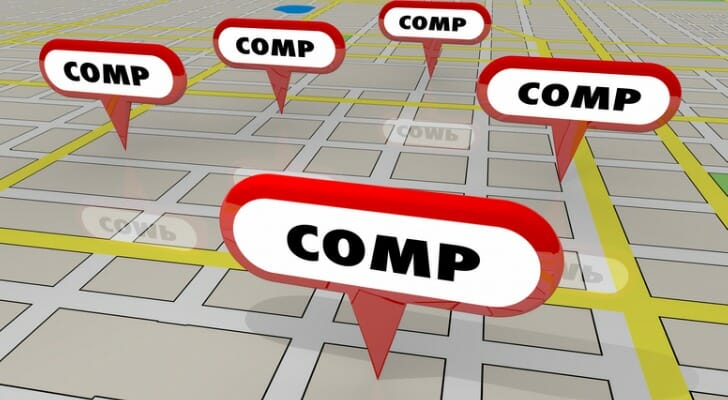 Real estate comps have become pretty standard throughout the residential real estate industry when buying and selling property. It's important to familiarize yourself with the process since others involved in the purchase of the home you want will be using this method to assess the property's value. Here is who typically uses real estate comps:
Home buyers: If you're wanting to buy a home then using real estate comps helps give you a peace of mind that you aren't overpaying.
Home sellers: It's the same thing for those selling houses. They want to make sure that they are getting a fair value for the property they are selling.
Real estate agents: Agents who are representing te buyers or the sellers will use these to determine what a house should either be put on the market for or what their buyers should be willing to pay.
Home appraisers: When buying a home, it will be appraised, especially if you're getting a mortgage on that home. The mortgage lender will use the value provided by the home appraiser as a benchmark to approve your loan or not and the appraiser will always provide real estate comps as one of the main parts of their appraisals.
Bottom Line
Real estate comps are properties that you research so you can compare their sale price to the price of a home that you're trying to buy or sell. These comps are the best way for individuals to get a sense of whether they've reached a fair price based on the overall market, but it also can give you a good indication on what your initial offer should be. When getting a mortgage, the home appraisal used by the lender will heavily consider real estate comps in its final lending decisions.
Tips for Real Estate
Buying real estate, for yourself or as an investment, is a huge financial decision. Before you commit to the purchase price, you could speak with a financial advisor who can help you plan your financial future. Finding a qualified financial advisor doesn't have to be hard. SmartAsset's free tool matches you with up to three financial advisors who serve your area, and you can interview your advisor matches at no cost to decide which one is right for you. If you're ready to find an advisor who can help you achieve your financial goals, get started now.
Did you think we'd leave you at that? Not a chance. If you're ready to buy a house or just thinking about it, take a look at our home buyer's guide to help you learn everything you need to know for your big purchase.
Photo credit: ©iStock.com/andresr, ©iStock.com/CatLane, ©iStock.com/iQoncept