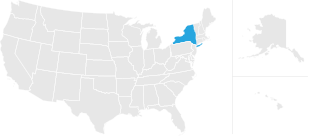 Overview of New York Housing Market
New York is host to some of the costliest areas to own property in the U.S. However, much of the northern and western part of the state remains affordable.
Today's Mortgage Rates in New York

| Product | Today | Last Week | Change |
| --- | --- | --- | --- |
National Mortgage Rates
Source: Freddie Mac Primary Mortgage Market Survey, SmartAsset Research
Details
Where do you want to live?
Your location will be used to find available mortgages and calculate taxes.
Dismiss
Have you or your spouse served in the military?
Credit Rating
Select Your Credit Rating
Dismiss
Annual Homeowner's Insurance
Annual Home Value Increase
Note, for purchase the minimum down payment on a $ home is , or $
Your Total Monthly Payment
Your Total Monthly Payment
Recommended Minimum Income
This is based on our recommendation that your total monthly spend for housing and debts should not exceed 36% of your monthly income.
| | |
| --- | --- |
| Total Monthly Payment | |
Year
Rate
Monthly Mortgage
Payment
Remaining Mortgage
Balance

Home Equity
About This Answer

Our Assumptions
More from SmartAsset
More about this page
​If you could change one thing about ​this page what would it be?​
Thank you for your answer! Your feedback is very important to us.
We are working hard to improve our product and could use your help!
We pay $30 for 30 minutes on the phone to hear your thoughts on what we can do better.
Please enter your email if you'd like to be contacted to help.
| | | | |
| --- | --- | --- | --- |
| | | | |
| Please enter your name | Please enter a valid email | | |
Factors in Your New York Mortgage Payment
New York property taxes are as diverse as the occupants in this heavily populated state. The amount of tax you pay can vary greatly county by county. Some of the highest taxes in the entire U.S. are in Westchester County, which is north of New York City. Overall, the average property tax in New York is 1.5% of your home's assessed value.
You might think that buying property in one of the five boroughs of New York will come with a high property tax bill. Surprisingly, tax rates are more affordable in the city than they are in the surrounding suburbs. If you own a home in Brooklyn, which is in Kings County, your effective tax rate is a mere 0.63%. Owning in Manhattan will only set you back 0.84%. However, if you move north to the suburbs, your property tax jumps to 1.96% in Westchester County and 2.3% in Rockland County. Unfortunately, tax rates don't improve for some of the smaller cities. Buffalo and Rochester in the northwest portion of the state have taxes at 2.72% and 3.10% respectively. Much of those taxes go to school districts in the county.
Curious about how New York property taxes are calculated? Your home is assigned an assessment value by a local official or town assessor. Most states have regularly scheduled assessments, either yearly or less frequently. New York, however, lags behind on officially codifying how often assessments are made. Because of the discrepancy between actual market value and an assessment that may have been made years ago, tax areas are assigned residential assessment ratios (RAR). The RAR represents the ratio between assessed value and current market value. Your tax bill will depend on the assessed value as well as a number of special county considerations such as school district taxes, and special projects such as parks or libraries. New York tax rates are calculated in millage rates. One mill is equal to $1 of tax per $1,000 in property value.
The good news is there are some property tax exemptions for New York homeowners, including the school tax relief (STAR) program, senior, veterans', disabled and agricultural exemptions.
Along with high property taxes, homeowners insurance is no bargain in New York. It has the eighth-highest annual premium at an average $1,500 per year. If you're looking at an area in the southern part of the state, you'll most likely have a mandatory hurricane deductible. That's something to keep in mind when calculating potential costs.
Another concern is flooding, which hit the state hard during Hurricane Irene in 2011 and even worse with Hurricane Sandy in 2012. Coverage isn't provided in standard homeowner policies, so you'll want to look into the National Flood Insurance Program. The New York Department of Financial Services' website has a section on homeowners insurance with guides for choosing a policy, as well as determining how much insurance you need.
Costs to Expect When Buying a Home in New York
Before you even buy a house, you'll need to arrange for a home inspection. While New York does have seller's disclosures, you're still responsible for doing your own due diligence regarding the condition of the home. Home inspections in New York will cost you between $400 to $500 dollars, with higher costs for multi-family homes and lower costs for condominiums.
In addition to the base home inspection, many homebuyers opt for additional tests, such as termite inspections, mold inspections and radon testing. For the latter, New York has a radon level map which shows the level of risk for each county.
Once the inspections are complete and your house closing date is determined, you'll want to set aside additional money for the expenses and fees you have to pay when you close on a home. Closing costs will vary depending on where the home is located and the value of the home. You also have the option to negotiate with a seller to pay for a portion of them. In New York, you should set aside 2% to 5% of the purchase price to pay for these fees.
Average Closing Costs by County
| | | | |
| --- | --- | --- | --- |
| County | Avg. Closing Costs | Median Home Value | Closing Costs as % of Home Value |
| Albany | $6,795 | $208,400 | 3.26% |
| Allegany | $3,434 | $70,300 | 4.89% |
| Bronx | $12,319 | $363,400 | 3.39% |
| Broome | $4,841 | $109,900 | 4.41% |
| Cattaraugus | $3,981 | $84,600 | 4.71% |
| Cayuga | $4,792 | $113,600 | 4.22% |
| Chautauqua | $3,979 | $84,500 | 4.71% |
| Chemung | $4,375 | $100,400 | 4.36% |
| Chenango | $3,817 | $91,700 | 4.16% |
| Clinton | $4,966 | $124,200 | 4.00% |
| Columbia | $7,038 | $222,100 | 3.17% |
| Cortland | $4,704 | $108,200 | 4.35% |
| Delaware | $5,096 | $132,400 | 3.85% |
| Dutchess | $7,687 | $275,600 | 2.79% |
| Erie | $5,708 | $130,000 | 4.39% |
| Essex | $5,586 | $145,100 | 3.85% |
| Franklin | $4,595 | $101,600 | 4.52% |
| Fulton | $4,704 | $108,200 | 4.35% |
| Genesee | $4,898 | $107,000 | 4.58% |
| Greene | $6,163 | $177,700 | 3.47% |
| Hamilton | $5,571 | $162,600 | 3.43% |
| Herkimer | $4,116 | $96,100 | 4.28% |
| Jefferson | $4,949 | $141,000 | 3.51% |
| Kings | $17,667 | $570,200 | 3.10% |
| Lewis | $4,853 | $117,300 | 4.14% |
| Livingston | $4,917 | $121,200 | 4.06% |
| Madison | $4,728 | $124,900 | 3.79% |
| Monroe | $5,193 | $138,600 | 3.75% |
| Montgomery | $4,392 | $101,600 | 4.32% |
| Nassau | $10,474 | $446,400 | 2.35% |
| Niagara | $4,700 | $108,000 | 4.35% |
| Oneida | $4,571 | $114,000 | 4.01% |
| Onondaga | $5,151 | $135,900 | 3.79% |
| Ontario | $5,013 | $145,700 | 3.44% |
| Orange | $7,369 | $262,500 | 2.81% |
| Orleans | $3,989 | $91,300 | 4.37% |
| Oswego | $4,082 | $94,800 | 4.31% |
| Otsego | $4,974 | $142,800 | 3.48% |
| Putnam | $8,912 | $354,900 | 2.51% |
| Queens | $14,590 | $450,300 | 3.24% |
| Rensselaer | $6,188 | $179,100 | 3.46% |
| Richmond | $14,319 | $439,500 | 3.26% |
| Rockland | $10,872 | $419,100 | 2.59% |
| Saint Lawrence | $3,892 | $87,600 | 4.44% |
| Saratoga | $6,298 | $232,900 | 2.70% |
| Schenectady | $5,621 | $165,800 | 3.39% |
| Schoharie | $5,619 | $147,000 | 3.82% |
| Schuyler | $4,708 | $108,500 | 4.34% |
| Seneca | $4,140 | $97,000 | 4.27% |
| Steuben | $4,163 | $91,000 | 4.58% |
| Suffolk | $9,237 | $375,100 | 2.46% |
| Sullivan | $5,622 | $165,900 | 3.39% |
| Tioga | $4,551 | $112,600 | 4.04% |
| Tompkins | $5,789 | $176,500 | 3.28% |
| Ulster | $6,159 | $222,800 | 2.76% |
| Warren | $6,376 | $189,700 | 3.36% |
| Washington | $5,258 | $142,700 | 3.68% |
| Wayne | $5,007 | $112,900 | 4.43% |
| Westchester | $13,688 | $506,900 | 2.70% |
| Wyoming | $4,806 | $102,000 | 4.71% |
| Yates | $4,966 | $124,200 | 4.00% |
Our Closing Costs Study assumed a 30-year fixed-rate mortgage with a 20% down payment on each county's median home value. We considered all applicable closing costs, including the mortgage tax, transfer tax and both fixed and variable fees. Once we calculated the typical closing costs in each county we divided that figure by the county's median home value to find the closing costs as a percentage of home value figure. Sources: US Census Bureau 2015 5-Year American Community Survey, Bankrate and government websites.
One of the closing costs fees you'll have to pay is a New York State mortgage recording tax. Only about seven states charge this type of tax, and unfortunately New York is one of them. New York City, Yonkers and several other countries also impose a local tax on mortgages in those jurisdictions. The state tax is 50 cents per $100 of mortgage debt, plus an additional special tax of 25 cents per $100 of mortgage debt and then an additional tax of 25 cents per $100 of mortgage debt. If the property is located in a city or town that has mortgage tax, you'll pay an additional 25 to 50 cents. This tax is due at closing to the recording office of the county in which the property is located.
Another homebuyer cost is title insurance. This insurance is split into a lender's policy and an owner's policy and is required for protection against future claims such as unpaid real property taxes, liens or other encumbrances that weren't discovered during the title history search. You can find New York licensed title insurers on the Department of Financial Services Homeowners Insurance Resource Center.
On top off all those fees, you'll owe a decent amount to the lender itself, known as mortgage origination fees. These will vary depending on lender, but include commitment fees, document preparation fees, origination points, broker fees, processing, underwriting, tax service and more. You're also responsible for paying for a credit report (usually around $30), flood certifications (around $10) and an appraisal if required by the mortgage lender.
The sellers are responsible for an additional fee called realty transfer tax. In New York, it's $2 for each $500. There are some counties that might charge an additional fee. And, if the home is over $1 million, there's an additional 1% fee, sometimes referred to as a mansion tax.
Details of New York Housing Market
Many people who aren't familiar with New York assume that the state is mostly city. That viewpoint of the Empire State couldn't be further from the truth. Much of the state is rural, with over 35,000 farms covering 7 million acres as well as the Adirondack Park which encompasses 6 million acres.
New York is only the 30th-largest state by size. At 47,200 square miles, it's right behind North Carolina's 48,700 and above Mississippi's 46,900. However, it has the fourth-largest population in the U.S. with an estimated 19.7 million residents, lagging behind Florida's estimated 20.6 million residents. New York long held the third-largest population until 2014, when Florida surpassed the state. And in December 2016, New York had its first population dip in almost a decade. More people left the state than came in – which was unheard of in past years.
Despite those numbers, New York City still contains the largest city in the U.S. by population. Over 8.1 million people reside in New York City. After New York's five boroughs, most of the population is housed in the counties surrounding New York and Long Island. After that, it's the western part of the state with the cities of Buffalo, Syracuse and Rochester.
The New York housing market is ranked no. 17 in our Healthiest Housing Markets study. The best areas for homeowners are Lackawanna, Mineola and Fairmont based on a number of factors. The study looked at the average number of years the homeowner lived in the home, negative equity, days on market and a few more indicators. As a whole, the median home value in New York is $304,300 based on August 2017 data from Zillow. That's an increase of 12.7% in the past year, which matches the trend of increasing home values in the state year after year since 2012. However, it's still relatively affordable to buy in the Buffalo metro area, with home prices at an average of $159,900. Compare that price tag to a home in one of New York's suburbs, such as White Plains which has a median home value of $571,100, and you can see how much prices vary in this diverse state. (All figures as of August 2017.)
Housing stock doesn't move too quickly here. The average time on market in 2016 was 156 days. Again, that number will vary depending on where in the state you're trying to buy or sell a home. Another statistic to consider is the percentage of homes which sold for a gain. In 2015 it was 82.7% and in 2016 it increased marginally to 83%.
Local Economic Factors in New York
Unfortunately for those moving from almost any other state in the U.S., New York will seem mighty expensive. On top of sales tax hovering near 9%, New York charges state income taxes that can tally up to an expensive percentage of your paycheck. Additionally, if you live in one of the five boroughs, you'll pay extra taxes specific to the city.
The good news about the state is that it has a fantastic system of public colleges, called State Universities of New York, or SUNY, schools. The city has a network of state schools under the City University of New York (CUNY) system, as well. As of 2017, state tuition became free for students whose households that meet a certain income limit.
On top of a strong education system, New York has over 3.9 million private-sector jobs in the city alone. The overall unemployment rate for the state is 4.5%, which is about 0.1% higher than the national average. Some of the largest employers statewide are Home Depot, JPMorgan Chase, Macy's Retail Holdings and a variety of health companies and hospitals. In New York City, it's American Airlines, Columbia University and a number of hospitals.
If you're wondering how much it'll cost you to live in New York, you can compare your current location to the area you're considering. Take Austin, Texas to Albany, New York for example. The cost of living is actually similar overall, but you can also break it into components. Your tax burden will be 22% higher, but on average housing is cheaper in New York's capital than it is in Austin. Average food cost is only 4% higher in Albany. However, if you're moving from Boston to Brooklyn, New York, your cost of living will only increase 4%, on average.
One of the issues you may find with living in New York is the heavy tax burden. It usually ranks first in the U.S. for the most taxes overall, when you account for property tax, sales tax and income tax costs.
Mortgage Legal Issues in New York
New York has a long history of being a "buyer beware" state, but some of those concerns have been remedied throughout the years. Currently, sellers must fill out a property condition disclosure statement that contains about six pages of questions ranging from whether the property is located in a floodplain to the last date of sewage pumping. The seller only has to disclose what she knows to the best of her knowledge and isn't required to verify statements with an inspection. That due diligence falls on the seller, who is warned at the top of the document that the disclosure "is not a substitute for any inspections or tests." You'll still have to research the property using your own means. The disclosure is just one of the pieces of information available to you.
If you're curious how foreclosure works in this state, you might be relieved to know that it's favorable for homeowners. New York's foreclosure process is judicial which means the lender has to sue the borrower in order to enforce their rights. This is generally considered more favorable for the homeowner than a non-judicial foreclosure, which means no court involvement and has a quicker timeline from initiation to home auction. With a judicial foreclosure, the lender has to win the lawsuit in order to sell the property at auction. The moment a lawsuit is filed is when the homeowner is considered in foreclosure.
There are additional protection measures for homeowners in New York. The lender has to send the borrower a special notice at least 90 days before filling out a foreclosure summons and complaint. The notice has to contain a list of at least five nonprofit counseling agencies near the borrower. If you have any specific questions or concerns about foreclosure that you want to research, the New York State Homes and Community Renewal website has a section on foreclosure resources for homeowners.
According to the New York Attorney General, one in 10 mortgages in New York is at risk of foreclosure. Unfortunately, the number of people living in homes facing foreclosure is more than the combined populations of Buffalo, Rochester and Syracuse. If you're at risk, you can call a not-for-profit housing counselor. You can also use the Attorney General's site for honest and accurate information about mortgage modification and foreclosure through the Homeowner Protection Program.
New York Mortgage Resources
New York has a number of resources available to home buyers. The State of New York Mortgage Agency (SONYMA) has programs that will help first time homebuyers, veterans, low-income households and those hoping to remodel an older home. There are down payment assistance programs available as well, and NY offers some for ENERGY STAR-labeled homes as well as conventional homes. You speak with a nonprofit housing counselor to discuss what options are available to you.
HomeSmart NY is another resource and provides New York's largest network of professional, unbiased and nonprofit advisors. You can find classes, one-on-one coaching and more through this network.
While you may think New York is mainly city, you'd be overlooking the fact that much of the state is covered in farms, rural areas and park preserves like the Catskills and Adirondacks. If you're interested in buying in one of the less populated areas, you can check out New York's USDA website to see if your property is in an eligible area.
The New York Mortgage Coalition provides homeownership counseling programs for low- to moderate-income first-time homebuyers. This program will help potential homebuyers learn what resources are available from competitive mortgages to closing cost grants to down payment assistance subsidies. NYMC is available in Brooklyn, Manhattan, Staten Island, Queens and the Bronx as well as the following counties: Suffolk, Nassau, Westchester, Orange, Rockland and Dutchess.
Another NYC specific program is the HomeFirst Down Payment Assistance Program offered through the office of Housing Preservation & Development. This program offers up to $25,000 for qualified home buyers.
And if you're wondering what else you should consider, take a look at our list of things to know before moving to New York.