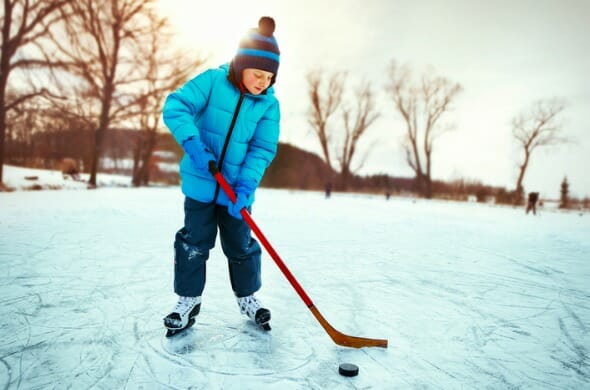 Around 4% of Americans name hockey is their favorite sport to watch, putting it in fifth place behind football, basketball, baseball and soccer. So while hockey may not be America's favorite pastime, for those who love it, it's a way of life. But some places are better for fans of hockey than others. These towns combine a great on ice experience with other quality of life factors, like affordable housing costs. For the fourth consecutive year SmartAsset ranked the best hockey towns in America.
We looked at data on nine factors split between fan intensity metrics and quality of life metrics. The fan intensity metrics are attendance rate, percent of population attending games and Google trends data for the term "hockey." The quality of life factors include unemployment rate, crime rates and dining and entertainment establishment data. Check out our data and methodology below to see where we got our data and how we put it together.
This is the 2018 version of this study. Check out the 2017 version here.
Key Findings
College towns dominate – Nine of our top 10 best hockey towns are represented by NCAA teams. Only one city with an NHL team – St. Paul, Minnesota – cracked our top 10.
Consistency – Eight of last year's top 10 also ranked this year. The only two cities to fall out were Hershey, Pennsylvania and Princeton, New Jersey. Neither of those cities dropped too far with both remaining in the top 20.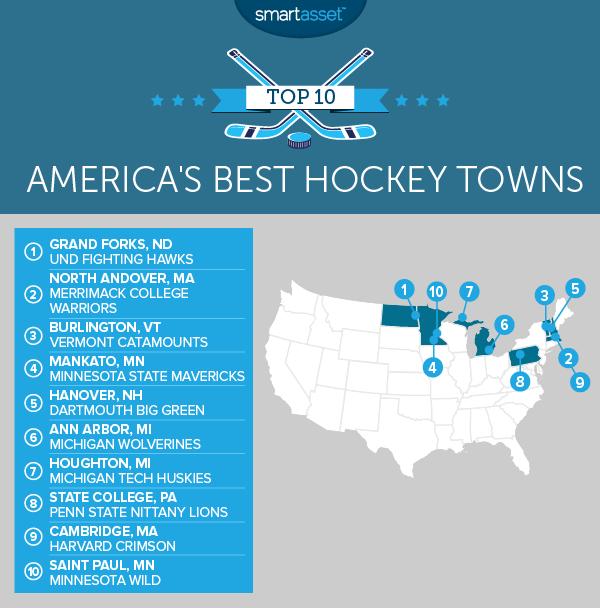 1. Grand Forks, North Dakota (University of North Dakota Fighting Hawks)
For the fourth year in a row, Grand Forks, North Dakota is the No. 1 hockey town in America. The arena for the University of North Dakota men's hockey team has a maximum capacity around 11,500, which may sound too big for a town of just 55,000. However around 99% of seats are occupied for the average game, meaning attendance at University of North Dakota's men's hockey games is equivalent to 21% of the towns population.
There are more indications that this town is hockey crazy than just attendance rates. For example, residents Google the term "hockey" 7% more often than they Google "food."
2. North Andover, Massachusetts (Merrimack College Warriors)
North Andover takes the second spot. This is one of only three cities to score above 80 for both quality of life and fan intensity. Fans here pack into the Lawler Rink filling up 92% of seats for the average game.
Outside of hockey, this is a great city to live. It's one of the safest cities in our study scoring in the top 10 for low rates of both violent and property crime. Plus, this city offers its residents plenty of earning potential. It has the fourth-highest median income in our study. The only problem you may have when living here is potentially keeping up with the mortgage costs. According to our data, North Andover has one of the higher housing costs in the study at $1,800 per month.
3. Burlington, Vermont (University of Vermont Catamounts)
Burlington, Vermont takes third thanks to the locals' love of the University of Vermont men's hockey team. The Vermont Catamounts play in Gutterson Fieldhouse where the fans routinely fill out over 90% of seats. Residents of this city Google "hockey" around half as much as they Google "food," a sign of the city's passion for hockey.
While the fan experience in Burlington is great, the quality of life is also boast-worthy. The city has the fourth-lowest unemployment rate in our study and a top 30 score in violent crime.
4. Mankato, Minnesota (Minnesota State University Mavericks)
Minnesota is known as a hockey state so it's no surprise to see Mankato and the Minnesota State Mavericks once again scoring well. According to our data, just under 9.5% of the town's population turns out for the average Mavericks game, a top 25 score. And when residents here are not watching hockey they may be thinking about it. After all, the city has the sixth-highest Google search activity for the term "hockey" in the study.
5. Hanover, New Hampshire (Dartmouth College Big Green)
Dartmouth comes in fifth. Attendance to Dartmouth College hockey games equals roughly 30% of the entire town's population. For that metric, Hanover ranks seventh.
While the fan intensity scores are impressive for this town, where Hanover truly shines is in quality of life. This city has top 20 scores in median income, unemployment rate and low violent and property crime rates. One drawback is that the housing costs here, including mortgages and property taxes, can be on the pricey side.
6. Ann Arbor, Michigan (University of Michigan Wolverines)
Ann Arbor loves the Michigan Wolverines. While the attendance numbers for the men's hockey team doesn't quite approach the attendance figures for the football games, fans here are still really supportive. According to our data, average attendance to Michigan Wolverines men's hockey games is equal to 97% of stadium capacity. That's equal to roughly 5% of the city's total population.
Plus, Ann Arbor is more than just a hockey town, it's also a great place to live. It is a relatively safe city with plenty to do. It scores in the top 25 for both low crime metrics and in the top 20 for its dining and entertainment establishment rate.
7. Houghton, Michigan (Michigan Technological University Huskies)
Coming in right behind Ann Arbor is another Michigan town, Houghton. This city is home to the Michigan Tech Huskies. The average Michigan Tech Huskies game is attended by over 3,000 people, an enormous figure for a town of only 8,000. According to Google data, residents search the term "hockey" about as much as they Google the term "food."
Another plus to living here is the home affordability. According to our data, the median home costs only $730 per month, almost $430 per month less than the average home in Ann Arbor.
8. State College, Pennsylvania (Pennsylvania State University Nittany Lions)
State College shot up from 21st last year to claim a top 10 spot in this year's analysis. According to our data, the hockey team is supported by attendance figures surpassing the local arena's capacity. Average attendance here is over 104% of capacity, equaling roughly 14% of the city's population.
9. Cambridge, Massachusetts (Harvard University Crimson)
Cambridge, the second Massachusetts city in the top 10, takes ninth. Google search data shows that residents here search for "hockey" at a top 20 rate.
Other than attending Harvard Crimson games, Cambridge is a great city to live in. It has good economic conditions for those looking to work. It scores in the top 10 for both median income and unemployment rate. Cambridge also has plenty to do, taking the fourth ranking for dining and entertainment establishments per 100,000 residents.
10. Saint Paul, Minnesota (Minnesota Wild)
Our list ends in the only non-college team to crack this list. The Minnesota Wild who play in St. Paul have one of the most devoted fanbases in hockey, at least judging by attendance figures. According to our data, average capacity for Minnesota Wild games is 106% of stadium capacity, equal to 6.4% of St. Paul's total population.
Like other Minnesota towns hockey is often on the minds of St. Paul residents. Google search trends show this city searches for "hockey" 74% as often as they search for the term "food."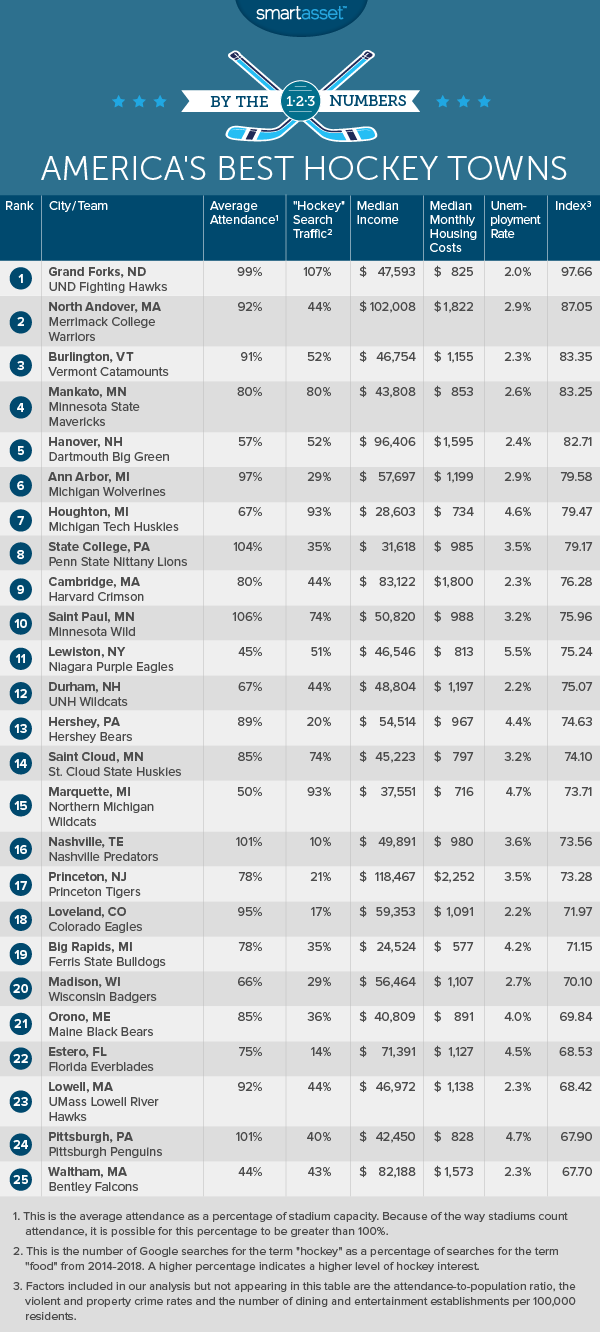 Data and Methodology
To find the best hockey towns in 2018, SmartAsset pulled data for 114 cities and towns with a team in one of the following four hockey leagues: the NCAA Division I men's hockey league, the National Hockey League, the East Coast Hockey League or the American Hockey League. Then we ranked all of the places in our study across the nine metrics that we used in the 2017 edition of our study. These factors fall into two different categories that we used to create two separate scores: a fan intensity score and a quality of life score.
Fan Intensity Score
Google search traffic for the term "hockey" as a percentage of traffic for the term "food." This metric measures the general interest in hockey within a region between 2014 and 2018.
Average game attendance as a percentage of stadium capacity. Data on comes from echl.com, hockeydb.com, uscho.com and espn.com.
Per-game attendance among local hockey teams as a percentage of the total population. Data comes from the Census Bureau's 2016-5 Year American Community Survey and data on team attendance comes from echl.com, hockeydb.com, uscho.com and espn.com.
Quality of Life Score
Median monthly housing costs. This metric includes costs such as insurance, mortgage payments and taxes. Data comes from the Census Bureau's 2016 5-year American Community Survey.
Median household income. Data comes from the Census Bureau's 2016 5-year American Community Survey.
Unemployment rate. Data comes from the BLS and is for the period November 2016 to December 2017. The figures are not seasonally adjusted.
Violent crime rate. This factor looks at the number of violent crimes per 100,000 residents. Data comes from the 2016 and 2015 FBI uniform crime reporting database.
Property crime rate. This metric looks at the number of property crimes per 100,000 residents. Data comes from the 2016 and 2015 FBI uniform crime reporting database
Dining and entertainment establishments per 100,000 residents. Data comes from the Census Bureau's 2015 Zip Codes Business Patterns Survey.
After we ranked each hockey town using all nine of our factors, we averaged our rankings (giving half weight to our two crime-related factors and full weight to the other metrics) and calculated separate scores for our two categories. Then we averaged the fan intensity score and the quality of life score to create our final index.
Women's college hockey teams were not included in our analysis, since there was not enough data available. We also excluded teams in the National Women's Hockey League for the same reason, although we hope to include them in the future.
We also left out teams from three towns that didn't have crime data: Hamilton, Uniondale and West Point, New York. Finally, we left out Tempe, Arizona. The Arizona State Sun Devils' hockey team plays home games in two stadiums and attendance data is unavailable.
Tips for Affording a Home
Figure out a budget. It can be confusing trying to figure out exactly how much home you can afford. You need to take closing costs, property taxes, homeowners insurance and other debt payments into account. If you are struggling to figure out exactly what you should be in the market for, our how much house can I afford calculator can help you with the math.
Save for your down payment. The next step in buying any home is having a down payment once you have found the home you want to buy. It is usually recommended you have at least 20% of the value of the home saved for your down payment.
Make sure to negotiate. Once you have found a home that you like that's in your budget it is usually a good idea to negotiate. Just about anything is up for negotiation from who pays closing costs, to the price of the home, to asking the seller to make some needed repairs. However if you get into a bidding war and the price of the home is rising, you may want to back out. It's important to ensure you don't take on a mortgage you can't actually afford.
Questions about our study? Contact us at press@smartasset.com.
Photo credit: ©iStock.com/sturti