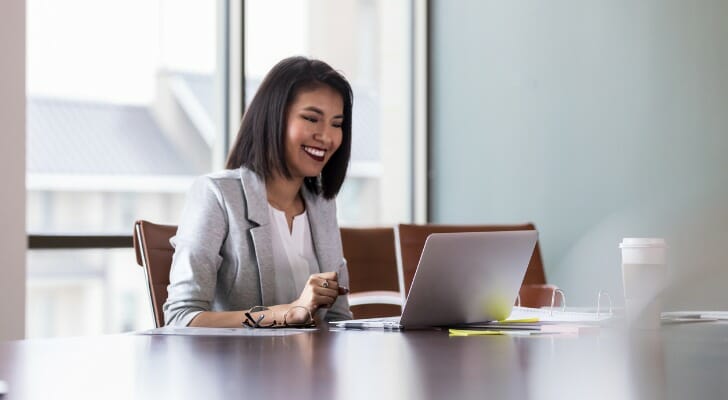 Effective communication is the key to a strong investor-advisor relationship. Typically, advisors rely on in-person meetings and other face-to-face activities to connect directly with clients. But as shelter-in-place restrictions limited interactions during the COVID-19 pandemic and volatility rippled through the markets, the wealth management industry shifted to a remote-first model for client meetings. SmartAsset took a closer look at how financial advisors have been communicating with clients during the pandemic and how investor-advisor relationships could change when social distancing mandates are lifted.
In this study, we reveal results from a survey that we delivered to financial advisors on our SmartAdvisor platform. We surveyed almost 250 financial advisors, asking questions about their client communication styles and preferences before and throughout the COVID-19 outbreak, as well as their expectations for the future. For more information on our survey and the data we collected, check out the Data and Methodology section below.
Key Findings
Increased communication during COVID-19. More than 41% of advisors report that they communicated more frequently with clients during the pandemic, while less than 3% of advisors say that the frequency of communication decreased. Of advisors reporting more frequent communication, about 37% tell SmartAsset that both they and their clients have been reaching out more, while more than 57% surveyed have initiated more communication themselves.
Stock market volatility and political concerns have been top-of-mind for investors. When asked about the most common reason that clients have reached out to them during the COVID-19 pandemic, almost 42% of advisors cite client concerns about stock market volatility, while another 22% report that their clients were nervous about political events. Two other top-reported reasons that clients reached out include cash flow changes during the pandemic (12%) and changes in retirement timelines (10%).
Most financial advisors expect to return to pre-pandemic communication frequencies and in-person meetings. In general, financial advisors have been communicating with clients more frequently during COVID-19 and have switched from in-person meetings to video calls or phone calls. Post-pandemic, almost six in 10 advisors expect to contact a typical client quarterly – the most popular pre-pandemic frequency – and roughly four in 10 advisors expect in-person meetings to be their preferred form of communication with clients – up from roughly one in 10 during the pandemic.
Video calls are here to stay. Over 30% of financial advisors expect to connect with clients via video call even after social distancing mandates are lifted, compared to only about 2% preferring video conferencing pre-pandemic.
Client Communication Frequency
More than nine in 10 financial advisors report that they have communicated with clients either as frequently or more frequently during COVID-19 as they did before. Prior to the pandemic, more than two-thirds of advisors (69%) reported contacting a typical client – via phone or video call, email or text – about once per quarter. During the COVID-19 pandemic, the percentage of advisors reaching out to clients only quarterly dropped to 39% while the percentage reaching out monthly increased, from 22% to 45%. Similarly, less than 9% of advisors reported touching base with clients at least twice a month before COVID-19, but almost 16% of advisors have contacted clients at least twice a month during the pandemic.
Though advisors have been contacting clients more frequently throughout the past year, most expect that they will resume their pre-pandemic cadence following the COVID-19 pandemic. Less than 11% of advisors expect to contact clients at least twice a month. Meanwhile, roughly 33% expect to reach out to clients monthly, and about 57% of advisors expect to contact clients quarterly. The chart below shows how often financial advisors report contacting a typical client before and during the COVID-19 pandemic, along with their expectations for the future.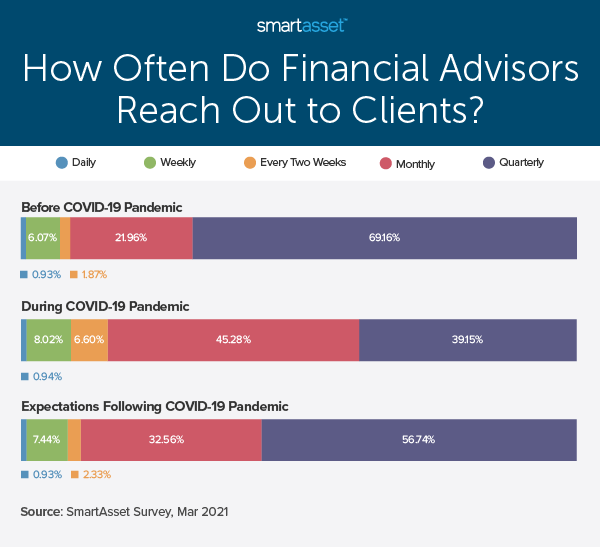 Though stock market volatility and political events have been the top concerns of investors reaching out to their advisors, most advisors say that their primary reason for reaching out to clients during COVID-19 is simply to check in. The second most popular reason advisors cite for reaching out to clients is to proactively gauge changes to client cash flow or retirement plans. The chart below shows advisors' primary reasons for reaching out to clients over the past year.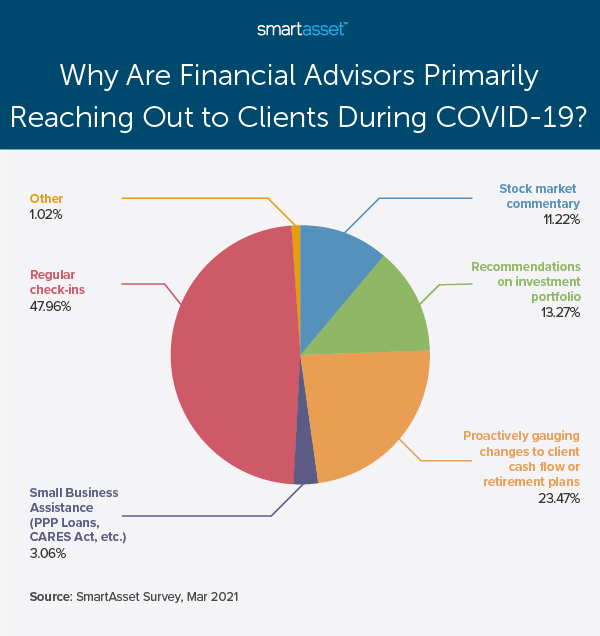 Popular Communication Methods
Prior to the COVID-19 pandemic, most advisors' preferred method of communication with clients was in-person meetings. According to our survey data, 56% of advisors favor meeting with clients in person. Phone calls, followed by email, were the next most popular pre-pandemic forms of communication. About 28% of advisors list calling on the phone as their favorite communication method, while more than 13% report email as their go-to.
During the pandemic, advisors began reaching out to clients in different ways. Like many newly remote workers, video calls became the predominant and preferred form of communication by financial advisors. About 48% of advisors list video calls as their preferred communication method during the COVID-19 pandemic, followed by roughly 32% of advisors reporting phone calls as their preference.
While there is a fairly predictable drop in preference for video calls over in-person meetings when advisors consider their post-pandemic expectations, the percentage of those who would prefer video conferencing in the future is still substantially high. Our data shows that more than 33% still expect to prefer video call, compared to only 2% pre-pandemic.
Similar to what we highlighted above, financial advisors' preferred communication methods before, during and following the COVID-19 pandemic are shown below.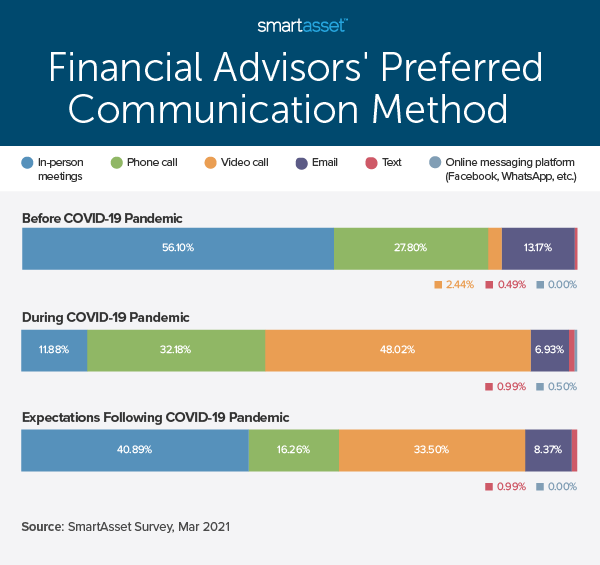 In-Person Meetings
Before COVID-19, most advisors met with a typical client in person about once or twice a year. In our survey, 34% of advisors say they met with a typical client once a year and 41% report meeting twice a year. Though in-person meetings have become less frequent during COVID-19, they have not stopped entirely. About four in five advisors say they have been meeting with clients in person during the pandemic.
Meeting locations during the pandemic have not changed substantially. About 81% of advisors say that prior to the COVID-19 pandemic, they typically met clients in an office. But about 77% of advisors who met with clients in person during the COVID-19 pandemic also did so in an office setting. Notably, our data shows that some meetings did move outside. No advisors reported meeting with clients outside before the onset of the pandemic, but almost 5% of advisors met with clients outside – either to go on a walk or for an activity like golfing – during the pandemic.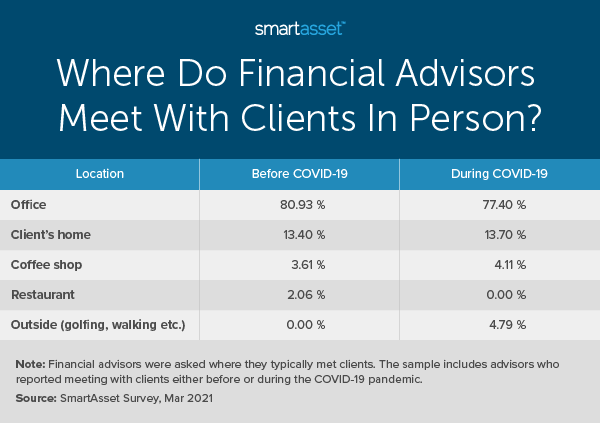 Data and Methodology
Survey data for this report was collected by SmartAsset between March 1 and 16, 2021. A total of 242 financial advisors responded to our survey. Though the full survey was 16 questions, not all questions were applicable to all advisors and some advisors chose to skip certain questions. We used the largest sample possible when discussing results for any given question.
Tips for Finding the Right Financial Advisor
Do your research. There are different types of financial advisors (i.e. traditional financial advisors, online financial advisors and robo-advisors) who offer different services. Additionally, different traditional financial advisors may have different certifications and registrations. Our full guide here can walk you through some of the basics when it comes to learning about and choosing a financial advisor.
Know what you want to pay. Depending on the service provided, some financial advisors cost more than others. In general, financial advisors charge a flat fee of $1,500 to $2,500 for the one-time creation of a full financial plan, or roughly 1% of assets under management (AUM) for ongoing portfolio management. For more insight on what to expect, read our article about financial advisor fees here.
Use our matching tool. A financial advisor can help you make smart decisions to reach your investing and retirement goals. SmartAsset's free financial advisor matching tool can connect you with up to three advisors who are fully vetted and free of disclosures. From there, you can speak with each one and decide how you want to move forward.
Are you a financial advisor interested in learning more about how SmartAdvisor can help you grow? Click here to learn more.
Questions about our study? Contact us at press@smartasset.com.
Photo credit: ©iStock.com/SDI Productions