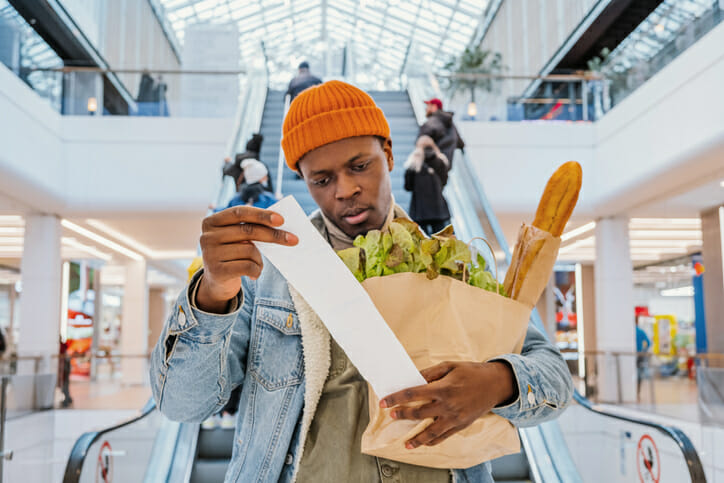 With rapidly climbing food, rent and gas prices, inflation is the highest it has been in four decades. Data from the Bureau of Labor Statistics (BLS) shows that the Consumer Price Index (CPI), which measures the change in prices paid by urban consumers for goods and services, increased 7.9% during the 12-month period that ended in February 2022.
While this increase is not uniform across spending categories (gas has risen 38.0% while prices for medical care services increased only 2.4%), it also differs geographically. In this study, SmartAsset identified the metro areas with the largest and smallest one-year increases in inflation. We additionally discuss how rising prices affect individuals and some tips to protect yourself against inflation.
This is SmartAsset's second study on the places where inflation has spiked the most. Read our 2021 edition here, which looks at last year's rates from the summer.
Data and Methodology
To find out where inflation has spiked the most, we examined all 23 U.S. metro areas with available data from the Bureau of Labor Statistics' Consumer Price Index. However, data for each metro area is not released every month. As a result, the most recent changes in the CPI for 14 metro areas are for the 12-month period ending February 2022, while the rest are as of the 12-month period ending January 2022.
Key Findings
With experts saying inflation may hit 10% nationally, two metro areas are already at that point. The February 2022 national inflation rate of 7.9% only accounts for several days of pricing following Russia's invasion of Ukraine and the subsequent economic sanctions. Therefore, many researchers expect the March figure to be higher, potentially reaching double digits. However, in the Phoenix-Mesa-Scottsdale and Atlanta-Sandy Springs-Roswell metro areas, the price of goods and services jumped 10.9% and 10.6%, respectively, for the 12-month period ending February 2022.
Southern metro areas are seeing large inflation spikes. Metro areas in Georgia, Florida and Maryland all have inflation rates exceeding 9%, ranking in the top five places with the largest inflation spikes in our study.
Inflation is lowest in New York-Newark-Jersey City. In the greater metro area of the Big Apple, consumer prices rose only 5.1% year-over-year as of February 2022. Though food price increases are in line with the national average, BLS data shows that housing prices (excluding fuels and utilities) in the metro area have risen only 1.9% over the past year compared to the national increase of 4.7%.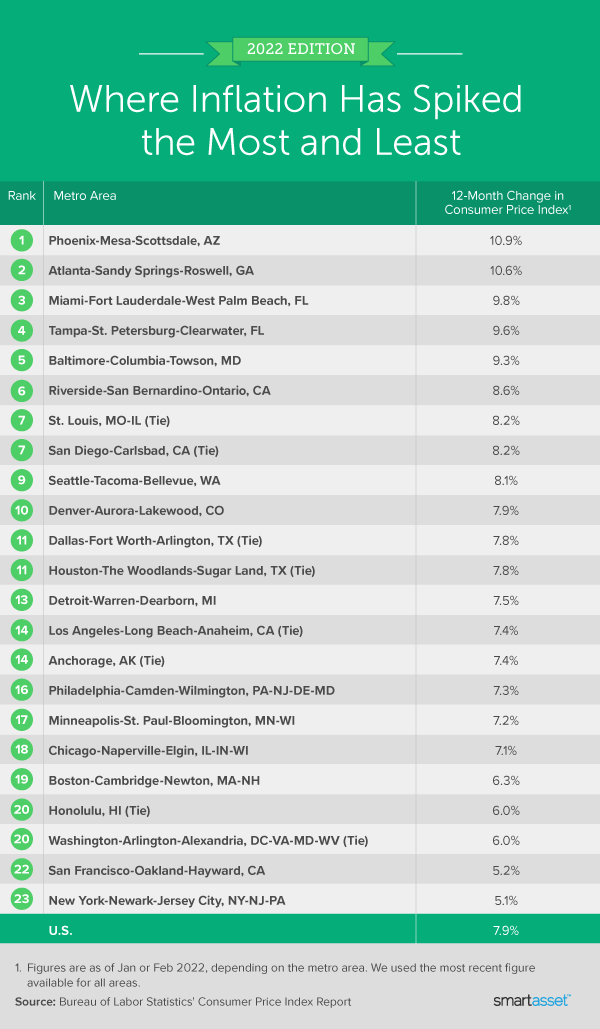 Places With the Largest Inflation Spikes
Across the 23 metro areas in our study, the CPI rose the most in Phoenix-Mesa-Scottsdale, Arizona, increasing by 10.9% for the 12-month period ending February 2022. Over the past year, the price of food & beverages and housing rose 7.7% and 12.4%, respectively, in this metro area.
Two Florida metro areas, Miami-Fort Lauderdale-West Palm Beach and Tampa-St. Petersburg-Clearwater, are also seeing inflation rates near double digits. Food and rent prices rose more quickly in the greater Tampa metro area compared to Miami-Fort Lauderdale-West Palm Beach (6.2% vs. 3.6% for food and 10.8% vs. 7.0% for rent). However, price increases for transportation in Miami-Fort Lauderdale-West Palm Beach outpace those in Tampa-St. Petersburg-Clearwater (24.4% vs. 21.1%).
Places With the Smallest Inflation Spikes
The 12-month inflation rate increased in all 23 metro areas we considered. However, in addition to New York-Newark-Jersey City, the inflation rate is 6% or lower in three other metro areas: San Francisco-Oakland-Hayward, Washington-Arlington-Alexandria, and Honolulu.
Some researchers theorize that these areas still suffer from depressed housing demand because of the COVID-19 pandemic. Nationally, rent prices rose 4.2% over the 12-month period ending February 2022. In comparison, 12-month increases in rent for the four metro areas with the smallest overall inflation spikes are shown below.
New York-Newark-Jersey City: 1.2%
San Francisco-Oakland-Hayward: 0.1%
Washington-Arlington-Alexandria: 0.5%
Honolulu: 3.2%
In contrast to rent, increases in food prices in three of those four areas outpace the national average (7.9%). BLS data shows that food prices rose by 8.1% in New York-Newark-Jersey City, 9.0% in San Francisco-Oakland-Hayward and 8.4% in Honolulu. In the Washington-Arlington-Alexandria, food prices are rising slightly less quickly, at a rate of 6.7% for the 12-month period ending January 2022.
How Does Inflation Affect Individuals?
High inflation rates affect discretionary income for the average American. As prices for food, gas, household goods and other items rise, Americans must adjust how they budget. Additionally, Brian Stivers, investment advisor and founder of Stivers Financial, says that for many individuals the day-to-day cost of living may move beyond take home pay, meaning that individuals either need "to make dramatic cuts in their spending or find ways to create more income."
David Bickerton, the president of MDH Investment Management, also notes that inflation is often considered a regressive tax. That is, high inflation rates affect low-income individuals more than high-income individuals. A $1 increase in gas prices accounts for a larger portion of a low-income individual's paycheck than that of a high-income individual's paycheck. Moreover, high-earning individuals are more likely to own assets such as stock and real estate that may increase in value during inflationary times.
High inflation may also affect individuals' investment accounts and retirement savings. Historically, high inflation has correlated with lower returns on equities. While a diversified or more conservative portfolio may fare better, short-term effects can be particularly harmful for already retired individuals, who are living off a fixed budget.
Tips for Protecting Yourself Against Inflation
Consider investing in TIPS. Treasury Inflation-Protected Securities (TIPS) are U.S. government fixed-income securities that mirror the rate of inflation and can serve as an effective hedge. TIPS typically come in five-, 10- or 30-year terms, and pay out interest twice a year. David Frederick, the Director of Client Success and Advice at First Bank, notes that "these are some of the best investments during periods of runaway inflation, but they are often limited in availability."
Work with a professional. A financial advisor can help you manage your investments during times of elevated inflation. SmartAsset's free matching tool can connect you with up to three advisors who serve your area in as little as five minutes. If you're ready to find a local professional, get started now.
Questions about our study? Contact us at press@smartasset.com
Photo credit: ©iStock.com/Elena Perova