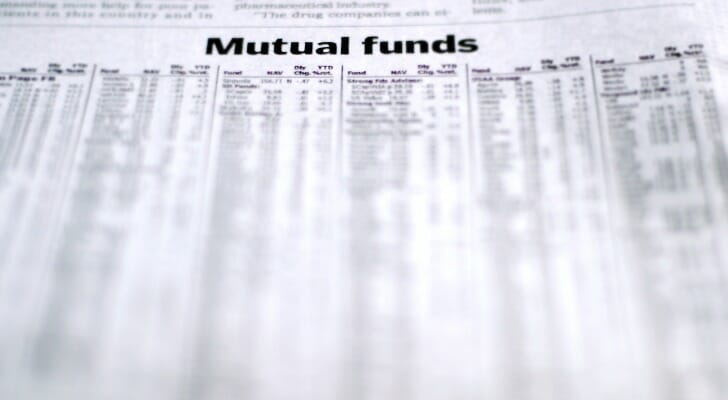 Historical returns and underlying investments aren't the only metrics to consider when selecting mutual funds. A fund's expense ratio, the internal operating costs paid by investors, is also an important component to keep in mind. Expressed as a percentage, an expense ratio is the portion of your total account value removed annually in fees. The difference between small percentages often appears innocuous, so we too seldom take action to move our money to investments with lower expense ratios. But here's a huge wake-up call: those built-in fees could be costing you thousands of dollars in the long run.
If you need help picking cost-efficient investments, a financial advisor can help. Find an advisor today.
To illustrate the impact that expense ratios can have on long-term growth, we compared two hypothetical funds with identical rates of return (6%) but different expense ratios: one fund charges 0.15% in fees, while the other charges 0.75%.
We examined how an initial investment of $10,000 in either fund would grow over 30 years, given the different ratios. While only 0.60% separates the expense ratios of the two funds, the fund with the lower fees will save investors more than $8,000 over a 30-year period. Here's a look at the numbers:
Lower Expense Ratio Means Larger Profit
Both funds – we'll refer to them as Fund A and Fund B – will grow by the same 6% each year, but their expense ratios will erode earnings at different rates. A $10,000 investment in Fund A, whose expense ratio is only 0.15%, will grow to $57,435 (before fees) over the course of 30 years. A total of $2,389 in fees will be taken out during that time so that the net earnings on the initial $10,000 investment total $45,046.
Fund B, on the other hand, will grow more slowly because 0.60% more in fees will be extracted from the account each year. While Fund B will grow to the same balance before fees ($57,435), the net balance after fees is drastically different. The same $10,000 invested in Fund B will grow to just $46,416 (after fees) with $11,019 going to fees. This means that net earnings are $36,416.
In other words, an investor in Fund B with earn 19% less than an investor in Fund A, paying $8,630 more in annual fees.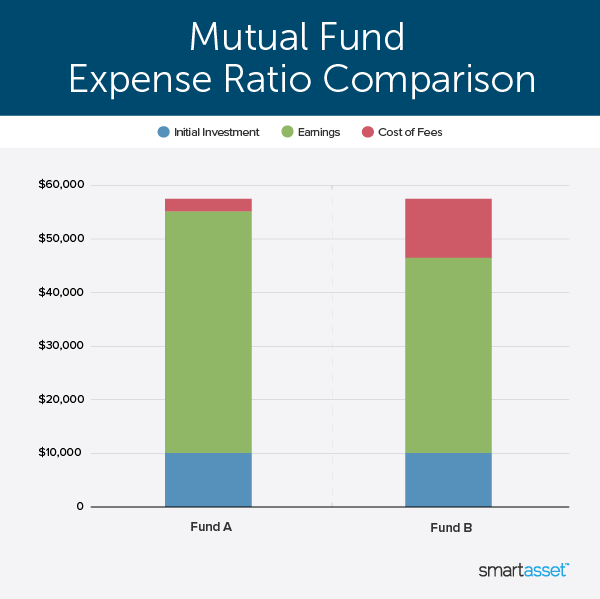 Bottom Line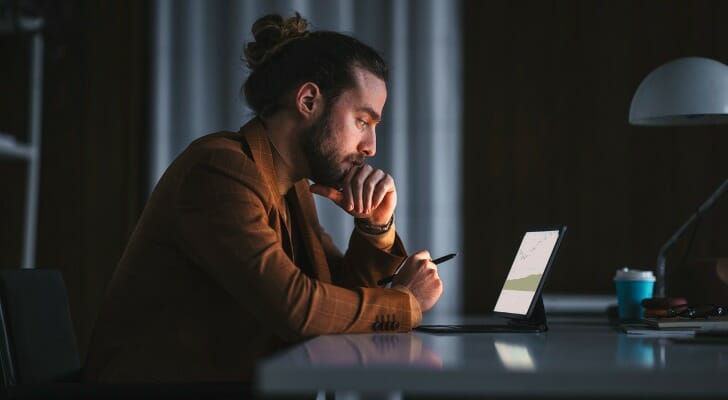 This simple example shows the outsized impact that expense ratios can have on the growth of an investment over a long period of time. The seemingly minuscule difference between the expense ratios of Fund A (0.15%) and Fund B (0.75%) adds up to thousands of dollars over the course of 30 years. By investing in Fund B, a person would pay $8,630 more in annual fees than an investor in Fund A.
Investing Tips
Index funds and exchange-traded funds, which passively track market indexes, are typically more cost-efficient investments than actively managed mutual funds. According to the Investment Company Institute, the average expense ratio of an actively managed equity mutual fund was 0.71% in 2020, considerably higher than the average for an equity index fund, 0.06%.
A financial advisor can help you craft an investing strategy that suits your needs and manage your assets on a daily basis. Finding a qualified financial advisor doesn't have to be hard. SmartAsset's free tool matches you with up to three financial advisors in your area, and you can interview your advisor matches at no cost to decide which one is right for you. If you're ready to find an advisor who can help you achieve your financial goals, get started now.
Photo credit: ©iStock.com/davidp, ©iStock.com/miniseries