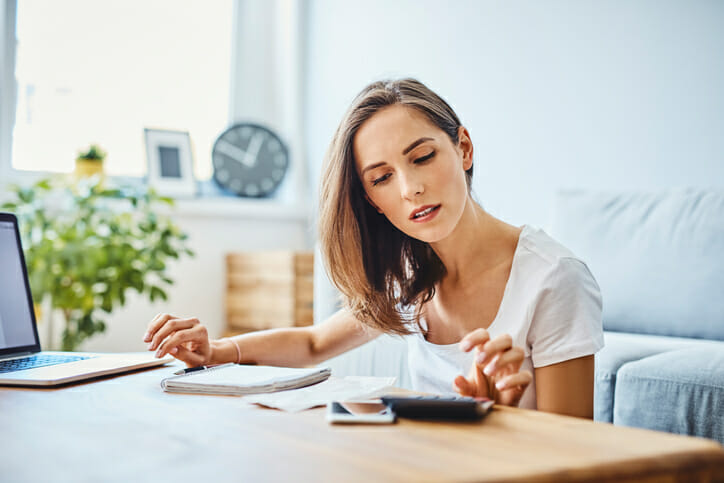 In a world where Americans are saving less and less, it helps to have something to motivate you to sock away some money for an emergency fund. A high-yield savings account can do that. As the name implies, these options pay you interest rates that rank well above those of traditional savings accounts. And the best savings accounts don't require you to pay monthly fees or even keep a minimum balance. Some also provide very easy access to your funds via an ATM debit card. A financial advisor can also help you create a budget and get the most out of your savings.
Understanding What a High-Yield Savings Account Is
Simply put, high-yield savings accounts are savings vehicles that earn much higher interest rates than those tied to their traditional counterparts. Even today, it's not uncommon for a major bank to pay an interest rate as low as 0.01% on a savings account. High-yield savings accounts commonly collect interest rates in the range of 1% to 2.2%.
To put that into perspective, let's say you deposit $10,000 into a savings account paying an interest rate of 0.01%. If the account compounds interest monthly, you would have earned $1 after one year. Everything else constant, a high-yield savings account that pays an interest rate of 1% would have earned you $135.82 in the same time frame.
And if you factor inflation, an interest rate of 0.01% can actually make you lose money in the long run. How? If inflation rises at a higher rate than the interest the bank is paying you, your money may be able to buy less when you take it out after a few years.
But beyond the larger return, high-yield savings accounts offer even more benefits.
What Are the Benefits of a High-Yield Savings Account?
Some banks require you to make large deposits to open high-yield savings accounts. Moving forward, you also have to maintain large balances to avoid hefty fees, earn interest or even keep your account open.
But in the age of the internet, it's easy to compare savings accounts to find the ones with the highest rates and the best terms. In fact, many online banks are offering the best rates and conditions on their savings accounts in order to compete with their brick-and-mortar counterparts.
For instance, some of the most popular online banks offer savings accounts with annual percentage yields (APYs) that climb above 1.00%. And they require very little in return. Several allow you to open one with any amount you'd like. And from there, you don't even need to keep a minimum balance or pay monthly service fees.
Some banks also link your savings accounts to debit cards. You can use these cards to make unlimited withdrawals at any ATM. Plus, many banks work with large ATM networks like AllPoint. This means you can access your money fee-free at thousands of ATMs across the country. In some cases, banks will even reimburse fees for using non-network ATMs.
Meanwhile, as interest rates have fallen to historic lows, cryptocurrency exchanges have begun offering alternatives to high-yield savings accounts. In June 2021, Coinbase announced the launch of a program that will pay customers 4% APY on USD Coin, a stablecoin that can always be redeemed for U.S. dollars at a one-to-one ratio.
Disadvantages of High-Yield Savings Accounts
There's something called Regulation D that you need to watch out for. This isn't really a disadvantage on the part of the bank or the account. It's just another pesky government regulation. In fact, it governs all savings and money market accounts.
This rule limits certain transactions and withdrawals to six per monthly statement cycle. The following transactions count toward those six:
Transfers to other accounts even with the same bank
Automatic transfers like those set to pay bills or fund another account periodically
ACH withdrawals
Point of Sale (POS) transactions made with a debit card
Transfers processed by phone
Transfers made via check or debit card
However, you can make unlimited withdrawals via ATMs and from tellers at physical branches.
Who Should Get a High-Yield Savings Account?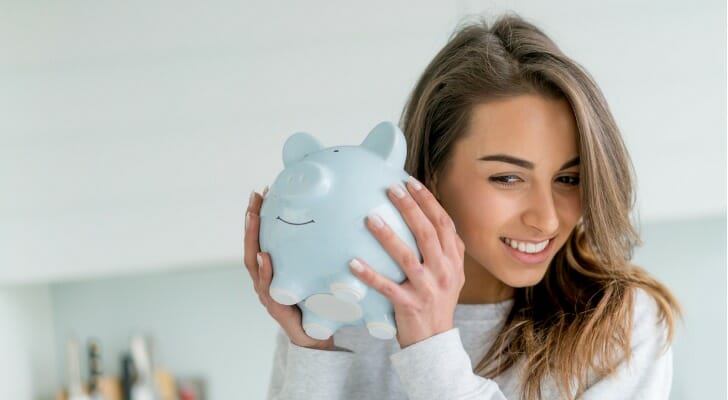 Anyone looking to open a rainy day fund that provides a higher-than-average interest rate and high liquidity should consider a high-yield savings account. However, the same can be said about the best money market accounts.
But if you're comfortable with locking up your money for a set period of time in exchange for an even higher interest rate, definitely consider certificate of deposit (CD) accounts with the best CD rates.
Regardless of where you save, just make sure you're saving into an account that offers the best return with little-to-no effort on your part.
What Are the Best High-Yield Savings Accounts?
We analyzed more than 120 savings accounts available today. Our research focused on interest rates, fees, liquidity and more. The result was a list of the top-five high-yield savings accounts. Below are the winners.
American Express® High Yield Savings Account
Most financial institutions that run physical branches offer dismal interest rates on their savings accounts. American Express is not one of them. In recent years, the American Express® High Yield Savings Account has offered APYs between 0.40% and 1.90%. The current rate of 1.40%, is effective as of August 4, 2022. These rates demolish the national average. Plus, Amex compounds interest daily and pays it monthly. The bank has no monthly fees or minimum balance requirements. And you can open an account with an amount of your choice.
Barclays Online Savings Account
The Online Savings Account from Barclays is very similar to its American Express counterpart, as its APYs in recent years have fallen somewhere between 0.40% and 1.90%. It also requires no monthly fees or minimum opening balance. However, you can manage it only online and over the phone. So it may be a better option for the more tech-savvy. But American Express also has a highly rated mobile banking app.
So it may just come down to preference. Both are solid options.
Synchrony High Yield Savings Account
Those who are looking for superior liquidity may be interested in the Synchrony High Yield Savings Account. This online-only entity links the account with a debit card that you can use at ATMs to make unlimited withdrawals. On top of that, in recent years, the account has still managed to earn high APYs in the range of 0.5% to 1.85%.
In addition, you can open one with just a penny and you don't have to worry about monthly fees or minimum balances. Overall, it's one of the best online high-yield savings accounts we've examined.
Ally Bank Online Savings Account
The Ally Bank Online Savings account is very similar to that of Synchrony. In recent years, Ally has offered APYs in the neighborhood of 0.5% to 1.85%. The bank also charges no fees. However, Ally Bank offers a free checking account. This can make transferring funds much easier and automated.
Vio Bank High-Yield Online Savings Account
A new player in the game, Vio Bank emerged as the online entity of MidFirst Bank. And to beat the competition, it currently offers a High-Yield Online Savings Account with great APYs. In fact, the account has boasted an APY from 0.50% to 2.11% over the last year. These rates surpass not only every savings account on our list, but also most of the ones we've ever analyzed.
So why did it make the bottom of this list? Well, it's a relatively new product and ACH transfers also take about two or five business days to post. But if all you're looking for is a superb interest rate on a savings account, Vio Bank is a solid new option.
Bottom Line
High-yield savings accounts can earn you an interest rate superior to that of a traditional savings account. And these days, it's easy to shop around to find one with the best terms and rates. Online banks are a great place to start. Many allow you to open one with any amount. Some also charge no monthly fees and require no minimum balance for you to keep. All together, this makes it easy for you to keep all of your money growing along with the motivation to save more.
Tips for Finding the Best Savings Accounts
Saving is crucial to financial wellness. But it's a challenge for many, especially when you consider debt and retirement planning. A financial advisor could help you create a financial plan for your needs and goals. SmartAsset's free tool matches you with up to three financial advisors in your area, and you can interview your advisor matches at no cost to decide which one is right for you. If you're ready to find an advisor who can help you achieve your financial goals, get started now.
Surf the web to find the best savings accounts with the best rates and conditions that appeal to you. Banks are constantly competing for your service, so they aim to make better products. But with so many options to choose from, it can be a challenge. To narrow your search, we published a study on the best banks in the U.S.
Photo credit: ©iStock.com/BartekSzewczyk, ©iStock.com/andresr, ©iStock.com/Mixmike