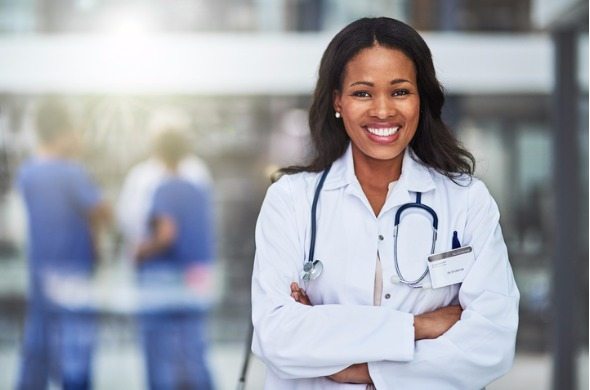 People advise you to do what you love. But sometimes doing what you love doesn't pay your mortgage bills. Of course, it's possible to combine your interests with a career with solid earning potential. With that in mind, SmartAsset took a look at the occupations with the largest and smallest income growth in the United States.
Trying to save? Find the best high interest saving accounts.
In order to find the occupations with the largest and smallest income growth, we collected income data from 2012 and 2016. To see where we got our data and how we put it together, check out our data and methodology section below.
Key Findings
Get an education – Our data shows how much an education can pay off, especially if you get into medicine. Of the top 10 occupations with the largest income growth, six of them require at least a medical degree. Of the other four, three require a bachelor's degree and one requires a master's degree.
Physicians make bank – Seven of our top 10 occupations with the largest income growth are in medicine. If you can handle the student loans and the years of schooling, becoming a doctor is a great career and nursing isn't a bad option, either. The only medical profession which saw average incomes fall was orthotists and prosthetists, the people who design and build artificial limbs for patients. On average, their anual incomes fell by $40 from 2012 to 2016.
Lack of demand affects incomes – Some occupations where incomes are falling, suffer from a lack of demand for their labor. This list includes paperhangers and loaders, occupations which saw both incomes and employment numbers fall.
Occupations With the Largest Income Growth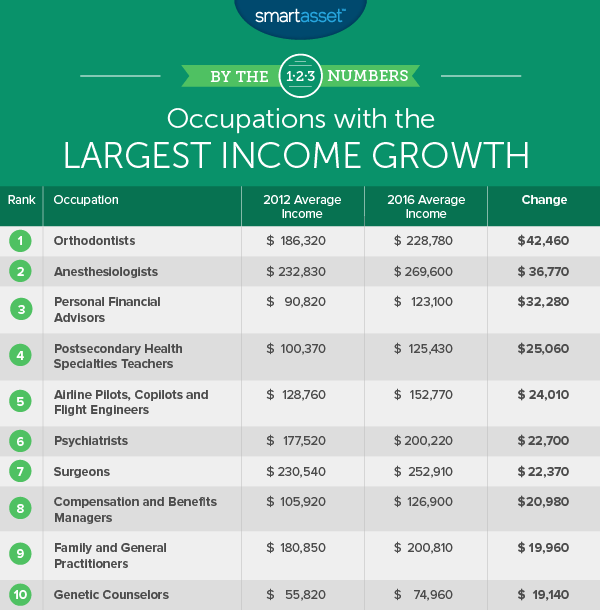 1. Orthodontist
Orthodontist saw incomes rise by over $42,000, on average, from 2012 to 2016. In 2016, the average orthodontist earned over $228,000 per year. The caveat is that becoming an orthodontist is relatively difficult. You must attend dental school before specializing in orthodontics, which means many years of hard study and probably lots of student debt.
2. Anesthesiologists
Anesthesiologists have seen similar growth as orthodontists. From 2012 to 2016, the average anesthesiologist went from earning $232,000 to $269,000 – an increase of $36,700. Of course, not just anyone is allowed to put people to sleep before an operation. This occupation requires a medical degree.
3. Personal Financial Advisors
Personal financial advisor is may be the most obtainable occupation in this top 10. Our data shows that there are over 201,000 personal financial advisors as of 2016. That's an increase of 26,000 from 2012. The BLS believes this trend will continue. From 2016-2026 the BLS projects the number of personal financial advisors will grow by 14%.
The average personal financial advisor earned $32,000 more in 2016 than they did in 2012.
4. Postsecondary Health Specialties Teachers
Consider this occupation alongside orthodontists and you can see that dental health is big business in the U.S. Postsecondary health specialties teachers are the people tasked with teaching dentistry, public health and medicine, among other disciplines.
The average worker in this occupation earned $25,000 more in 2016 than in 2012. This occupation has also seen the largest growth in employment our top 10. The number of employed postsecondary health specialties teachers grew by 34,600 from 2012 to 2016.
5. Airline Pilots, Copilots and Flight Engineers
Many people dream of being pilots when they are young. Hopefully many people stuck with those dreams because it's a great job to have. Our data shows that the average airline pilot's salary rose by $24,000 from 2012 to 2016. To work for a major airline in the U.S., you will need a bachelor's degree plus a pilot's license.
6. Psychiatrists
Another medical occupation takes sixth. Psychiatrists saw their incomes boosted by an average of $22,700 from 2012 to 2016.
While psychiatry is not an enormously popular occupation, it is growing. Bureau of Labor Statistics (BLS) occupation outlook data shows that the number of psychiatrists is expected to grow by about 13% from 2016 – 2026.
7. Surgeons
How would you like to earn $252,910 in a year? That is what the average surgeon earned in 2016, according to our data. An increase of over $22,000 from five years before.
The number of surgeons in America declined from 42,400 to 41,100 over the five-year period we analyzed. However according to BLS projections, the number of physicians and surgeons is expected to grow about 15% from 2016 – 2026.
8. Compensation and Benefits Managers
Compensation and benefits managers are the people who decide how much you get paid. This can be difficult work. Data from the BLS shows that about one in three compensation and benefits managers worked more than 40 hours per week in 2016.
But working in this occupation has been paying off. The average compensation and benefits manager earned over just under $127,000 per year. That is an increase of $21,000 from 2012.
9. Family and General Practitioners
Medical professionals are certainly well compensated. General practitioners are the doctors you see for your annual checkup and for routine treatment. On average, Americans in this professional earn over $200,000 per year. That's up by $20,000 from 2012.
10. Genetic Counselors
Genetic counselors assess the risks for families or individuals from a variety of inherited conditions, like birth defects. This occupation is slightly easier to get than other medical professions, requiring only a master's degree.
From 2012 to 2016, their average incomes grew by 34% from $55,800 to $74,960.
Occupations With the Smallest Income Growth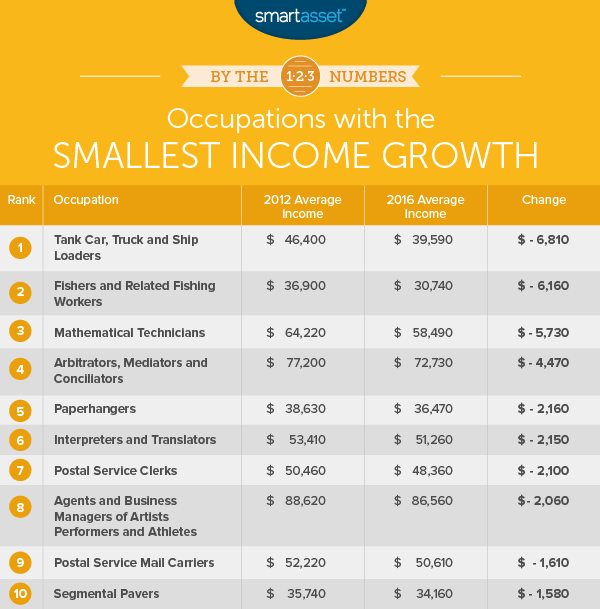 1. Tank Car, Truck and Ship Loaders
These are the people who unload shipped goods from either trucks or ships. In general this group is not particularly well paid and the situation is getting worse for them.
From 2012 to 2016, the average worker in this occupation saw their incomes drop by around $7,000. In 2012, the median salary for a tank car, truck and ship loader was $46,400 and by 2016 it had fallen to $39,590.
2. Fishers and Fishing Workers
Fishing is one of the most dangerous jobs in the country. The average fisher in 2016 made $6,160 less than they did in 2012.
The BLS expects the number of fishers and fishing workers to grow by about 7% from 2016-2026.
3. Mathematical Technicians
Unfortunately for mathematical technicians they likely earned less in 2016 than they did in 2012. This occupation's median income dropped by $5,700 over that five-year period. That is a significant amount for a group who made $58,490 per year in 2016, on average.
If you're interested in math, there are higher-paying math jobs, like statisticians.
4. Arbitrators, Mediators and Conciliators
Average incomes for arbitrators, mediators and conciliators dropped from 2012 to 2016, by about $4,400. At the same time the number of people employed in this occupation held mostly steady dropping by 220 from 6,520 to 6,300.
The BLS expects growth in this occupation to be faster that average, growing by about 11% from 2016 – 2026.
5. Paperhangers
As the demand for decorative wallpaper falls, so does paperhangers' salaries. From 2012 to 2016, average incomes for paperhangers dropped $2,100. That's a significant amount, especially when you consider paperhangers earn $36,000 per year, on average.
6. Interpreters and Translators
Interpreters and translators saw their average earnings fall by $2,100 from 2012 to 2016. However the number of interpreters and translators rose over the same time period suggesting not all is doom and gloom in this profession.
7. Postal Service Clerks
There are over 82,000 postal service clerks in the U.S. They are the people who help us get our mail ready for delivery and sell us postage stamps. The bad news for them is that from 2012 to 2016 their incomes dropped by an average of $2,100.
Another thing to be concerned about is the BLS projections for employment for postal service workers. The BLS projects a 13% decline in the number of postal workers from 2016 – 2026.
8. Agents and Business Managers of Artists, Performers and Athletes
Agents for artists, performers and athletes saw their median incomes drop but they still earned more than many other occupations on this list. On average they earned over $86,000 in 2016, a drop of $2,000 from 2012.
If you do want to be an agent, BLS data suggests you will need a bachelor's degree and less than five years of experience.
9. Postal Service Mail Carriers
Along with postal service clerks, the mail carriers took a pay cut. Postal service mail carriers earn about $1,600 less in 2016 than they did in 2012, down from $52,200 to $50,600, on average.
However this occupation is currently growing and is a high-paying career option for people without a college degree. BLS data shows that you only need a high school degree to become a postal service mail carrier.
10. Segmental Paver
Segmental pavers work in home improvement. They install flat surfaces of brick or concrete to be used as pathways to homes. Working as a segmental paver does not pay particularly well and the median pay is trending down.
In 2012, the average segmental paver earned $35,740 per year. In 2016, they earned $34,160, a decline of $1,580.
Data and Methodology
To find the occupations with the largest and smallest income growth, we looked at data on average incomes for 815 occupations. Specifically we looked at data for the following two factors:
2016 average income. This is the average income for each occupation in 2016. Data comes from the Bureau of Labor Statistics.
2012 average income. This is that average income for each occupation in 2012. Data comes from the Bureau of Labor Statistics.
We ranked the occupations according to which had the largest increase in income from 2012 to 2016 and also which had the smallest income growth. For clarity's sake we did not include any occupation with unclear occupation titles in our final analysis. For example occupations classified as "other" were omitted.
Tips for Switching Careers
Switching careers can be a great way to increase long-term income. Here are some tips for knowing if you're ready to switch and how to make the transition from one career to another as smooth as possible.
Figure out what you want. If you are making a move out of desperation you may end up back at square one. Take stock of your personal and financial goals, like buying a home, and see how they align with your new career.
Figure out what you have to offer. It's also prudent to take stock of your strengths and weaknesses. Some careers make more sense for people with a certain skill set. By knowing what your strengths and weaknesses are you can create of list of skills to develop to get into your new field.
Figure out what you need. Sometimes switching a job or career can mean taking a pay cut at first. It's a good idea to see how taking a pay cut aligns with your retirement plans, or home-buying plans. If you take a lower paying job you may need to push back your retirement for a few years or find other ways to save.
Questions about our study? Contact us at press@smartasset.com.
Photo credit: ©iStock.com/Cecilie_Arcurs