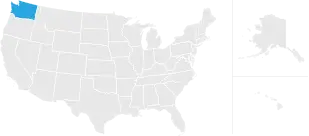 Overview of Washington Taxes
Washington is one of a few states with no income tax, and there are no cities in the state that have local income taxes either. Washington earners will still have to pay federal income taxes, though.
Work Info
Marital Status
Enter your marital status
Dismiss
Job
Location
Enter your location
Dismiss
Deduction
Name
Calculation
Method
Deduction
Amount
Long Term Disability Insurance
Dismiss
Deduction
Name
Calculation
Method
Deduction
Amount
Dismiss
Are you exempt from any taxes?
Salary (per year)
Dismiss
Hours (per pay period)
Dismiss
Overtime Hourly Wage
Dismiss
Overtime Hours (per pay period)
Dismiss
Your estimated
--
take home pay:
---
Where is your money going?
Gross Paycheck
$

--

Taxes

--

%
$

--

Details
Federal Income

--

%
$

--

State Income

--

%
$

--

Local Income

--

%
$

--

FICA and State Insurance Taxes

--

%
$

--

Details
Social Security

--

%
$

--

Medicare

--

%
$

--

State Disability Insurance Tax

--

%
$

--

State Unemployment Insurance Tax

--

%
$

--

State Family Leave Insurance Tax

--

%
$

--

State Workers Compensation Insurance Tax

--

%
$

--

Pre-Tax Deductions

--

%
$

--

Details
Post-Tax Deductions

--

%
$

--

Details
Take Home Salary

--

%
$

--
Save more with these rates that beat the National Average
---
Share Your Feedback
How would you rate your experience using SmartAsset's financial advisor matching service so far?
What is the most important reason for that score? (optional)
Please limit your response to 150 characters or less.
Thank you for your answer! Your feedback is very important to us.
Washington Paycheck Calculator
Washington Paycheck Quick Facts
Washington income tax rate: 0%
Median household income: $80,408 (U.S. Census Bureau)
Number of cities that have local income taxes: 0
How Your Washington Paycheck Works
Washington state does not impose a state income tax. However, federal income and FICA (Federal Insurance Contribution Act) taxes are unavoidable no matter where you work.
How much you pay in federal income taxes depends on a few different factors, like your marital status, salary and if you want any additional withholdings. You have to enter information about your filing status and dependents on your Form W-4, which allows your employer to know how much to withhold from your paycheck. That's why your employer will require you to fill out a W-4 whenever you start a new job. You should also fill out a new W-4 anytime you experience life changes, such as a marriage, divorce or the birth of a child.
Over the last few years, there have been slight changes to withholding calculations for the federal income tax, as well as Form W-4. The new W-4 removes the option to claim allowances, as it instead focuses on a five-step process that lets filers enter personal information, claim dependents or indicate any additional income or jobs.
FICA taxes are made up of Medicare and Social Security. Workers have to pay 1.45% of their wages for the Medicare tax and 6.2% for the Social Security tax. Employers then match those percentages so the total contributions are doubled. Income you have in excess of $200,000 (single filers), $250,000 (joint filers) or $125,000 (married people filing separately) is subject to an additional 0.9% Medicare surtax, which your employer won't match.
Self-employed individuals have to pay the full 2.9% in Medicare taxes and 12.4% in Social Security taxes themselves, as there is no separate employer to contribute the other half. However, there is a deduction available during tax season to help recoup some of that high self-employment tax.
The paycheck you take home may be further reduced if you contribute funds toward a health or life insurance plan that your employer sponsors, as any premiums you pay will be deducted from your wages. This is also the case if you contribute to a retirement account through your employer, like a 401(k) or 403(b), or a medical expense account, such as a health savings account (HSA) or flexible spending account (FSA). These retirement and medical expenses accounts use pre-tax dollars, which means that while putting money in these shrinks your paycheck, it also allows you to pay less in taxes.
Another thing to consider is that the frequency of your pay impacts the size of your paychecks. If you get paid bi-weekly, for example, your paychecks will be more frequent and smaller than if you get paid just once a month. If you get paid monthly, you will see fewer but larger paychecks. It's important to budget accordingly.
Washington Median Household Income
| Year | Median Household Income |
| --- | --- |
| 2020 | $80,408 |
| 2019 | $78,687 |
| 2018 | $74,073 |
| 2017 | $70,979 |
| 2016 | $67,106 |
| 2015 | $64,129 |
| 2014 | $61,366 |
| 2013 | $58,405 |
| 2012 | $57,573 |
| 2011 | $56,835 |
| 2010 | $55,631 |
Tax Day is a lot less painful for Washingtonians than for workers in many other parts of the country. That's because the Evergreen State does not levy income taxes at the state level. Lawmakers have considered introducing a state income tax in recent years, but no attempt has been successful thus far. While local sales taxes in Seattle, Tacoma and some other metro areas are significantly higher than the national average, all areas in Washington are devoid of local income taxes.
A financial advisor in Washington can help you understand how taxes fit into your overall financial goals. Financial advisors can also help with investing and financial plans, including retirement, homeownership, insurance and more, to make sure you are preparing for the future.
How You Can Affect Your Washington Paycheck
While you don't have to worry about paying state or local income taxes in Washington, there's no escaping federal income tax. However, there are certain steps you may be able to take to reduce the taxes coming out of your paychecks.
The simplest way to change the size of your paycheck is to adjust your withholding. Your paychecks will be smaller but you'll pay your taxes more accurately throughout the year. You can also specify a dollar amount for your employer to withhold. There is a line on the W-4 that allows you to specify how much you want withheld. Use the paycheck calculator to figure out how much to put.
Another thing you can do is put more of your salary in accounts like a 401(k), HSA or FSA. If you contribute more money to accounts like these, your take-home pay will be less but you may still save on taxes. These accounts take pre-tax money, which means the money comes out of your paycheck before income taxes are removed. This reduces your taxable income. Payments you make for most employer-sponsored health and life insurance plans also pre-tax.
With no state or local income taxes, you might have an easier time saving up for a down payment for a home in Washington. If you're looking to make the move, take a look at our guide to Washington mortgage rates and getting a mortgage in Washington.
Calculate Your Paycheck in These Other States