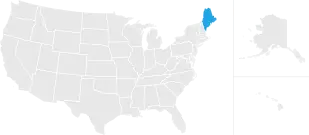 Overview of Maine Taxes
Maine has a progressive income tax system that features rates that range from 5.80% to 7.15%. The state has a high standard deduction that helps low- and middle-income Mainers at tax time. No Maine cities charge a local income tax.
Work Info
Marital Status
Enter your marital status
Dismiss
Job
Location
Enter your location
Dismiss
Deduction
Name
Calculation
Method
Deduction
Amount
Long Term Disability Insurance
Dismiss
Deduction
Name
Calculation
Method
Deduction
Amount
Dismiss
Are you exempt from any taxes?
Salary (per year)
Dismiss
Hours (per pay period)
Dismiss
Overtime Hourly Wage
Dismiss
Overtime Hours (per pay period)
Dismiss
Your estimated
--
take home pay:
---
Where is your money going?
Gross Paycheck
$

--

Taxes

--

%
$

--

Details
Federal Income

--

%
$

--

State Income

--

%
$

--

Local Income

--

%
$

--

FICA and State Insurance Taxes

--

%
$

--

Details
Social Security

--

%
$

--

Medicare

--

%
$

--

State Disability Insurance Tax

--

%
$

--

State Unemployment Insurance Tax

--

%
$

--

State Family Leave Insurance Tax

--

%
$

--

State Workers Compensation Insurance Tax

--

%
$

--

Pre-Tax Deductions

--

%
$

--

Details
Post-Tax Deductions

--

%
$

--

Details
Take Home Salary

--

%
$

--
Save more with these rates that beat the National Average
---
Share Your Feedback
How would you rate your experience using SmartAsset's financial advisor matching service so far?
What is the most important reason for that score? (optional)
Please limit your response to 150 characters or less.
Thank you for your answer! Your feedback is very important to us.
Maine Paycheck Calculator
Maine Paycheck Quick Facts
Maine income tax rate: 5.80% - 7.15%
Median household income: $58,782 (U.S. Census Bureau)
Number of cities that have local income taxes: 0
How Your Maine Paycheck Works
In Maine, as in every state, your earnings are subject to withholding for FICA taxes. Those are the taxes that let you pay in to the Social Security and Medicare systems so that you can take those benefits when you're a senior. Every pay period your employer will withhold 6.2% of your earnings for Social Security taxes and 1.45% of your earnings for Medicare taxes. Your employer will also match that withholding, so if you're self-employed you need to withhold twice as much from each of your paychecks. Earnings you make in excess of $200,000 are subject to a Medicare surtax of 0.9%, not matched by your employer.
While withholding allowances are no longer included on the 2021 Form W-4, things like your income, marital status and number of dependents all affect how much you'll pay on your tax bill. If you're married and filing jointly, you and your spouse should fill out W-4 forms together. Keep in mind that overpaying throughout the year and getting a refund come tax time is sort of like giving the IRS a temporary loan for the tax year.
The new Form W-4 doesn't ask you to list total allowances anymore. Instead, it applies a five-step process that allows filers to enter personal information, claim dependents and indicate any additional income or jobs. The new form also requires filers to enter annual dollar amounts for income tax credits, non-wage income, itemized and other deductions and total annual taxable wages. These updates will primarily affect those adjusting their withholdings or moving jobs.
You might see other deductions taken out of each of your paychecks if you contribute toward the cost of health insurance, life insurance and/or disability insurance premiums through a company insurance plan. And if you enroll in an employer-sponsored retirement plan like a 401(k), you'll see those contributions reflected on your pay stubs, too. The same goes for contributions to a health savings account (HSA) and a flexible spending account (FSA).
One important thing to note is that contributions you make to 401(k) plans, HSAs and FSAs all come out of your pay before taxes are removed. This lowers your taxable income and means you will owe less in taxes.
Another factor that influences your paycheck size is your pay frequency. If you get paid more often, each of your paychecks will be smaller. If you get paid monthly, you'll get a bigger check but you'll have to make sure you budget in a way that means you won't run out of money before the next month's paycheck arrives.
Maine Median Household Income
| Year | Median Household Income |
| --- | --- |
| 2020 | $58,782 |
| 2019 | $58,924 |
| 2018 | $55,602 |
| 2017 | $56,277 |
| 2016 | $53,079 |
| 2015 | $51,494 |
| 2014 | $49,462 |
| 2013 | $46,974 |
| 2012 | $46,709 |
| 2011 | $46,033 |
The state-specific part of your pay stub comes in the form of the Maine income tax. You'll fill out a Form W-4ME to let your employer know how much to withhold to cover these taxes. For single filers, the first bracket of up to $22,450 comes with a tax rate of 5.80%, while the second bracket (income between $22,450 and $53,150) is taxed at a rate of 6.75% and the top bracket (income of $53,150 and up) is taxed at the state's top rate of 7.15%.
Your employer withholds money to cover your Maine tax liability just like it withholds money to cover your federal income taxes. No Maine cities have local income taxes, so there won't be any city-level tax withholding. At tax time, you'll file Form 1040ME to pay your Maine taxes.
Income Tax Brackets
Single Filers
Maine Taxable Income
Rate
$0 - $22,450
5.80%
$22,450 - $53,150
6.75%
$53,150+
7.15%
Married, Filing Jointly
Maine Taxable Income
Rate
$0 - $44,950
5.80%
$44,950 - $106,350
6.75%
$106,350+
7.15%
Married, Filing Separately
Maine Taxable Income
Rate
$0 - $22,450
5.80%
$22,450 - $53,150
6.75%
$53,150+
7.15%
Head of Household
Maine Taxable Income
Rate
$0 - $33,650
5.80%
$33,650 - $79,750
6.75%
$79,750+
7.15%
A financial advisor in Maine can help you understand how taxes fit into your overall financial goals. Financial advisors can also help with investing and financial plans, including retirement, homeownership, insurance and more, to make sure you are preparing for the future.
How You Can Affect Your Maine Paycheck
If you want a bigger paycheck, one straightforward way is to increase how much you're earning. That could mean trying to negotiate a raise, or seeking supplemental wages in the form of bonuses, commissions and overtime. If those supplemental wages are paid along with your regular salary, they're taxed at the normal Maine income tax rate. If they're disbursed separately, your employer can withhold Maine income taxes at a flat rate of 5%.
If you want to save more money for retirement, consider contributing more to your company's 401(k). That money won't be taxed when it's taken out of your earnings, and it will grow tax-free until you withdraw it. You can also put more in health savings accounts (HSAs) or flexible spending accounts (FSAs) to save pre-tax dollars for medical expenses. Note that itemized deductions are capped in Maine, so if you're a high earner it may be to your advantage to max out your 401(k), IRA and other tax-advantaged accounts throughout the year rather than relying on itemized deductions to slash your tax bill in the spring.
Not a Maine taxpayer yet, but thinking about purchasing a home in the Pine Tree State? Our Maine mortgage guide is a great place to start learning about rates and the details of getting a mortgage in the state.
Maine Top Income Tax Rate
| Year | Rate |
| --- | --- |
| 2021 | 7.15% |
| 2020 | 7.15% |
| 2019 | 7.15% |
| 2018 | 7.15% |
| 2017 | 7.15% |
| 2016 | 7.15% |
| 2015 | 7.95% |
| 2014 | 7.95% |
| 2013 | 7.95% |
| 2012 | 8.50% |
| 2011 | 8.50% |
Calculate Your Paycheck in These Other States