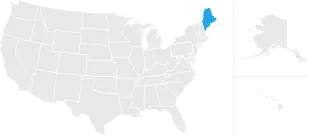 Overview of Maine Mortgages
In recent years, Maine mortgage rates have stuck close to the national average. Maine counties' conforming loan limits remain standard, while the corresponding FHA limits feature a bit of variation. Find out what you can expect for a monthly mortgage payment if you buy in Maine with our mortgage calculator.
National Mortgage Rates
Source: Freddie Mac Primary Mortgage Market Survey, SmartAsset Research
Details
Purchase or Refinance
Select Purchase or Refinance
Dismiss
Location
Enter your location
Dismiss
Target Home Value
Enter target home value
Dismiss
Down Payment
Enter down payment
Dismiss
Current Home Value
Enter current home value
Dismiss
Current Mortgage Balance
Current Mortgage Balance
Enter current mortgage balance
Dismiss
Credit Rating
Select Your Credit Rating
Dismiss
Share Your Feedback
How would you rate your experience using SmartAsset's financial advisor matching service so far?
What is the most important reason for that score? (optional)
Please limit your response to 150 characters or less.
Thank you for your answer! Your feedback is very important to us.
Historical Mortgage Rates in Maine
Maine Mortgage Rates Quick Facts
Median Home Value: $252,100 (U.S. Census Bureau)
Loan Funding Rate: 62.56% (CFPB)
Homeownership Rate: 75.9% (St. Louis Fed)
Median Monthly Homeownership Costs: $1,471 (U.S. Census Bureau)
From lighthouses and lobster to Blue Hills ocean views and Acadia National Park, the most Northeastern state in the U.S. is a gold mine of outdoor adventure, scenic landscapes and unique history. Over the past decade, Maine mortgage rates have stayed relatively close to national averages.
A financial advisor in Maine can help you plan for the homebuying process. Financial advisors can also help with investing and financial plans, including tax, retirement and estate planning, to make sure you are preparing for the future.
Maine Historic Mortgage Rates*
| Year | Maine Rate | U.S. Rate |
| --- | --- | --- |
| 2000 | 8.23 | 7.86 |
| 2001 | 7.01 | 6.94 |
| 2002 | 6.58 | 6.44 |
| 2003 | 5.72 | 5.67 |
| 2004 | 5.80 | 5.68 |
| 2005 | 5.95 | 5.85 |
| 2006 | 6.53 | 6.54 |
| 2007 | 6.38 | 6.42 |
| 2008 | 5.95 | 6.06 |
| 2009 | 5.00 | 5.05 |
| 2010 | 4.80 | 4.81 |
| 2011 | 4.51 | 4.56 |
| 2012 | 3.68 | 3.65 |
| 2013 | 3.76 | 3.84 |
| 2014 | 4.17 | 4.13 |
| 2015 | 3.88 | 3.88 |
| 2016 | 3.73 | 3.73 |
| 2017 | 4.06 | 4.03 |
| 2018 | 4.65 | 4.56 |
*The FHFA stopped reporting new data in 2018.
Maine Mortgages Overview
Property in the Pine Tree State is a little more affordable overall than the national average. The median single-family home value is $252,100, which is below the nation's median of $281,400 according to the U.S. Census Bureau.
The conforming loan limit for every Maine county is at the standard $726,200. However, the FHA loan limits range from $472,030 to $506,000. The three counties with higher FHA loan limits are Cumberland and Sagadahoc and York.
Conforming and FHA Loan Limits by County
| County | Conforming Limit | FHA Limit |
| --- | --- | --- |
| Androscoggin | $726,200 | $472,030 |
| Aroostook | $726,200 | $472,030 |
| Cumberland | $726,200 | $506,000 |
| Franklin | $726,200 | $472,030 |
| Hancock | $726,200 | $472,030 |
| Kennebec | $726,200 | $472,030 |
| Knox | $726,200 | $472,030 |
| Lincoln | $726,200 | $472,030 |
| Oxford | $726,200 | $472,030 |
| Penobscot | $726,200 | $472,030 |
| Piscataquis | $726,200 | $472,030 |
| Sagadahoc | $726,200 | $506,000 |
| Somerset | $726,200 | $472,030 |
| Waldo | $726,200 | $472,030 |
| Washington | $726,200 | $472,030 |
| York | $726,200 | $506,000 |
Maine is a deed of trust state, which means when you take out a mortgage in Maine you'll most likely get a deed of trust instead of an actual mortgage. Lenders who issue mortgages usually have to go to court to foreclose on homes. But if a trust deed is offered instead, the lender can skip the court process by initiating a "power of sale" foreclosure by hiring a third party to auction the home it wants to foreclose.
Disclosure laws in Maine require that sellers disclose the condition about the water supply system, insulation, heating system, waste disposal system, hazardous materials and any known defects. Regardless, a home inspection is always way to feel secure in a property purchase. A quality home inspection will help you attend your closing with confidence.
30-Year Fixed Mortgage Rates in Maine
If you are looking to obtain a mortgage in Maine, chances are you will land on a 30-year fixed-rate mortgage. This tried-and-true home loan option is especially popular for buyers who plan to remain in their houses for the long term. With a 30-year fixed-rate mortgage, not only do you have a long time to pay off the loan (three decades) but your monthly payments will remain constant for the duration of the loan, unless you decide to refinance.
The average Maine rate for a fixed 30-year mortgage is 6.29% (Zillow, Jan. 2023).
Maine Jumbo Loan Rates
Maine conforming loan limits are uniform at $726,200. As we mentioned earlier, the FHA loan limits have more variation, with three of the 16 counties going above the average of $472,030. So if you take out a home loan in Maine that is larger than $726,200, you will have what is considered a "jumbo loan." Jumbo loans are nonconforming loans that come with higher interest rates to offset the increased risk on the part of lenders who issue them as more money is at stake. However, Maine jumbo loans actually have lower interest rates.
The average jumbo loan rate in Maine is 6.44% (Zillow, Jan. 2023).
Maine ARM Loan Rates
Unlike the dependable fixed-rate mortgage, an adjustable-rate mortgage (ARM) is one in which the interest rate "adjusts" over the period of the loan. For an introductory period of one, three, five, seven or 10 years, an ARM will typically have a lower interest rate than a fixed-rate mortgage. Once that period has ended (the time frame depends on the loan's terms), the interest rate can increase or decrease, though it typically goes up.
Now, there are certain checks in place to ensure that you don't suddenly wake up to an insanely high interest rate. The loan's terms will specify how often the rate can increase, as well as the maximum possible height that it can reach. If the lower initial interest rate of an ARM is tempting to you, just don't forget to check and ensure that you can actually pay the highest potential rate.
The average rate for a 5/1 ARM in Maine is 5.77% (Zillow, Jan. 2023).
Maine Mortgage Resources
Do you need assistance with the homebuying process in Maine? There are resources out there to help you in your mortgage process.
The Maine State Housing Authority's First Home Loan program helps first-time homebuyers afford a home in Maine. Advantage down payment and closing cost assistance can offer up to $3,500 for closing costs. The Purchase Plus Improvement option can help finance the purchase of a home and repairs with one loan - up to $35,000. The programs are open to first-time homebuyers, but household income limits apply.
Available Resources
| Resource | Problem or Issue | Who Qualifies |
| --- | --- | --- |
| Maine State Housing Authority First Home Loan | Provides low fixed rate mortgages with little or no down payment, closing cost assistance, money for repairs. | Household income limits apply; must be a first-time homebuyer. |
| USDA Rural Development - Single family loans | Offers payment assistance to increase an applicant's repayment ability. | Applicants must be without decent, safe and sanitary housing; Be unable to obtain a loan from other resources on terms and conditions that can reasonably be expected to meet; Agree to occupy the property as your primary residence; Have the legal capacity to incur a loan obligation; Meet citizenship or eligible noncitizen requirements; Not be suspended or debarred from participation in federal programs. |
The United States Department of Agriculture Rural Development offers a program in Maine that helps residents in rural communities secure safe and affordable housing. It's worth checking to see if you qualify for a USDA rural development loan or grant if you are in the market for a home or plan to repair your current home.
Maine Mortgage Taxes
Maine charges transfer taxes on real estate transactions. The transfer tax is $2.20 per $500, or 0.44%. In Maine transactions, the buyer and seller split this fee.
If you are a homeowner and you itemize your deductions when filing your federal income taxes, you are allowed to deduct the mortgage interest that you've paid that year from your taxable income. In Maine, since itemized deductions rules follow the federal rules closely, you can also deduct the mortgage interest from your state income taxes.
Maine Mortgage Refinance
Maine homeowners who want to refinance can no longer turn to the Home Affordable Refinance Program (HARP). However, Fannie Mae currently offers its own alternative, providing qualifying applicants access to interest and principal payment reductions as well as low closing costs.
See Mortgage Rates in These Other States
More About This Map
More from SmartAsset