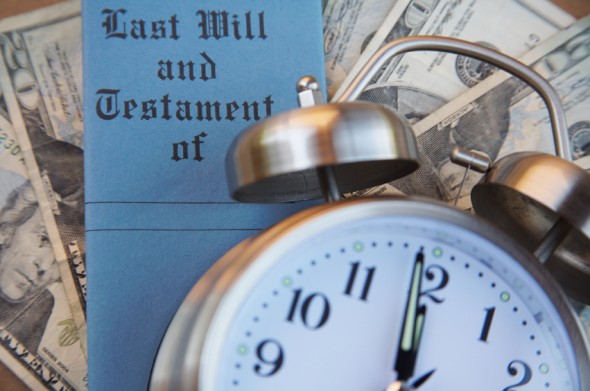 Are you financially prepared for death? SmartAsset has a few tips on how to avoid making some critical mistakes, and help you prepare for the inevitable.
Find out now: Do I need life insurance?
After Chuck, 63, lost his wife to cancer he took her name off their joint bank accounts. He didn't know that doing so would erase all the automatic bill paying information his wife had set up. Alexandra's husband died at age 57. Locked out of his email account, she couldn't even figure out how to notify all of his friends. And Chanel paid thousands of dollars in legal fees to straighten out her finances after her husband was killed on his bicycle at age 43, before they had a chance to properly execute a will.
When do you expect to die?
63… 57… 43… At what age will you die? What about your spouse? Most of us don't like to think about our own death or the death of our loved ones. Are you financially prepared for death? Or, are you like 57% of American adults who don't have a will? Financial disorganization in death can cause stress, frustration and even thousands of dollars in unnecessary costs to heirs. Probate and estate taxes, late fees when bills go unpaid and legal fees when you need help sorting it all out – some or all of these hurdles will suddenly emerge to be dealt with by the next-of-kin.
What you can do now
Write a will, and a living will. Your will stipulates who will carry out your wishes upon your death, who will receive a portion of your assets, who will care for your underage children and other details unique to your household. By power of attorney, you can assign different, trusted individuals various responsibilities. For example, the person who gains control of your finances may or may not be the same person who executes your will, or cares for your children. Your living will, or healthcare directive, specifies your wishes with regard to medical care and lifesaving measures in the event you are unable to make decisions for yourself.
Add your spouse's name to all assets. If you bought your home before you married, use a simple quitclaim form, filed with the county real estate records office, to add your spouse's name to the deed. Without it, your property will have to go through probate causing delays in the transfer and unnecessary costs. Be sure your spouse's name is on all bank accounts, stocks and bonds, and that he/she is the named beneficiary on all retirement accounts and insurance policies. Hiding assets runs the risk that the assets will disappear permanently upon your death.
Make a list of online account usernames and passwords. Use a secure storage site like SecureSafe to list all of the accounts you log into. Begin with any account related to money or assets, like bank and retirement accounts. Also include login information for email accounts, social networks, personal websites, utilities, cell phones and any shopping sites where you might have assets (like Groupon). Update your password list twice a year.
Prepay for your funeral. Death incurs a wide variety of costs. Your survivors could be faced with invoices for preparation for viewing, casket, urn, plot, transportation of remains, burial, cremation, memorial services, a reception, and more. Costs vary widely. Price out the funeral you want and either prepay for it or add that amount to your life insurance policy.
Consider insurance. Although disability insurance may be quite expensive, term life insurance is competitive. Add up all of your outstanding debt – your mortgage, car loan, credit card debt, student loan debt and so on – and add at least six months' living expenses plus funeral costs, and price out life insurance for the total amount. Term life insurance is designed to help survivors avoid out-of-control debt in the event of the sudden loss of one key person's income. Premiums generally go up with age and the length of the term.
Where to start
Start on GetYourShitTogether.org, founded by Chanel Reynolds, the wife who lost her husband to a bicycling accident at age 43. Chanel offers clean, simple starter templates and checklists that anyone can work with. Everplans offers more detailed advice on how to get organized, and also pointers to several online sites that can help with forms and legal services. LifeHappens.org offers helpful information related to life insurance.
Remember, creating the documents isn't enough. They must be properly executed and notarized, gathered, organized and properly stored someplace safe (like the attorney's office, safe deposit box, or fireproof safe in your home). And let a trusted person know where to look. Consult an estate planning attorney in your state to be sure your documents don't cause more problems than they solve. If you can afford to take a vacation this year, you can afford to ensure that these critical documents serve your interests and the wellbeing of your survivors.
Print out a checklist and tackle a little bit at a time. Start now.
Kimberly Rotter is a personal finance writer in San Diego, CA. She brings nearly 20 years of practical knowledge along with a solid post-graduate education in business and marketing. You can find more of her articles on Credit Card Insider.