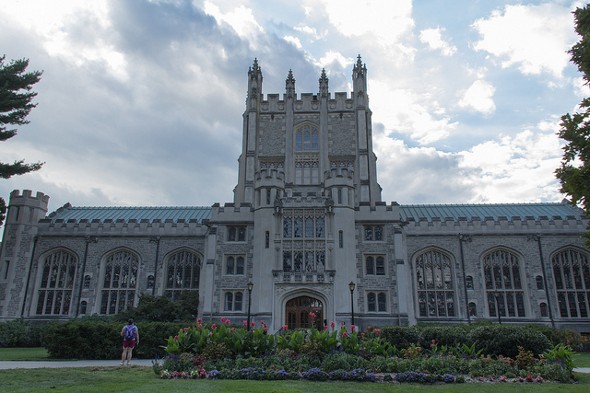 Colleges often provide a different social and academic experience than do universities, as they're typically smaller and more intimate. And since they're comprised of just one school (universities are comprised of multiple colleges), they tend to only cater to undergraduates. To that end, especially with many liberal arts colleges, emphasis is placed on teaching students how to think, rather than how to enter a specific industry.
Check out our student loan calculator.
For that reason, along with many others, some students opt to attend a small college instead of a bigger university. Just like with our Top 10 Universities list, we used an array of metrics that point to the quality of classes, the competitiveness of the college and how well students fare while in attendance to come up with our list of the 10 best colleges.
Data & Methodology
We compared American colleges over four criteria: student-to-faculty ratio, retention rate, acceptance rate and endowment size.*
We used student-to-faculty ratio to help us determine how small each class was and how easily students could speak with professors. The retention rate between freshman and sophomore year can serve as a proxy to the overall school experience (i.e. the better the experience, the more likely students will return for the second year). The acceptance rate shows the school's selectivity. Endowment size can indicate both alumni support and how much a college can provide towards financial aid, professor pay and campus renovations.
To find the top 10 colleges from this data, we ranked 50 of them by each factor. The lower the score the better. For example, the college with the lowest student-to-faculty ratio gets a 1 for that category. The college with the highest endowment, on the other hand, got the 1. We then totaled the rankings over each factor to come up with each school's total score. The lower the overall score, the higher the overall ranking.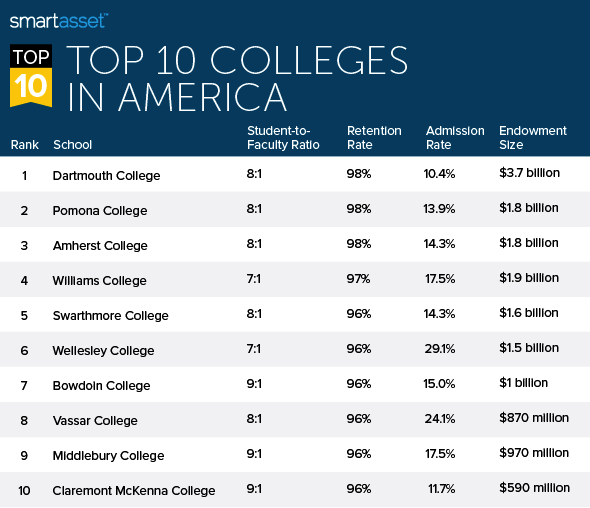 1. Dartmouth College
The only college in the Ivy League, Dartmouth is located in Hanover, New Hampshire, and about two-thirds of its more than 6,000 students are undergraduates. Sporting its trademark dark green, the team name is, unsurprisingly, the Big Green, and roughly a fifth of the school plays a varsity sport. Dartmouth accepts just 10 percent of applicants and has a student-to-faculty ratio of 8:1. Famous Dartmouth alumni include Robert Frost, Henry Paulson and Timothy Geithner.
2. Pomona College
Located in Claremont, California and founded in 1887, Pomona is part of the Claremont Colleges, a consortium of schools in Claremont, about 35 miles outside Los Angeles. Despite its being in California, the school was designed to function like a traditional northeast liberal arts college, emphasizing small class sizes and close work with professors. With a student-to-faculty ratio of 8:1 and an average class size of 15, the school does just that. Pomona offers 47 majors to its almost 1,600 students.
3. Amherst College
Founded in 1821, Amherst has always topped the lists of best liberal arts colleges in the country. Exclusively undergraduate, the Massachusetts school enrolls roughly 1,800 students over its four classes and has a student-to-faculty ratio of 8:1, as well as an average class size of 16. Though Amherst was only open to men until 1975, the gender split is now virtually even. Amherst has 38 majors and allows students to design their own courses of study if no one department suits them. Amherst also has an open curriculum, letting students take any class they want as long as they fulfill their major requirements.
4. Williams College
Located in Williamstown, Massachusetts, Williams typically enrolls 2,000 undergraduates and has a student-to-faculty ratio of 7:1. Students are quite active while on campus: more than a third play a varsity sport and 86% are involved in at least one form of extracurricular activity. Williams offers an unusual schedule of classes, having created two four-course semesters along with one one-course semester that runs in January. The school color is purple and its name is the Ephs, named for its founder, Ephraim Williams.
5. Swarthmore College
Swarthmore was founded in 1864 by Quakers just outside Philadelphia in the town from which it gets its name. The school occasionally ranks as the top liberal arts college in the country, and for good reason. The tiny college offers more than 40 courses of study and only seeks to allow the best of the best: 75% of students plan to enroll in graduate school shortly after college and nearly 20% of graduates go on to complete a doctoral program (the third highest rate in the nation).
6. Wellesley College
A women's liberal arts school in Wellesley, Massachusetts, Wellesley is consistently rated as one of the top small colleges in the country. Founded in 1870, the school has a student-to-faculty ratio of 7:1 for its roughly 2,200 students, and is an original member of the Seven Sisters schools. Notable alumnae include Hillary Rodham Clinton and Madeleine Albright.
7. Bowdoin College
Located in Brunswick, Maine, Bowdoin has a long list of distinguished alumni, including Alfred Kinsey, Henry Wadsworth Longfellow and Nathaniel Hawthorne. With just over 1,800 students, class sizes are typically small—71% have fewer than 20 students—and professors are plentiful, as the school boasts a 9:1 student to faculty ratio. In recent years, Bowdoin has steadily climbed the rankings of best liberal arts colleges in the country. Its acceptance rate is 15%.
8. Vassar College
Founded in 1861, Vassar didn't go coed until 1969. The Poughkeepsie, New York school regularly enrolls less than 2,500 students each year, and its team name is the Brewers, named for its founder, Matthew Vassar, who made his fortune as a brewer. Vassar's most striking feature on campus is the Thompson Memorial Library, which is routinely ranked as one of the best (and most beautiful) college libraries in the country. Famous alumnae include Meryl Streep, Lisa Kudrow and Edna St. Vincent Millay.
9. Middlebury College
Middlebury is the rare liberal arts college that also offers graduate degrees, most notably through its renowned writing program. Located in Middlebury, Vermont, the school was the first in the nation to grant a bachelor's degree to an African American, doing so in 1823 to Alexander Twilight. Middlebury was established in 1800 and regularly enrolls roughly 2,500 students over its four classes.
10. Claremont McKenna College
Like Pomona, Claremont McKenna is located in Claremont, California and part of the Claremont Colleges consortium. The school was founded in 1946 and has less than 1,300 students. The average class size is 18 and 85% of classes have less than 20 students. Claremont McKenna is extremely selective, admitting less than 12% of applicants.
Photo credit: flickr
_____________________________
*Data came from individual college websites, the latest edition of U.S. News & World Report and a study of institutions' financial worth done by the National Association of College and University Business Officers. Endowment figures are from the 2013 fiscal year, as that is the most recent year with consistent data.