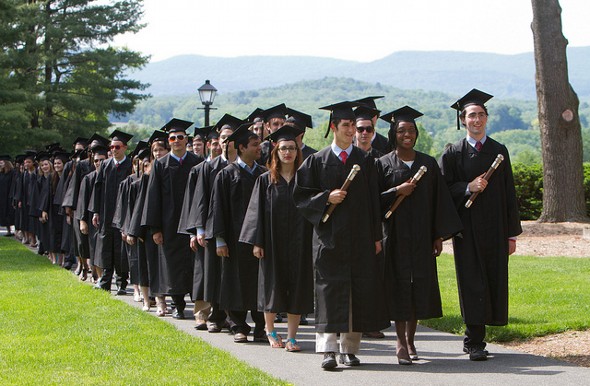 As the time for commencement rolls around, soon-to-be graduates of every stripe begin preparing for what's next. Leaving the college environment you've grown to know so well can be both exciting and intimidating. Luckily there are some things you can do before graduation day that can ease your transition into the real world.
Check out our student loan calculator.
Getting a Job
For most students, finding your first post-graduation job should begin before you step on stage to receive your diploma.
Cover Letters and Resumes: You may be the most gifted wordsmith to ever cross your university quad, but employment cover letters and resumes are a world unto themselves. Increasingly, the first reading of cover letters and resumes is being done digitally and algorithms are responsible for determining who makes the first cut. Your school's career services office can help you carefully craft a cover letter and resume that pass muster with machines and humans alike.
4 Common Job Search Mistakes New Grads Make
References: Other people's opinions of you are an important part of the employment process. Potential employers often ask for the names of three to five people who can vouch for your character, work ethic and integrity. References are especially important for first jobs because you usually don't have a professional track record to rely on. The best time to ask professors, advisers and supervisors if you can use them as a reference is while you are still fresh in their minds. Be sure to gather their preferred contact information, including their phone numbers and email and mailing addresses. It can even be a good idea to ask them to write a generic reference letter right then – you can either use this as needed or they can use it for a reference to write personalized recommendations later, when you are not as fresh in their mind.
Clothes: They say the clothes make the man or woman for a reason; the most important part of an interview is the first 15 seconds. First impressions are incredibly difficult to overcome, so dressing for success is essential. Looking like you're ready for a night on the town or a keg party is not likely to land you the job of your dreams even if your resume and references are flawless. It's important to shop for an outfit that is appropriate for your field of endeavor and remember that your objective is to get a job.
Interview Preparation: Interviewing can be grueling, especially when you have to troop from one cattle call to another and spend hours waiting for your turn to shine. Rehearsing for your interview with friends and family can help you remember your best answers even when fatigue settles in. Well-practiced answers are more likely to come out as smooth flowing responses that are free of umms, uhhs and uncomfortable silences.
How to Recover From a Job Interview Gone Wrong
Financial Obligations
Taking the summer off after graduation may sound like a great idea. After all, you worked hard and you deserve a break before you put your nose to the grindstone for the next 40 years. But it's important to bear in mind that your student loan obligations are going to start coming due six months after you graduate, whether you're delivering pizzas part-time or working on Wall Street. It's a good idea to find out what your loan payments will be so you can budget accordingly.
Photo credit: flickr