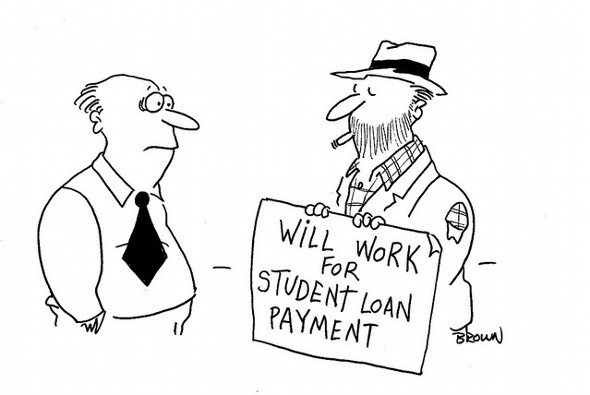 Student loan debt is on the rise, and much of the focus surrounding the crisis has been on how it's affecting the current wave of college grads, as students are leaving school with around $30,000 in education debt. While young adults have become the poster children for student loan debt, though, there are plenty of seniors who are still paying the price for their degree. In fact, the total debt load for Americans 65 and up ballooned from $2.8 billion in 2005 to $18.2 billion, as of 2013. The result is that many seniors are seeing their financial outlook become a little less rosy in retirement.
More Common Among Retirees
According to a survey from the Government Accountability Office, the number of senior citizen households with student loan debt tops 700,000. That's an increase of 3% between 2004 and 2010. That may not seem like much considering that nearly a quarter of households headed by people under 65 have outstanding student loans, but it's beginning to add up to a growing problem.
Roughly 80 percent of seniors' debt load is related to loans they took out for their own education. The other 20 percent stems from loans used to pay education costs for a spouse, child or grandchild. The report puts the estimated median amount owed for households headed by people 65 and older at $12,000, compared to a median of about $13,000 for those under 65.
Seniors More Likely to Default
While the percentage of seniors who still owe student loans isn't outrageously high, they tend to be more prone to default than any other age group. According to the GAO's report, a quarter of the loans held by people 65 to 74 are in default, and that figure increases to half for debtors who are 75 or older. By comparison, the default rate for borrowers 25 to 49 who took out federal student loans is just 12 percent. As a result, seniors are frequently finding themselves the target of aggressive collection actions.
Generally, when you go without paying your student loan for more than a year, the Department of Education can initiate collection proceedings. Depending on their situation, seniors could face wage garnishment if they're still working, or the seizure of their tax refunds. On top of that, the default shows up on your credit, which means your credit score may take a serious hit.
Social Security, Disability Benefits at Risk
Seniors who are receiving Social Security or disability benefits will likely see their payments reduced. In 2013, the Treasury Department collected approximately $150 billion in Social Security benefits from seniors who had fallen behind on their student loan payments. Currently, the government can hold back as much as 15 percent of your Social Security benefit, or the amount of your benefits that exceeds $750, whichever is less.
For seniors who depend on these benefits as their primary source of income, it can spell serious trouble. According to the Urban Institute, 52 percent of married seniors and 74 percent of unmarried retirees receive half or more of their income from Social Security. As of 2014, the average monthly Social Security benefit is right around $1,200. When you factor in the government eating up a 15-percent piece of the pie, it's easy to see the kind of deficit many seniors face if their benefits are garnished because of unpaid student loan debt.
No Relief in Sight
Despite several pieces of proposed legislation to resolve the mounting student debt crisis, Congress seems no closer to a resolution. Most recently, Republican senators blocked a vote on a bill that would allow for the refinancing of student loan debt. Sen. Elizabeth Warren (D-Mass.), who introduced the bill, has said she will continue to push the issue, but for now, progress has stalled. In the meantime, many seniors continue to struggle with the mounting financial pressure of their student loan burdens.
Update: Have more financial questions? SmartAsset can help. So many people reached out to us looking for tax and long-term financial planning help, we started our own matching service to help you find a financial advisor. The SmartAdvisor matching tool can help you find a person to work with to meet your needs. First you'll answer a series of questions about your situation and goals. Then the program will narrow down your options from thousands of advisors to up to three registered investment advisors who suit your needs. You can then read their profiles to learn more about them, interview them on the phone or in person and choose who to work with in the future. This allows you to find a good fit while the program does much of the hard work for you.
Photo credit: flickr