When you think "golf" do you think executives doing business on the links or wealthy retirees? If so, you might have a good reason for associating golf with money. The sport is big business, from the manicured courses to the televised competitions. Want to know more about the economics of golf? You're in the right place.
Who Golfs
Golf may have a reputation as a sport for older Americans, but the numbers tell a different story. According to a 2013 National Golf Foundation Survey, the demographics of golf break down as follows: 11% of golfers are members of the Silent Generation (born before 1946), 27% of golfers are Boomers (born 1946-1964), 27% of golfers are members of Generation X (born 1965-1979), 29% of golfers are members of Generation Y (1980-1999) and 6% of golfers are members of Generation Z (born after 1999).
What Golfers Spend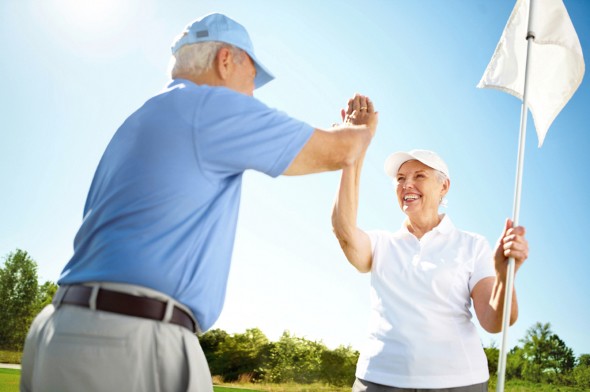 The same survey shows that Boomers spend an average of $1,908 on golf equipment, while members of Generations X and Y combined have an average equipment spend of $1,262. 25% of Boomers reported taking a golf trip in the previous year, while 9% of the Generations X and Y cohort said the same.
To get a sense of what a golf trip costs, take the readership of Links Magazine, a golf publication, as an example. According to a 2015 Links report, Links readers have an average annual spending on golf travel of $3,965, out of a total spending on all travel of $10,560. 52% of the Links readers surveyed said they planned to take between 4 and 9 golf trips in the next three years.
For the sake of comparison, consider the results of a Bureau of Labor Statistics Survey on U.S. travel spending between 2005 and 2011. For consumers who reported having spent money on travel, expenditures on travel for pleasure averaged $4,700 in 2011. Many Americans do not travel at all.
Check out our budget calculator.
Golf Spending, Then and Now
Even 100 years ago, people were writing articles about the cost of playing golf. A 1915 issue of The American Magazine listed the cost of the initiation fee at an exclusive golf club as $5,000. According to the SmartAsset inflation calculator, that's the equivalent of $116,166 in today's dollars. Seriously.
The 1915 article totaled typical costs for a year of golf including an initiation fee, annual dues, balls, clubs, car fare and caddie pay at $182.50. That's about $4,228 in today's dollars. Of course, minus the one-time initiation fee the average cost of a year of golf in 1915 would be about $120, or $2,788 in 2015 dollars.
Here's the crazy thing: A 2009 survey of the American golfer conducted by Golf Magazine found that the average golfer spent $2,776 per year on golf-related expenses. That means that, in real (aka inflation-adjusted) terms, the average golf spend in 2015 is not far off from the average spend in 1915.
According to The American Magazine, more money was spent on golf than on any other sport in 1915. The magazine marveled at the "130,000 acres of our most valuable soil" given over to the game of golf, "which has grown with such amazing rapidity that it has been hard to keep pace in the way of course building." As we'll see, the growth in golf has slowed somewhat since the heady days of 1915.
The Masters
For golf lovers, the Masters is a highlight of the year. According to Golf Digest, the Masters is expected to generate around $115 million in revenue this year, with a profit of nearly $30 million. That's more than five times the revenue the Masters pulled in 1997.
Want a badge that will get you in to all four competitive rounds of the 2015 Masters? You'll pay $325, though prices reach into the thousands for tickets on the secondary market.
The PGA Championship
The winner of the 2015 PGA Championship, Jason Day, got $1.8 million in prize money. But he wasn't the only one to get an income boost from the championship. Even the person who finished 77th took home $17,300. Here's what the top 20 finishers got for their trouble:
1st: $1,800,000
2nd: $1,080,000
3rd: $680,000
4th: $480,000
5th: $400,000
6th: $335,000
7th: $313,000
8th: $293,000
9th: $273,000
10th: $253,000
11th: $233,000
12th: 213,000
13th: $198,000
14th: $184,000
15th: $172,000
16th: $160,000
17th: $148,000
18th: $136,000
19th: $126,000
20th: $116,000
When one of the major golf championships increases its "purse" (the total amount of prize money given away to the players who place), the other tournaments tend to follow suit. In 2015, the British Open purse increased from $9.19 million the year before to to $10 million. Why? Because the PGA Championship and Players Championship both bumped their purses up to $10 million in 2014 and awarded the championship winner $1.8 million. So, in 2015, the Masters, the U.S. Open and the British Open all increased to $10 million purses.
Golf Revenue
According to research group SRI International, the "golf economy" in the U.S. generated $68.8 billion of goods and services in 2011. Back in pre-Recession 2001, that number was $75.9 billion. Still, SRI estimated that golf generated a total economic impact of $176.8 billion in 2011. Furthermore, according to the report, golf supported approximately 1.98 million jobs, putting $55.6 billion of wages into American pockets. Not bad.
Golfing and the Housing Industry
Those who love golf usually want to live as close to a golf course as possible. This has a measurable impact on the housing market in the U.S. SRI estimates that 19,152 new golf community homes were constructed in 2011, with total golf residential construction spending of $3.1 billion. Homes in golf communities tend to be larger and pricier than the average property. This means they cost more to build – and that's good news for the construction sector.
The SRI report also estimates that sales of existing homes in golf communities "generated $1.6 billion in increased real estate value or premium (the premium is the additional amount a buyer is willing to pay for a home or property located on a golf course or within a golf community)." In other words, living on or near a golf course is good for property values, which increases the net worth of those homeowners.
Golf's Millionaires
Being a successful professional golfer can be highly lucrative. According to Golf Digest, golf's biggest names together earn more than $400 million in off-course sponsorship deals. Golf Digest publishes an annual list of the highest earners in the sport. Despite scandal and injury, Tiger Woods is still at the top. On-course, he made "just" $610,775 in 2014, but off-course he netted $54,500,000, for a total of $55,110,775.
Golf legend Arnold Palmer made the #4 spot on the Golf Digest list. The 85 year-old isn't earning money from playing rounds anymore but he netted $40,000,000 in off-course sponsorship deals in 2014. The man can sell product.
In general, golf stars tend to more or less follow the 90/10 rule. 90% of their earnings come from off-course deals, while only 10% come from golf winnings. For example, Tiger Woods' golf winnings come to just 12% of his total career earnings as a golfer.
Golf Facilities
According to the National Golf Foundation (NGF), the country is experiencing a contraction in its golf facilities. An NGF study found that there are 34,011 golf courses in the world, 45 percent of which are in the United States. The U.S. currently has a total of 15,372 courses, with 153 more in development. Still, the number of new golf courses coming on line is at an all-time low.
One reason for this may have to do with the expense of running golf facilities. According to information company Sageworks, golf courses and country clubs are losing money. This may have to do with high membership and admission prices, as well as an over-supply of courses. But it also reflects the fact that running a golf course is expensive. According to the National Golf Foundation's 2010 Operating & Financial Performance Profiles of 18-hole golf facilities in the U.S., private 18-hole golf clubs had average total revenue of $3,277,000 in 2009, but with total expenses of $3,204,500.
Driving Ranges
Technically, driving ranges fall under the heading of "alternative golf" because they're not golf courses. But driving ranges can be a great way for fans of the sport to get in some swings without having to hit the green. In fact, there are people who visit driving ranges who have never played a traditional round of golf and might never do so.
One example of the driving range economy is Topgolf, which runs 20 driving range facilities in the U.S. A Topgolf executive told the New York Times in 2011 that Topgolf facilities averaged 200,000 visitors a year. At the time, Topgolf had four U.S. facilities. Each visitor typically spent $35 per visit.
But the Dallas-based Topgolf has grown considerably. In 2013 it celebrated it 10 millionth member. In 2014 alone, Topgolf welcomed four million visitors. Their multi-million-dollar facilities come with waiter-served food and alcohol service, too.
Is golf in trouble?
Golf as a sport may retain its associations with big money, impeccably manicured courses and pricey equipment, but golf seems to be struggling financially. According to Pellucid, the number of U.S. golfers is down 24% from its 2002 peak. The Pellucid report found that in 2013 alone, golf lost 1.1 million players.
To play 18 holes of golf, or even 9, you need plenty of time and Americans are time-scarce. According to the 2014 Bureau of Labor Statistics Time Use Survey, the average American male spends 0.44 hours participating in sports, exercise and recreation on weekends and holidays. That drops to 0.36 hours on weekdays. Women spend an average of 0.23 hours participating in sports, exercise and recreation on weekends and holidays, and just 0.20 hours on weekdays. Now consider that a traditional 18-hole round of golf can take around four hours.
Bottom Line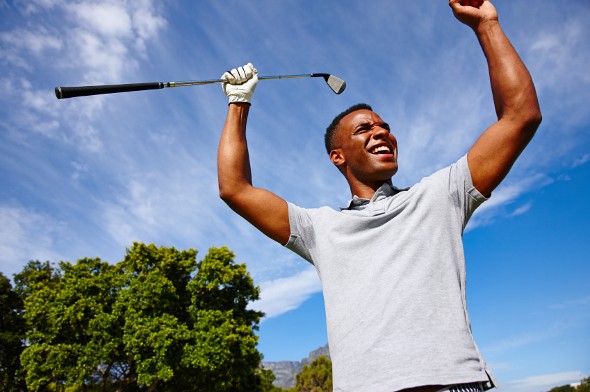 If your dreams of retirement involve hours spent on the green, don't panic. Golf should be around for a while and there are always courses in other countries you can visit if you get tired of the options here at home. If you're on a budget and want to save money on golf equipment, consider buying second-hand equipment and playing on public, municipal courses. Golf doesn't have to be about luxury – it can be about getting out in the fresh air and getting a little exercise.
To ensure you're setting yourself up for the golf retirement you're dreaming of, consider working with a financial advisor. The SmartAsset matching tool can help you find a person to work with to meet your needs. First you'll answer a series of questions about your situation and your goals. Then the program narrows down your options from thousands of advisors to three fiduciaries who suit your needs. You can then read their profiles to learn more about them, interview them on the phone or in person and choose who to work with in the future. This allows you to find a good fit while the program does much of the hard work for you.
Photo credit: ©iStock.com/Andrew Rich, ©iStock.com/GlobalStock, ©iStock.com/laflor