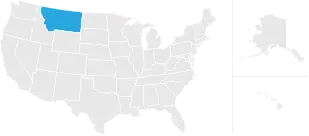 Overview of Montana Retirement Tax Friendliness
Montana taxes most forms of retirement income, while taxing a portion of Social Security benefits for retirees above a certain income level. Property taxes in Montana are fairly low, and there are no sales taxes there.
To find a financial advisor who serves your area, try our free online matching tool.
Enter your financial details to calculate your taxes
Annual Social Security Income

Dismiss

Annual Retirement Account Income

Dismiss

Annual Wages

Dismiss

Dismiss

Year of Birth

Dismiss

Filing Status
Add Pension

Annual Income from Private Pension

Dismiss

Annual Income from Public Pension

Dismiss
You will pay

of Montana state taxes on your pre-tax income of
Quick Guide to Retirement Income Taxes
is toward retirees.
Social Security income is taxed.
Withdrawals from retirement accounts are taxed.
Wages are taxed at normal rates, and your marginal state tax rate is %.
Save more with these rates that beat the National Average
Share Your Feedback
How would you rate your experience using SmartAsset's financial advisor matching service so far?
What is the most important reason for that score? (optional)
Please limit your response to 150 characters or less.
Thank you for your answer! Your feedback is very important to us.
Montana Retirement Taxes
Montana has the third-lowest population density of any state in the country, but it's crowded with breathtaking scenery. From Glacier National Park to the headwaters of the Missouri River, Montana is the perfect place for seniors who want to spend their golden years surrounded by natural splendor.
Unlike its landscape, Montana's tax system may disappoint some seniors. That's because it heavily taxes most forms of retirement income, while taxing a portion of Social Security benefits for retirees above a certain income level.
A financial advisor in Montana can help you plan for retirement and other financial goals. Financial advisors can also help with investing and financial planning - including taxes, homeownership, insurance and estate planning - to make sure you are preparing for the future.
Is Montana tax-friendly for retirees?
Montana is moderately tax-friendly for retirees. Depending on your specific financial circumstances, you may find it very friendly or very unfriendly. For starters, the state has no sales tax, which lowers living costs for everyone. It also has relatively low property taxes.
On the other hand, many retirees pay taxes on Social Security retirement benefits, which is fully exempt in most other states. Likewise, Montana provides very limited exemptions for retirement income from pensions or retirement accounts.
Is Social Security taxable in Montana?
Social Security is taxable in Montana, but there is a deduction available for taxpayers below a certain income level. For single filers with an adjusted gross income (AGI) of less than $25,000 and joint filers with an AGI of less $32,000, all Social Security retirement income is deductible.
For taxpayers above those limits, but below $34,000 for single filers or $44,000 for joint filers, half of Social Security retirement income is deductible. Above these secondary limits, only 15% is deductible.
Are other forms of retirement income taxable in Montana?
Income from a pension or retirement account, like a 401(k) or IRA, is treated as regular income and taxed at Montana's state income tax rates. There is, however, an exemption available for these taxes if you're a single filer with a federal AGI below $38,900 or a joint filer with a federal AGI below $41,100. If your AGI comes in below your respective requirement, then up to $4,400 of your retirement account income is exempt from state taxes.
Income Tax Brackets
All Filers
Montana Taxable Income
Rate
$0 - $3,100
1.00%
$3,100 - $5,500
2.00%
$5,500 - $8,400
3.00%
$8,400 - $11,300
4.00%
$11,300 - $14,500
5.00%
$14,500 - $18,700
6.00%
$18,700+
6.90%
How high are property taxes in Montana?
Property taxes in Montana are fairly low. The state provides an exemption on all residential property that greatly reduces the property tax burden of residential homeowners.
The average effective property tax rate paid by homeowners is 0.83% across the state. That's equal to $830 in property taxes for every $100,000 in home value. It's important to note, however, that this will vary based on where in the state you live.
What is the Montana elderly homeowner tax credit?
Montana homeowners who are at least 62 years old can apply for a tax credit on their property taxes. To be eligible, they must pay the property taxes for a home they occupy or rent. Total household income must be less than $45,000 to receive the full credit amount.
The Elderly Homeowner Credit is worth a maximum of $1,000. Claimants with household income of between $35,000 and $45,000 will receive between 10% and 40% of the full credit. The credit may also be less than $1,000 if your property taxes paid were below a certain level.
How high are sales taxes in Montana?
There is no sales tax in Montana. In other words, retirees can do all of their Montana shopping tax-free.
What other Montana taxes should I be concerned about?
Capital gains are taxed as income in Montana, though taxpayers are allowed to receive a credit of 2% of net capital gains. If you have investments with which you plan to supplement your income in retirement, keep in mind that you will pay state income taxes when you sell those investments.
Calculate Your Retirement Taxes in These Other States