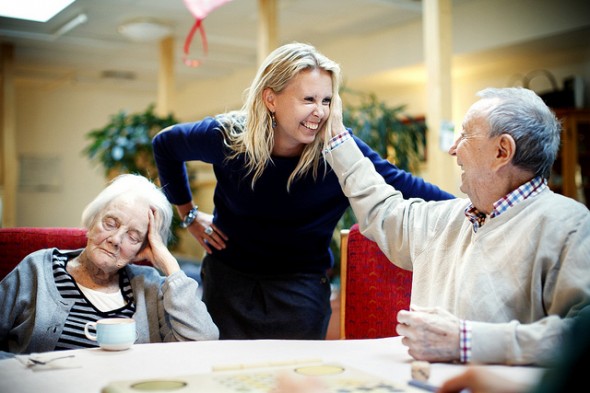 Getting older means making some important decisions with regard to your lifestyle. This includes where you plan to live. Retirement homes and assisted living facilities offer seniors a measure of independence while providing certain care and amenities. But they're not right for everyone. Senior housing cooperatives are quickly gaining popularity as an alternative for retirees who are looking for housing with a community feel.
Find out now: How much life insurance do I need?
The first senior housing co-op sprang up in Edina, Minnesota in 1978. Since then the number of cooperatives has expanded, primarily in the Midwest. Of the estimated 103 senior co-ops nationwide, more than 90 are located in Minnesota and Iowa. Minnesota, in particular, boasts the lion's share. This is largely attributed to it being a co-op friendly state.
What is Cooperative Housing?
Cooperative housing offers seniors independent living with a twist. Depending on the co-op, residents may live in an apartment building or a private housing development. All of the residents own the cooperative together, meaning they share in the tax and financial benefits of ownership. They also have an equal say when it comes to community decision-making. Each member of the co-op is responsible for paying monthly dues. The dues can be used to pay for things like landscaping, maintenance and nursing care services.
From a social aspect, the co-ops are designed to bring residents together. Many feature community rooms, activity buildings, gardens and parks which make it easier for seniors to connect. The co-ops also typically offer convenient access to nearby shopping, restaurants and entertainment. Because the co-ops are exclusive to seniors, residents don't have to worry about rowdy college students or other troublesome neighbors moving in next door.
Financing this Retirement Living
In terms of the financial benefits, co-op members get the same perks as a traditional homeowner. They can claim deductions for property taxes and mortgage interest. This is true even though they own shares in the property, rather than the property itself. The value of each member's shares appreciates annually, based on a percentage established by the co-op. If a resident decides to sell their shares, they don't have to worry about paying commissions or appraisal fees. They'll get back what they originally purchased their shares for, plus the appreciation.
The price of co-op living varies widely, depending on where you decide to put down roots. Some co-ops charge higher prices to purchase shares but lower monthly dues. Others do the exact opposite. Some communities also offer a mix of payment options. For example, seniors who are looking to move into the Applewood Pointe co-op in Bloomington, Minnesota can pay anywhere from $502 to $1468 per month, based on what purchase price they choose for their shares.
Restrictive Rules
In terms of the downsides of cooperative housing, there are relatively few. For example, some communities may impose restrictions on things like smoking and pets. With co-ops increasing in popularity, many now have lengthy waiting lists. Co-op living can also complicate things if a resident dies or becomes ill and needs to be moved to a nursing care facility. Typically, the resident's family members will have to continue paying their monthly dues until the shares are sold.
For seniors who are looking to downsize without sacrificing their lifestyle, the perks of cooperative housing can far outweigh the potential drawbacks. With a larger number of Baby Boomers hitting retirement age and seniors continuing to live longer, it seems likely that the cooperative housing trend will continue to pick up steam.
Tips for Getting Retirement Ready
Figure out how much you'll need to save to retire comfortably. An easy way to get ahead on saving for retirement is by taking advantage of employer 401(k) matching.
Work with a financial advisor. According to industry experts, people who work with a financial advisor are twice as likely to be on track to meet their retirement goals. A matching tool like SmartAsset's SmartAdvisor can help you find a person to work with to meet your needs. First you'll answer a series of questions about your situation and goals. Then the program will narrow down your options from thousands of advisors to up to three registered investment advisors who suit your needs. You can then read their profiles to learn more about them, interview them on the phone or in person and choose who to work with in the future. This allows you to find a good fit while the program does much of the hard work for you.
Photo Credit: Harabergsmannen