Across the country, State Treasuries are holding billions of dollars in unclaimed property, assets like orphaned 401(k) accounts or payroll checks that never made it to their rightful owners. Every single state has an unclaimed property law that requires the treasury (or in some cases the controller or comptroller) to seek out the rightful owners of such property. As part of SmartAsset's ongoing investigation into the numbers behind unclaimed property, we wanted to take a look at unclaimed property on a local level. Specifically, we found the U.S. Counties with the highest totals of unclaimed funds owed to residents.
Thinking about retirement? Try SmartAsset's free 401(k) calculator.
Data & Methodology
While every state maintains a list of names and addresses associated with each unclaimed property account (which enables individuals to search for their property), very few states make general data about their unclaimed property funds available. In fact, our research turned up just four states—New York, Illinois, Iowa and Louisiana—that list county (or parish) level data on their unclaimed property funds.
Therefore, to generate a full list of county-level unclaimed property totals, we needed to fill in the gaps in the data. To do so, we developed a model to project county-level unclaimed property totals based on the following three factors:
Population.
Proportion of population age 60 and over.
Mean income.
In the states for which county-level unclaimed property data is available, all three of these factors are strongly correlated with unclaimed property totals, and our model was able to accurately describe 85% percent of the variation in those states. We applied that model to population and income data for the rest of the counties in the country to find the top counties for unclaimed property.
Find out now: How much house can I afford?
The results, below, should be interpreted as an approximation of the actual value of unclaimed property that may be owed to county residents. Since there is quite a bit of variability inherent in unclaimed property, even a very robust projection will be imperfect. Each state has its own rules regarding the collection and dispersion of unclaimed property, and the amount of energy a particular treasury department puts into collection or outreach can have a significant impact on unclaimed property fund balances. Nevertheless, as our projections demonstrate, there are huge amounts of unclaimed property owed to the residents of many U.S. Counties.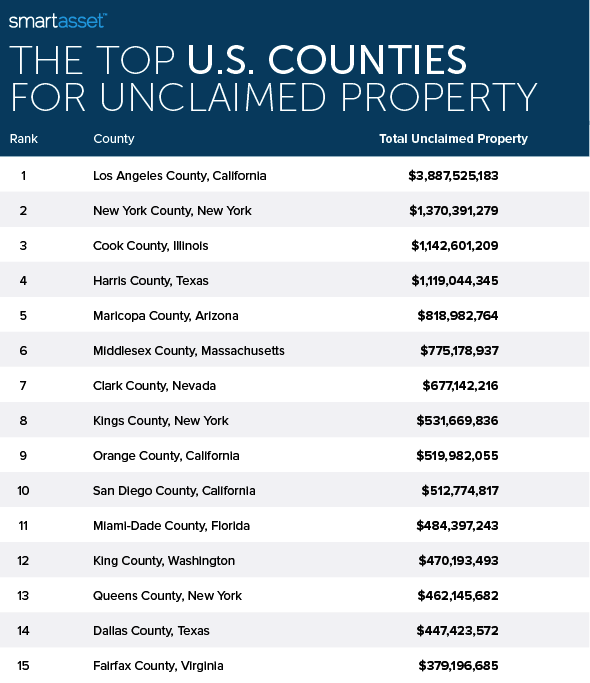 Los Angeles County, California
With just over 10 million residents, Los Angeles County is the most populous in the country. According to our projections, the State of California is holding nearly $4 billion in unclaimed property owed to L.A. County Residents—that's enough to buy nearly 6,000 L.A. County Homes. (The U.S. Census Bureau lists the median home value in Los Angeles County at $654,800.) If you or a relative have ever lived in Los Angeles, we suggest you do a quick online search for unclaimed property – information on how to do so is below.
Moving to L.A.? Compare mortgage rates here.
New York County, New York
Coterminous with the New York City borough of Manhattan, New York County is one of the nation's wealthiest. According to the U.S. Census Bureau, the average income in New York County was $115,145. That, combined with an especially high concentration of banks and other financial institutions, has contributed to the huge sum of unclaimed money in New York County: $1.37 billion, as of December 2014, in a county of 1.6 million residents.
Cook County, Illinois
The second most populous county in the country, Cook County contains the economic capital of the Midwest, Chicago. According to the Illinois State Treasurer, there is $1.14 billion in unclaimed property listed under Cook County addresses, and 2.7 million claims on that property. That adds up to over $400 dollars per claim.
Harris County, Texas
Encompassing Houston and several of the surrounding suburbs, Harris County is the largest in the state of Texas. According to our projections there is about $1.12 billion in unclaimed money owed to Harris County residents in the Texas State Treasury's coffers. That's almost enough to buy the Houston Rockets and Houston Astros, which have a combined value of about $1.3 billion, according to the Forbes team valuations rankings.
Maricopa County, Arizona
Maricopa is Arizona's largest county, containing major cities including Phoenix, Mesa, Scottsdale and Glendale. It is the wealthiest county in the state, with an average income of over $57,000. By our calculation, the county's residents may have claims on some $818 million in unclaimed property.
Middlesex County, Massachusetts
With just over 1.5 million residents, Middlesex is the least populous of any county in the top 10 for unclaimed property. We found that the county's residents have claims on around $775 million dollars, over $500 per person. That's enough to buy 183 gallons of gas at a typical filling station in Lowell, the largest city in the county.
Clark County, Nevada
While millions of Americans have lost money in Clark County over the past few years, most of that was spent at one of Las Vegas's casinos. Nonetheless, there is plenty of unclaimed money on the table (so to speak) in Clark County: $677 million, according to our projections. That's four times the amount taken from the Bellagio Casino by George Clooney and company in Ocean's Eleven.
Kings County, New York
The second New York City borough in the top ten for unclaimed property, Kings County (also known as Brooklyn), has $531 million in unclaimed property held by the state of New York. The state lists 956,956 accounts with claims on that money, meaning that on average, each one is worth about $556.
Orange County, California
Orange County, which includes the cities of Anaheim, Irvine and Santa Ana, has a population of about 3.11 million, making it the sixth most populous in the country. According to our projections, the State of California may be holding $519 million in unclaimed money for Orange County residents, enough to pay the rent on an average two bedroom Orange County apartment for the next 26,357 years—or, conversely, to pay one year's rent on 26,357 Orange County apartments. (According to the Department of Housing and Urban Development, the average monthly rent for a two bedroom apartment in Orange County is $1,644.)
Find out now: Is it better to buy or rent?
San Diego County, California
The county with the tenth highest total of unclaimed property is California's San Diego County. We found the value of unclaimed property in San Diego County to be $512 million. According to the California Controller's records, among the claimants on that hefty is sum is one Philip Rivers, quarterback for the San Diego Chargers. (Although, given that he will make $15.75 million this year, he may not need the extra cash.)
Miami-Dade County, Florida
One of Miami's most famous residents is also a potential unclaimed property claimant. According to Florida's Bureau of Unclaimed Property, Dwayne Wade has an unclaimed property account with the state. In all, we found that the sum of unclaimed property in Miami-Dade County may exceed $480 million, roughly 7 times the entire payroll of the Miami Heat this season.
King County, Washington
King County stretches west from Vashon Island in the Puget Sound, all the way to the crest of the Cascade Mountains, encompassing Seattle and other nearby cities including Bellevue, Redmond and Federal Way. Over the past several decades, thanks to the emergence of companies like Microsoft and Amazon, the King County economy has become increasingly tech-based, and regional income has gone up: according to the 2013 U.S. Census Bureau, the average income in King County was $75,914. That means there's that much more money to go unclaimed: we found that King County residents may have $470 each in unclaimed property held by the State of Washington.
Queens County, New York
Queens is the third New York City borough with a top 15 total of unclaimed funds, behind Manhattan and Brooklyn. According to the New York State Comptroller's office, there are 938,046 unclaimed property accounts for Queens County, meaning that the average value for an account is about $493.
Dallas County, Texas
The $447 million in Dallas County unclaimed property may seem like a lot of money to some of us, but to at least one potential claimant, that's a pittance. SmartAsset found that the state of Texas is holding unclaimed property for Mark Cuban, owner of the Dallas Mavericks, star of the TV series Shark Tank and multi-billionaire entrepreneur. Though, if he doesn't want to claim his money, there are probably plenty of others in Dallas who would be happy to claim it for him.
Fairfax County, Virginia
Just west of Washington, D.C., Fairfax County is least populous county with a top-15 unclaimed property total, according to our model. It is also one of the wealthiest. With an average income of over $92,000, Fairfax County is behind only Manhattan on this list.
How to Make a Claim
The National Association of Unclaimed Property Administrators operates a free, national search tool at MissingMoney.org, which is very easy to use. That's a good place to start, but not every state or county is included in the national search, so if that doesn't turn up any results, you may want to try the websites of any states in which you have lived. Most states have an online search tool associated with their state treasury department or their comptroller. When searching for your unclaimed property, be wary of scams. You should never have to pay any kind of fee or charge to find your property.
Photo credit: flickr