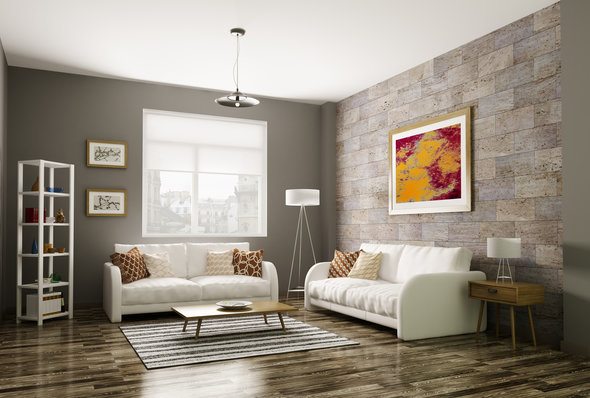 A bare bones apartment is the ultimate blank canvas for creativity. But unless you're a skilled designer or interior decorator, putting together an attractive, comfortable home — and ensuring it all works together — can be daunting. SmartAsset has compiled some price-savvy design ideas to help you create the ideal living space.
Check out our budget calculator.
A Carpet or Rug Adds Texture
Bare floors are nice because they show off the architectural features of an apartment — especially if it is hardwood. But adding carpets and area rugs will instantly add warmth, color and texture to your home. Smaller area rugs can be purchased for about $100 a piece at Lowe's and IKEA. Larger, more extravagant floor-covering items can be tons more expensive, but there are thrifty ways to obtain them. Visit garage sales and estate liquidations to find carpets in various states of wear-and-tear, at reduced prices. Carpet warehouses sometimes offer free or cheap rug remnant pieces.
A Fresh Coat of Paint Will Bring Your Room to Life
Primary colors are a great place to start when painting your apartment or home. If you have a small room, don't use dark colors, it will create the impression of an enclosed, claustrophobic space. Consider using light, bold color combinations instead. Avoid using tones that don't match, or clash.
Soft, contrasting paint colors arranged together can create a sense of movement and excitement in any room. Utilize painters tape in order to create sharp edges, shapes and lines. Vertical lines tricks the eyes and gives the impression that a room has more height. Meanwhile, horizontal lines make a room appear wider. Light ceiling colors combined with dark floors create the impression of expansiveness.
Personalize Your Dwelling With Accessories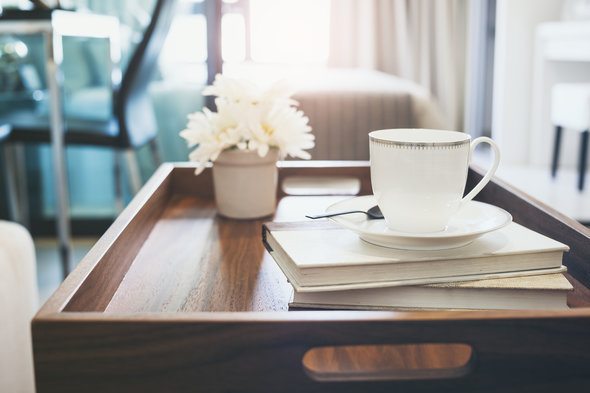 To ensure your home fits your unique traits and personality, integrate accessories that correspond with your interests. Accent throw pillows are great, especially if they are in your favorite colors. Photo frames that capture memories of your life experiences are great for display on tables and shelves. Bring elements from nature in, such as branches, coral, shellfish, even antlers. Use bowls and trays as catchalls. Glass vases are inexpensive and can be filled with colorful items for added design. As long as you can maintain them, plants enliven the setting even more.
Related Article: Decorating on a Budget: 8 Simple Ways to Use What You Already Have
Vertical Space Is Great for Storage and Display
Wherever you have vertical space, consider hanging shelves on the wall. For more dramatic effect, place a bookshelf along a bare wall. You can easily fill it with books, accessories, artistic pieces, etc. Consider covering some bookshelf panels with cloth and utilizing them for storage. This will enhance the look, feel and functionality of the book case. Consider painting the back panels of the book shelf a deeper shade than the color of your room.
Window Treatments Add Privacy and Character to the Room
Accent your windows with curtains and sheers. Don't overwork it, since this will make your room appear gaudy and overworked. Simplicity is the key here, as you want the windows to blend in with the rest of the room. Select window treatments that let some light in, while filling the entire window frames.
Fabrics should be light and flowing. Sheer drapes are less expensive than curtains. While obstructing the view of what's inside, sheers allow more light into the room.
Secondhand Furniture Provides Distinct Décor for Less
In order to save money on furnishing, including ottomans, armchairs and end tables, consider going secondhand. Keep in mind: there are some things you should not purchase secondhand, such as mattresses. That said, keep a watchful eye on the quality and build of those things you will be purchasing. Once its bought, it can't be returned.
When investing in a secondhand sofa or chair, remove all cushions and carefully inspect prior to purchasing. Scan for any unsightly stains. Give the furniture a big whiff to make sure there are no offensive, ingrained odors. Apply pressure and check for the sturdiness of the springs.
Shake a table to make sure it is stable and doesn't collapse easily. Ensure mechanical furniture is fully functional. For instance, sit in a recliner and recline fully; repeat several times. Plug in lamps and electronics to make sure they work. The same goes for any item with compartments and doors. Make sure each moving part opens and closes correctly. Check for overall comfort and durability. If you deem that there are some defects but you would still like to own it, bring up these details to the seller and negotiate a more favorable price.
Deck the Walls With Cool Images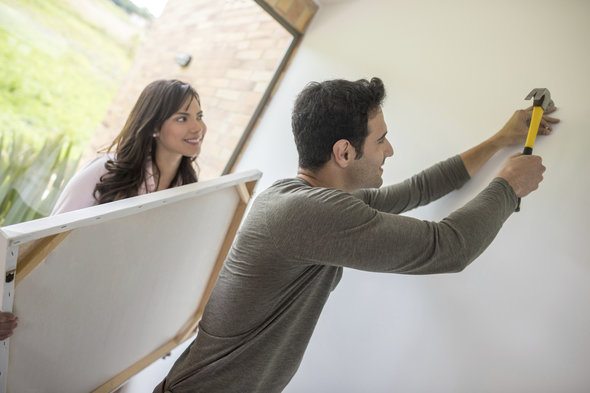 Nowadays, you can easily find stock images online and download them for free. From there, get them printed to decorate your wall. Just make sure the quality of the image file, measured in pixels per inch, is good enough to ensure a decent print at the desired size dimensions. For smaller spaces, use big prints. Smaller prints look chaotic.
Similarly, people can do their own textile wallpaper printing. Whether you're a graphic designer or not, you can enlist the help of Photoshop and Illustrator — or free online image editors such as Gimp, Photobie or Pixlr — in order to craft a personalized design. Once you've completed the artwork, play around with how the image will repeat across the wallpaper —also called step-and-repeat — to determine how the pattern will look. Spoonflower has streamlined the custom fabric and wallpaper printing process, and will walk you through it for a fee.
There are yet other options for obtaining artwork for your apartment walls. Tap into the talents of your artist and graphic designer friends to obtain original pieces. Visit local flea markets, arts and crafts fairs and street vendors to discover unique works of art. Scour the Web for information about emerging artists, who will sell some of their creations at lower prices.
Related Article: How to Decorate a College Dorm Room on a Budget
Some Final Hints and Tips
Mirrors Offer Versatile Design Solutions: Mirrors create the illusion that a room is bigger.They can also brighten things up by reflecting light around the room. Grouping mirrors together is an inexpensive alternative to more expensive, larger mirrors.
Consider Government Auctions: GovDeals – A Liquidity Services Marketplace is a great place to start. There, you can browse surplus and confiscated items available for purchase online. They have a number of categories — from artwork, to linens, to lighting fixtures — listed in alphabetical order.
Check With Your Landlord Before Changing Anything: Whether it's painting, hanging wall art or adding molding to the room, make sure to ask your landlord first. Most of the time, they will allow you to make some modifications, as long as you return it to its original condition before you leave.
Photo credits: ©iStock.com/Scovad, ©iStock.com/TeerawatWinyarat, ©iStock.com/andresr