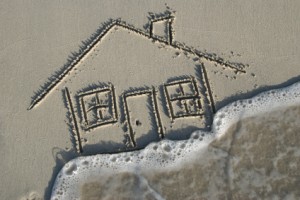 You found your dream home. You even made an offer that the seller has accepted. Before you close your home loan, you must take one more step: You need to purchase homeowners insurance.
Find out now: Who pays for closing costs?
Mortgage lenders won't provide you with a home loan if you don't first take out a homeowners insurance policy. Taking out such a policy makes sense even if you are one of the lucky few who are able to purchase a home with cash. Homeowners insurance can cover the replacement or renovation of your home should it be damaged or destroyed by fire, smoke, lightning, wind, hail, frozen plumbing, theft and vandalism. It will also cover the replacement costs of valuables inside your home should they be stolen or damaged.
Unfortunately, homeowners insurance isn't cheap, especially if you're already shelling out money to buy and furnish a new home. Homeowners insurance costs vary widely by state. If you're purchasing homeowners insurance in Oklahoma — a state plagued by high winds and tornadoes — you'll pay an average of $1,572 a year, tops in the country. If you're buying a home in Idaho, though, you'll pay little more than $400 a year for your homeowners insurance policy.
Fortunately, there are steps you can take to reduce the amount of money you pay each year for homeowners insurance. Some steps are obvious — shop around until you can find the lowest policy price — while others are more surprising. Did you know that homeowners often pay less for homeowners insurance if they don't smoke?
You Better Shop Around
Let's start with the shopping part. You might be tempted to call the first insurance company in the phone book to order your homeowners insurance policy. After all, you're buying a home, so you're undoubtedly already swamped with purchases, policies and negotiations.
Shopping around, however, is the key to finding not only the best-priced homeowners insurance, but also the policy that best fits your needs. Thanks to the Internet, shopping around is actually an easy task.
In the past, you had to call several insurance agents, give them your basic information and wait for a quote. You could spend all day doing this until you finally had enough quotes to compare. Today, though, you can visit sites such as Insurance.com and insweb.com to compare rates quickly.
Be sure before signing up with any insurance company, though, that you determine they are licensed to do business in your state.
Save a Bundle
There are other ways to save money. One of the most effective? Bundle policies. Bundling is when you take out more than one insurance policy with the same company (it's like installing a fireproof security safe at home). For instance, you might take out life insurance, auto insurance and homeowners insurance policies with the same company. Doing so usually results in a discount.
In its 2011 U.S. National Auto Insurance Study, J.D. Power and Associates found 58% of customers bundled their auto and homeowners insurance policies with the same company—these are wise customers. In 2011, Insure.com quoted an Allstate spokesperson, who said that customers with the insurance giant saved up to 30% on policy costs when bundling their homeowners and auto insurance. According to the same spokesperson, customers who added a third policy to their bundle saved as much as 35% on their insurance costs.
Be a Discount Shopper
Discounts are the best way to save money on homeowners insurance. Insurers provide discounts to homeowners who have smoke and fire alarms and to those who install storm shutters and wind-resistant roofing materials. You might even qualify for a discount if you kick your smoking habit. The way insurers see it, you're less likely to start your house on fire if you don't walk around it with lit cigarettes.
These discounts vary. The Electronic Security Association in 2011 surveyed the country's 10 largest insurers and found that they offered discounts of up to 20% for homes equipped with home-security systems. This makes sense: The Electronic Security Association quoted a study from Temple University finding homes protected by security systems are more than 60% less likely to be burgled than are those without such systems.
The best way to find out what discounts you might nab is to ask insurance companies. Saving money on homeowners insurance might take a bit of research. But the savings you can earn will make this homework worthwhile.