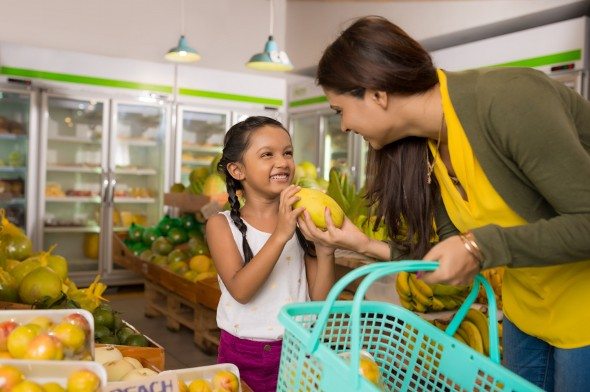 We all love to eat. But have you ever taken the time to think about how much of your income is going toward groceries? While there's nothing like sinking your teeth into a delicious dish, some of the money you're using to fill your stomach could be put into your emergency fund or your retirement accounts. If you're trying to trim your food budget, here's how to save money on groceries.
The Average Cost of Food Per Month
According to the most recent consumer expenditure survey from the Bureau of Labor Statistics, the average American household spends $3,971 each year (and nearly $331 per month) on food that they prepare at home. That means 7.4% of the money that households typically spend on an annual basis goes toward buying groceries. When you look at food consumed away from home at restaurants and other eateries, you'll find that on average, households spend $2,787 per year and roughly $232 per month.
As you can see, food costs can really add up. A number of factors influence how much you spend on groceries, including your age and your gender. Location and cost of living also play a large role in determining how expensive your groceries are. For example, according to numbeo.com, a gallon of milk will cost you $4.06 in New York City, but only $3.05 in Atlanta, Georgia.
How Much Should I Spend on Groceries?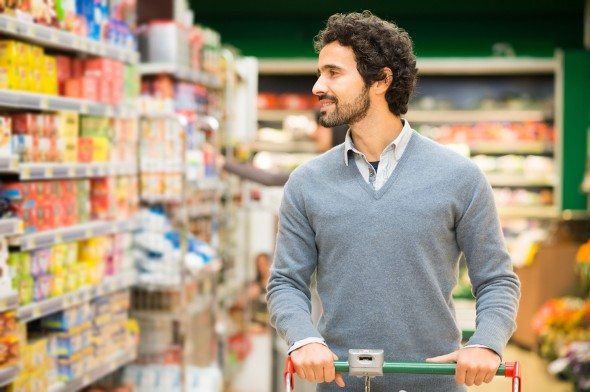 The answer to that question, of course, depends on your personal situation. Your actual grocery bill could be significantly higher or lower than the national average.
If you need some assistance figuring out how much you should spend, you can look at the U.S. Department of Agriculture's food plans. These guides use grocery prices and food consumption data to show you the average cost of providing families with healthy meals at home. They break down how much you can expect to spend based on the kind of budget you're working with, and they exclude the cost of eating out at restaurants and buying fast food.
For example, if you're on a tight budget and you choose to work with a thrifty plan, groceries for you and your significant other will cost around $89 per week and $385.50 per month (as of April 2016). But if you and your partner are 51 or older, those costs drop to $84.40 and $365.60, respectively.
Under a liberal spending plan, food for the average family of four with two kids between the ages of two and five would cost about $253.80 per week and $1,099.90 per month. In contrast, if that same family adopts a low-cost plan, it'll spend around $165.40 each week and $716.80 each month to cook all of its meals at home.
How to Slash Your Grocery Bill
There's more than one way to save money on groceries. And if you're serious about cutting costs, there are quite a few tips that you can keep in mind.
Choose your ingredients wisely. There's nothing wrong with trying out new recipes. But to avoid heading to the grocery store multiple times each week, it's a good idea to buy ingredients that you can include in multiple meals.
Go generic. Brand loyalty tends to come at a price. If you can choose generic store brands over popular well-known brands, you can lower your grocery bill substantially.
Plan your meals in advance. Meal prepping takes time and it doesn't work for everyone. But planning ahead and making a series of dishes that can last you for the rest of the week can be an effective way to trim your food budget.
Freeze your food. You can easily waste money by buying more food than you need and letting it go bad. But making a simple switch – like storing meals in the freezer instead of the refrigerator – can help you cut back on spending. You can freeze everything from cheese and eggs to bread and pasta.
Pay attention to unit prices. It's generally a good idea to know how much certain foods cost, particularly if you're buying them regularly. You'll also need to be familiar with unit prices, or the cost of individual units of items. That way, you can spot good deals based on the cost per ounce, pound, liter, etc.
Skip prepackaged and pre-cut foods. Cutting up your own fruits, veggies and meats rather than buying packages of foods that have been pre-sliced can save you big bucks.
Take advantage of technology. There are plenty of apps out there that'll let you create and organize grocery lists, find coupons and/or compare prices.
Final Word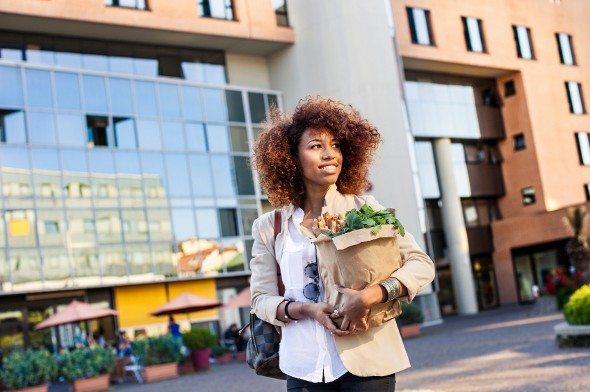 While food is a basic necessity, spending too much on groceries could leave you with less money to put toward other things, like paying off loans and saving for the future. If you're looking for ways to reduce your grocery bill, evaluating your food budget, planning what you're going to cook ahead of time and comparison shopping are a few good moves you can make. Then it's important to put that saved money to work for you. A savings calculator can show you how your money can grow.
Photo credit: ©iStock.com/DragonImages, ©iStock.com/Minerva Studio, ©iStock.com/Leonardo Patrizi