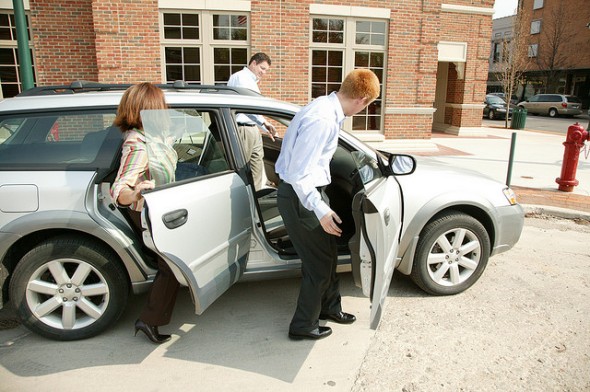 We all know the environmental advantages to carpooling and bike riding. Less carbon fumes in the air, makes it a greener mode of transportation. We also know that it can be a bit more economical as well. But I wanted you to know just how much carpooling or bike pooling can save big bucks. You might be surprised at just how much you can save, I know I was, and how many pooling services exist in case you can't rally your own co-workers to join you.
Find out now: What will my commute be?
Cost Calculator
Ride Finders has a great cost calculator if you really want to see just how much you might save. Just plug in your roundtrip commute distance, your gas mileage and how often a week you commute. The automatic calculator lets you see what your total mileage is and your average cost of commuting per year. For me, working five days a week, a 15 mile round trip commute is costing me $5,223.53 annually. I've got to tell you, it was a shock to see that number, and just reaffirmed that I really need to start taking the bus as much as possible.
Bike or Public Transportation
If you live close to work, and want a bit of exercise, biking is definitely the way to go. You might even consider starting a bike pooling crew with your coworkers. If you're lucky enough to live within a few blocks to a public transportation stop, buying a monthly pass can save you quite a bit of money. As a government employee I am able to buy a monthly bus pass for just $14. Annually, taking the bus would be just $168. That means I would be saving over $5,000 a year.
5 Reasons to Take the City Bus
Carpooling
If you live in the same neighborhood as your coworkers, you might ask if they would be interested in a carpool. There may already be a carpool set up at your work. There are several online services that can locate nearby coworkers or employees of nearby businesses. For a small fee, you can get set up with a service they manage. The advantages of carpooling? It's cheaper, in large cities there's often a designated carpool lane that can help get you through traffic so you get to work faster, and you might actually meet people you enjoy spending time with.
Public Transit Pushes Housing Prices Up
Take the hassle and overly expensive cost of commuting out of your life, and start looking at carpooling, biking and public transportation as a way to save you big bucks.
Photo Credit: flickr