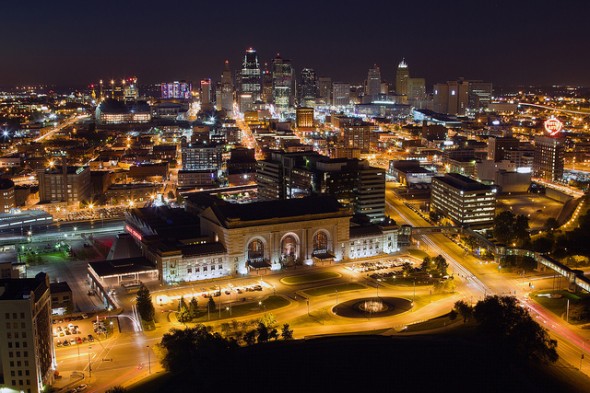 You save up, fly in or load up a mobile home or van and you are off on your family vacation. However, so often we put things off because of money and time constraints. I have reached a point in my life where I proclaim; "if not now, then when?" My goal, as it was in the Miami article, is to help you get away without giving away all your cash. This time we tackle one of my favorite cities in the Midwest: Kansas City, Missouri, who's also known for some of the top financial advisor firms around.
Love That Cue
Of course barbecue is king in KC. I will not even attempt to get into the debate over who does it best. I love Gates and KC Masterpiece, but I know people who swear by Oklahoma Joe's and Arthur Bryant, and other places. Bottom line: You cannot go to KC without getting your "cue" on.
All That Jazz
I believe this is a must for every music lover. Not to sound too preachy, but jazz is the only truly American art form and it is well represented at the American Jazz Museum. I must admit I have a soft spot for jazz as my Dad was a saxophone player and I can still hear him playing "Amazing Grace" and the "Christmas song" during the holidays.
The museum is not free, but offers a great history lesson for your children. Adults get in for $10 while children ages 5-12 for $6. During the visit, have your child take pictures and get pamphlets. Trust me, when they go back to school there will be an opportunity for them to share their history lesson with others, as there is generally some sort of back-to-school assignment.
In addition, if you opt to go to the nearby Negro League Baseball Museum, you can get admission to both for $15 for adults, $8 for kids. There are also free jazz performances at the Blue Room.
City of Fountains
Kansas City is said to have more fountains than any other city in the world save Rome, thus the name City of Fountains. There are nearly 50 publicly-owned fountains throughout the city and they are marvels to behold.
You can go to kcfountains.com to find just where the fountains are. It is a great opportunity for you to go on a scavenger hunt of sorts to see who can spot the fountain first. Once at the fountains, take group pics and pictures of the fountains themselves.
Jump ahead to the holidays and you can order calendars as gifts featuring a different fountain for every month. It can be the trip that keeps giving.
Cheers
The Boulevard Brewing Company, considered the largest specialty brewer in the Midwest hosts free brewery tours and will give you a taste of old and new brewing techniques.
If wine is your bag, you might want to check out the Amigoni Urban Winery west of downtown Kansas City. Along with a tour, your can attend a wine tasting, $5 to taste five wines.
Kansas City With Children
If that's not your "cup of tea" then head over to Independence the home of president Harry S. Truman. You can check out the Truman library for under $10 per person.
However, a children's favorite is the Children's Peace Pavilion. It's a unique "DO-TOUCH" children's museum that teaches concepts of peace through creative, fun, child-centered learning activities. Every element in the museum is designed to show kids how to use peacemaking skills everyday. Admission is free and it might just make the ride home smoother!
Another fun freebie is Kaleidoscope, It is an art studio for kids and parents presented as a public service by Hallmark. It allows children to be creative and use their imaginations and hands to make everything from puzzle to melted crayon art. You'll love it.
Museum Magic
Kansas City is an art lover's dream come true. The art-deco architecture's only rival is its museums. The Nelson-Atkins Museum of Art is my favorite and it's free save a few special exhibits. The famous shuttlecocks on the south lawn and the new Bloch addition are something to behold. The whole family will love it. The Kemper Museum of Contemporary Art is also a must visit and admission is also free.
I have only scratched the surface here. Kansas City is quite a jewel with something for everyone. With all the money you save on these freebies you can head to one of several riverboat casinos, the country club plaza for shopping, or check out some the best Jazz every played at the various hot spots.
Photo Credit: Denzil Burriss