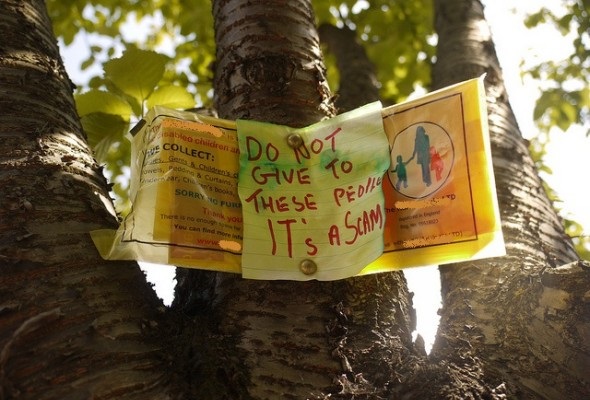 It's that time of year when charities are asking people to give a little more to help others in need. But not all of these organizations have good intentions. The holidays are a prime time for scammers who are looking to prey on the goodwill of others. So you need to be on your guard. If you're in the giving spirit this season, here are some tips to help make sure your donation doesn't fall into the wrong hands.
Find out now: Is it better to buy or rent?
These are our 4 tips to make sure you don't get ripped off by holiday charity scams:
1. Recognize the Warning Signs
Sniffing out a scam is no easy task, especially as scammers become more sophisticated in their efforts. Fraudulent charities will try to solicit donations over the phone, through the mail, through email and social media and in-person. It's easy to get hoodwinked if you're not paying attention. An organization may look legitimate on the surface but you have to keep your eyes open to potential red flags.
Generally, you should steer clear of charities that do any of the following:
Refuse to give you detailed information about what the organization does or how your donation will be used.
Use a name that's similar to an established charity but isn't directly affiliated with the organization.
Won't give you a receipt or other record to verify that your donation is tax-deductible.
Ask you to send cash donations through the mail or via wire transfer.
Ask for your bank account or credit card information.
Attempt to force you into making a donation without giving you time to research the organization.
These are just a few of the tactics that fraudulent charities may use to try to get you to part with your hard-earned cash. When the warning signs aren't as obvious, you should always trust your instincts, especially if they're telling you that something's fishy.
2. Do Your Homework
Before you donate to a charity, you need to spend a little time researching the organization to make sure it's the real deal. There are several resources you can use to get background information on a charity, starting with the IRS Exempt Organizations Select Check Tool. The online database lets you search for charities that are eligible to receive tax-deductible donations and for those whose tax-exempt status has been revoked.
Related Article: How I'm Donating This Year… and It Won't Cost Me a Cent
The Better Business Bureau Wise Giving Alliance lets you search for charities and read profiles of the organizations featured on the site. You can also read consumer reviews and complaints for each charity listed whenever they're available. GuideStar provides up-to-date information on more than 1.8 million nonprofit organizations around the world, which makes it easy to find a charity whose cause you can get behind.
3. Keep Accurate Records
Keeping a record of your charitable contributions is a smart move, especially if you're using your credit or debit card to donate money. If you find out later that you were the target of a scam, you may need to dig up proof of the donation to get refunded for the fraudulent charge.
It's also a good idea to keep records if you're planning to deduct your charitable donation on your taxes. The IRS has specific guidelines about deducting charitable donations. For example, if you're making a cash donation of less than $250, a canceled check, bank statement or credit card statement is sufficient proof. If you're donating more than $250 in cash or property, you'll need a written receipt from the organization along with proof of what you donated.
4. Protect Your Information
Phishing scams are one of the most common ways that fake charities try to score donations. So it pays to make sure you're keeping your information safe. If you get an email or message via social media asking for charitable donations, don't give out any information until you've had time to research the organization thoroughly. You should also avoid clicking on links in any unsolicited emails since they can contain malware or viruses that can be harmful to your computer.
If you do decide to make a donation, don't volunteer any more information than you need to. There's no reason for a charity to ask for your Social Security number or birth date so be wary of organizations that claim they need this information to process your donation. You should also avoid giving out your bank account information, debit card number or credit card number over the phone. Instead, ask for the charity's information to be sent to you so you can mail your donation in.
People across the country will be opening their hearts and their wallets this holiday season. Undoubtedly, some will fall victim to a charity scam. Before you hand over your hard-earned cash, you need to know how to spot a fraudulent charity so you don't end up getting snowed.
Related Article: The 50 Worst Charities in America- How to Keep from Being Scammed
Photo Credit: loeweloewe1