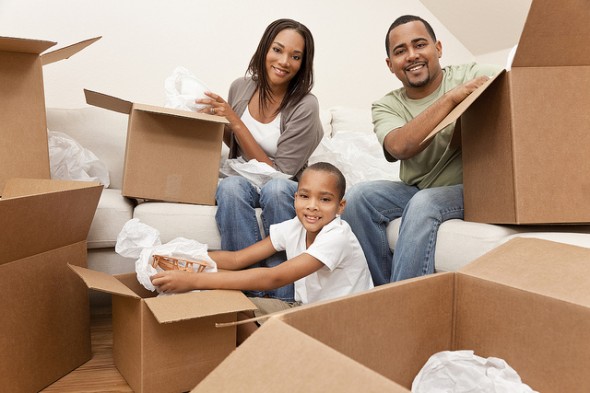 Americans are constantly on the move. Each year the Department of Commerce conducts a geographical mobility report. This report reveals the rate of moving Americans does within the span of a year. This year's report revealed that an estimated 11.7 percent, or just under 36 million Americans, moved from one location to another between 2012 and 2013.
This rate is slightly down from the 2011 to 2012 report which revealed that approximately 12 percent of Americans had moved in that span of time. And not every move is huge. Most of the moves in this year's report were relatively small distances. About two-thirds of movers remained within the same county, and 40.2 of those who did move outside their country, moved less than 50 miles away.
Who is Moving
Not surprisingly, renters were more likely to move than homeowners. 24.9 percent of renters moved between 2012 and 2013, while only 5.1 percent of homeowners did so. Among national regions westerners were more likely to move than any other region, at 13.4 percent, followed by Southerners at 12.8 percent, Midwesterners 11.0 percent. The Northeast had the lowest percentage of movers at 7.8 percent.
Related Article: Love Thy Neighbor: How Important are Neighbors?
Why We Move
We move for a number of different reasons. Moving can be due to better educational or job opportunities, to be closer to family and loved ones, or just for a needed change of scenery. Unfortunately, the price of moving can add up quickly. If you or someone you know is planning on moving sometime in the near future, it is important to do a little research so you can save on moving costs wherever possible.
Here are three tips to save money on moving:
1. Start a moving budget
The cost of moving can add up if you are not prepared. If you know you will be moving sometime soon, begin saving and budgeting to help pay for the cost of movers, moving equipment and any other possible expenses. If you are renting, you will likely have to have first and last month's rent ready to hand over. Plus, moving into a new home brings costs like start-up fees for cable and utility companies. The most you have in your moving budget, the less you will have to cut into other expenses in order to fund your move.
2. Get referrals
Ask family, friends, coworkers and anyone else you know who has recently moved for any advice they can offer. Ask about the use of movers and what they did or didn't like about the movers they used. Getting referrals can also be useful when it comes to apartment or house hunting. If you are planning on moving to a new apartment ask around for apartment recommendations.
It helps to ask someone you know and trust, as they are more likely to be honest about the good and bad from experience. Also, if you are moving for a new job, ask your human resource department if your new company helps with moving costs. Some companies are willing to provide assistance to new employees who may be moving long distances in order to work with their company.
3. Check with a number of different movers
If you have made the decision to hire movers, get price quotes from different companies. Ask what services these movers offer and how their price quotes are applied. Don't make any assumptions, as some movers may increase prices based on distance, weight and more. Ask for past customer information and contact them to see how satisfied they were with their service. A little due diligence will help you save headaches and money.
Related Article: Buy vs Rent: 6 Examples to Help You Decide
Though moving can be an opportunity for a new start; it can also be a costly one. It is important to plan ahead, ask people with recent experience and shop around. Doing so, can help save a great deal of time, effort, and money.
Photo Credit: gdham