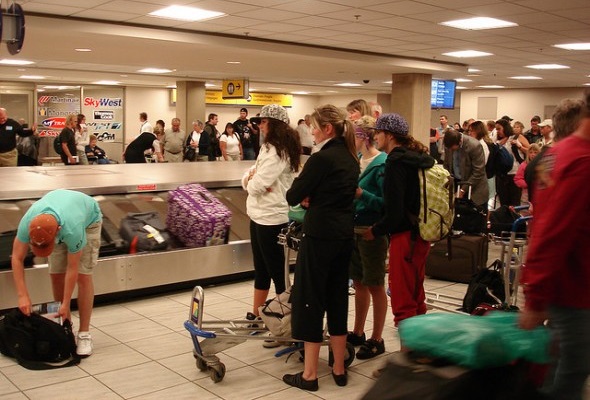 The holidays are on the horizon and, if you live a far from family and friends, that could mean some traveling this time of year. When you couple the purchase of gifts with travel costs, the expenses for holiday travel can begin to add up. One area you can save money is on baggage fees.
Find out now: What credit card is best for me?
Here are five ways to save money on baggage fees when traveling this holiday season:
1. Choose Airlines Carefully
Baggage fees can vary greatly—from $25-$100—depending on the airline you are flying with. Southwest and Jet Blue as two of the best domestic airlines when it comes to baggage fees. Southwest allows two free checked bags, while Jet Blue offers one. You can check the Ultimate Guide to Airline Fees for a list of baggage charges by airline.
2. Read Over Your Airline's Policy
Reading over your airline's baggage fee policy is very important. Just as airlines differ in their baggage fees, no two airline baggage fee policies are the same. These policies can be very complicated, as many take into account not only the weight of the baggage, but also the number of bags claimed, size, etc. If you do not understand the baggage policy or need further clarification, do not hesitate to call the airline and speak with someone in customer service. It is better to be overly informed, than to be surprised with a $100 fee once you arrive at the airport.
4 Ways to Save on Last Minute Vacations
3. Pack Light
This may seem easier said than done, but with items such as the Scottevest Travel Vest that has 22 pockets, you can store a number of different carry-on items, on your person. This will free up some space to allow you to put more in your carry on, and lighten your load in your checked baggage. More items placed in your carry on, means less weight in your checked baggage.
4. Ship Items Ahead of Time
If you know you will be traveling with a number of gifts, which will cause additional weight in checked-baggage, it may be best to check out the cost of shipping your gifts. Chances are, it costs less to ship your gifts than pay for the additional baggage fees they would cause. If done early enough they may arrive before you do. Even shipping one or two gifts ahead of time, may serve to lighten your load enough to avoid an extra baggage fee. It's worth looking into.
5. Obtain an Airline Credit Card
Check out the credit card option. It may be worth it if you are someone who travels regularly. When calculated you may find the baggage fees outweigh the annual fee for the card. The benefits of these types of cards are that they allow baggage fee savings. Some of the cards waive the fee on your first checked bag. Just remember to check the baggage fee policy of the airline, to make sure signing up for the card and paying the accompanying annual fee is worth it to you.
Traveling can be hectic and expensive, especially this time of year. Remember to start looking early, not only for flights, but to check up on the baggage fees. You have options, as far as saving money in the way of baggage fees if you are willing to go the extra mile and do a little research and planning. Don't let baggage fees make or break your decision to enjoy this holiday season.
5 Tips on Redeeming Credit Card Points and Miles
Photo Credit: flickr