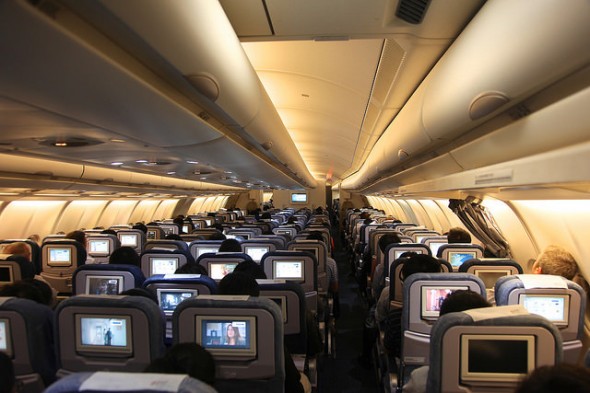 Holiday travel is as American as eating too much apple pie and turkey and stuffing and, well, you get the picture. It's a tradition! But as much fun as traditions are and as much as you love them, they can bust your budget. So to help out, we've composed a list of 10 ways to save money on travel – whether it's over the river and through the woods to Grandma's house, or filling up on Southern sunshine before hibernating for the winter.
1. Buy Now!
Booking early before flights fill up not only assures you a seat, but is also a way to stay ahead of price increases caused by steep demand. Airfares rise and fall based on supply and demand. The greater the demand, the higher the price. That means that even though airlines know they are going to fill their seats, they still offer better prices early. They may do it as a way to edge out the competition, but it still works to your advantage.
2. Travel Off Peak
If you're like most people, you will want to get to your destination before Thursday and return before Monday. That means flying on a Wednesday or Sunday. The problem is, so does everyone else, meaning you will have to pay a premium for travel on those days. The best travel days for lower airfares are Monday, Tuesday and Saturday. And for Thanksgiving, the best outbound days are the Monday and Tuesday before the holiday. The lowest return fares are on Black Friday, which has the added bonus of stopping you from shopping.
3. Red-Eye Discounts
Nobody likes late-night and overnight flights, and that's good news for bargain hunters. Since these flights are often sparsely booked, they usually have the lowest fares. Try adjusting your sleep schedule with a well-timed nap before or after the flight. This can take the edge off the inconvenience, and you can use the money you save to stay an extra day.
4. Change Airports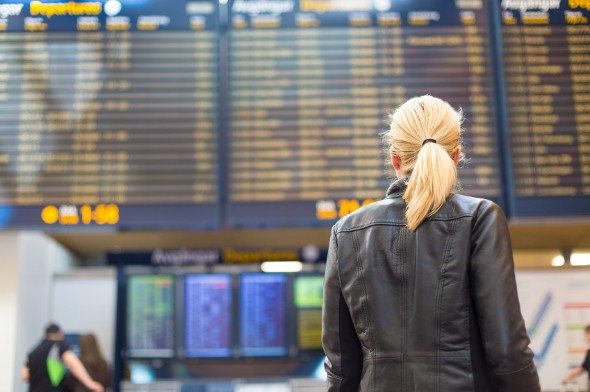 Most major destinations have more than one airport servicing the region. Using an aggregator that allows you to see fares for all the airports near your destination can reduce your costs. The trick here is to make sure you factor in any added cost for getting from where you land to where you need to go. And don't forget to think about which airports are likely to be most efficient!
5. Watch Fares
Keeping an eye out for dropping airfares and requesting rebates from airlines can add to the savings you already amassed by booking early. Travel sites such as Airfarewatchdog.com and FareCompare.com will send you alerts of price changes. Some sites will even automatically refund you the difference in price if your seats on the flight get discounted.
6. Go Last Minute
Airfare monitoring sites can also be helpful if you like to gamble and are flexible enough to take advantage of last-minute deals. Once again, the law of supply and demand applies, though. Airlines hate empty seats and will sometimes offer great deals on them and cancellations on the day or two before a flight. This can mean not sitting next to your significant other, but there are worse ways to save money.
7. Pack a Snack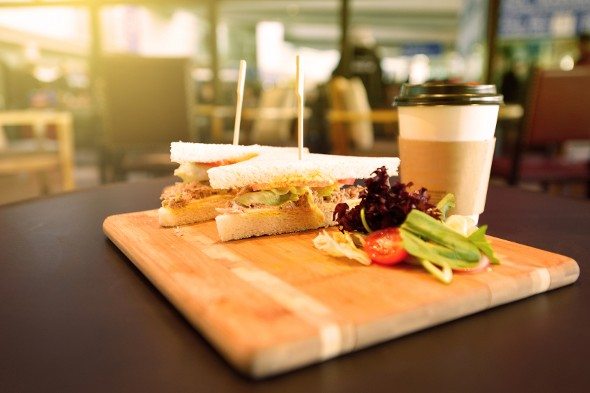 It's no secret that unless you're flying first class, your food choices on flights are limited. That can mean grabbing a bite at the airport, as the only thing worse than cardboard pizza with ketchup is paying $5 or more for it. Packing snacks will not only ease your hunger pains, but will also save you some serious money. This is especially true if you're traveling with children.
8. Pack Light
With airlines charging for extra checked bags and an increasing number charging for all, including your first, the less you pack the more you can save. And limiting your luggage to carry-ons is not as hard as you think. Be honest about what you need to bring and then leave half at home. Remember that each passenger is allowed two carry-on items and a personal bag. Gentlemen, that includes you, which means an over-sized man bag is a great place to stash stuff like underwear and toiletries.
9. Use Rewards
Check all of your credit cards, bank accounts and even utility bills for rewards points that you can redeem to reduce your costs. Airfare is not your only travel expense, so think outside the box when planning a trip and looking for points. Enough points for a "buy one night, get one night free" at a hotel beats sleeping on the pullout in your sister's family room.
10. Do Your Homework
Finally, do your homework. That means getting out the calculator and crunching the numbers on your options to make sure what looks like a good deal really adds up to savings.
Photo credit: flickr, ©iStock.com/kasto80, ©iStock.com/willcao911